As requested by my son this morning. Fishy, Pikachu, and Zebra. Whoop whoop!
I know that I'm kind of a dinosaur for still having a personal blog. It's my thing, though, even if it doesn't get read as much as it did, say, ten years ago.
I found myself paging through my archives today, and I discovered a few interesting things that happened in years past around the autumn equinox.
Fourteen years ago today was when my blog officially began! I'd updated my own personal site with tidbits here and there, but September 22, 2002 was the first "real" blog entry.
Around that time, I was taking the cab to my job in the Sky Bank Lockbox department, where I would typically work a 12-hour day on Monday, an 8-hour day or less on Tuesday, then clock about nine to ten hours a day for the rest of the week. I had just graduated college the December prior, and was really, really missing the old college vibe (especially since the cab drove me past campus every morning on the way to work).
Back in the Autumn of 2014, my attempt to eradicate the trumpet creeper from my perennial borders resulted in a trip to the local Urgent Care and a round of steroids. Once I returned to work, I told my sad story to a co-worker, who — conveniently enough — had been wanting some trumpet creeper of her own. She and her adult son came by my house not long after, and he (being unfazed by the itchy plant) dug up every last bit he could find (along with some maypops for good measure) and loaded it into the back of their minivan.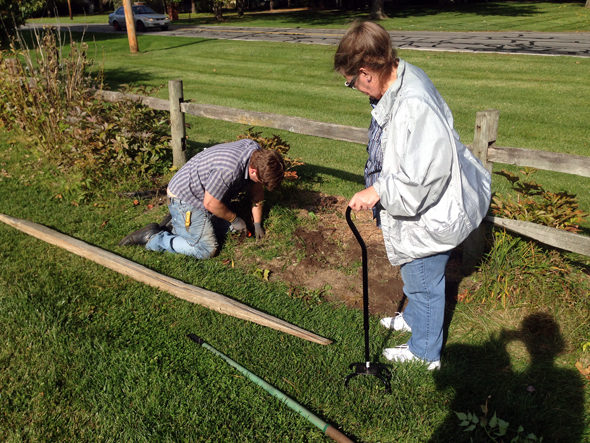 That took care of the worst of it… but not all of it, unfortunately. (more…)
The daylight hours are shortening, and here in my NW Ohio Zone 6a/6b garden, things are starting to wind down in preparation for autumn.
This chrysanthemum hasn't been happy or healthy for the past couple of years. Two years ago, she was full of blooms; this year, she put out a scant few while trying to battle whatever disease or insect is skeletonizing her leaves.
The Nikko Blue hydrangeas (I found a Nikko Blue tag in the dirt, so I'm guessing most if not all of my mophead hydrangeas are Nikko Blues) are reblooming in the cooler weather.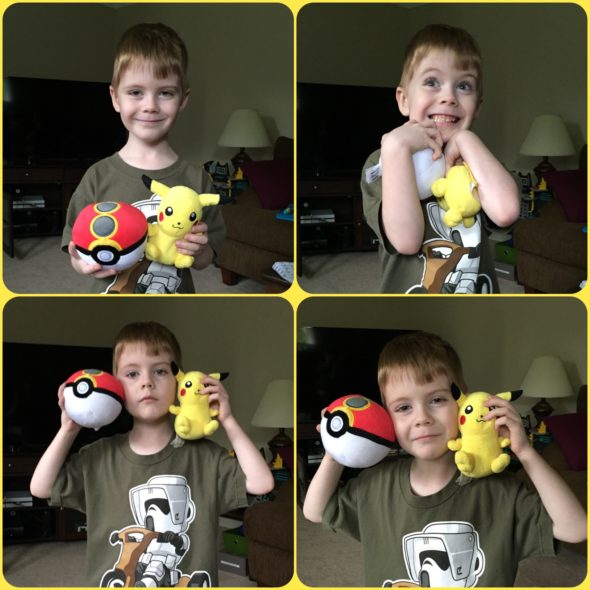 Last night, Connor asked if we could go to the toy store today and buy Pokémon plushies.
Why not?
Today, we used a long-ago-gifted Toys R Us gift card to buy Connor a pokeball — and we already had a Pikachu at home that we hadn't given him yet. Connor was SUPER well-behaved at the toy store, didn't beg for anything we didn't plan on buying, and asked the cashier if she could please remove the tags.
When we got home, we made up a star chart for bedtimes, so that Connor can get a toy reward for behaving at bedtime. He decided on his own that twelve stars equals a trip to the toy store. He'll get a silver star each night if he doesn't yell or throw anything (yes, it's a bedtime problem lately), and a gold star if he decides not to use his "Golden Button" to call me back upstairs after lights out.
Here's hoping this works out…
Dear Connor,
I usually try to post these missives closer to your birthday… but, to be honest, I really haven't been feeling like writing lately. My prime writing time (not counting breaks at work) is generally after you go to bed, but bedtimes have been so unpleasant lately that I don't want to do anything after that but curl up in a ball and watch TV or play on my phone.
Sometimes I wonder if your Dad and I have erred somehow in our discipline strategy. Your defiant and willful attitude has escalated over the past few months, and bedtimes especially have become exercises in patience and punishment.  (more…)
I call BS on the title of this Blade editorial on obesity rates. Obesity doesn't always mean "not so beautiful." https://t.co/vt0b3W0zUY