Can't head up to bed quite yet. Non-lap cat on lap.
There's not much to say that I haven't already said, as far as my weight loss journey is concerned. My weight is creeping up and up and I don't like it. It's mostly attributable to evening snacking, although I'm sure other factors come into play, too (like my waning workout habits).
I'll be in the right headspace for a few days, then I'll eat something that triggers me to binge, and then it takes me a few days to find any fucks to give — and by then, even more damage has been done.
Because it's worked before, I'm going to photojournal my meals for a while. I'm not sure where I'll post them, or at what frequency — daily on Facebook, weekly on my blog, or daily on Twitter (which feels like talking out loud to no one in particular at a loud party), but I need to post it publicly for added accountability.
Here's today's meals — and yes, I'm seeing a distinct lack of fruits and veggies here. While I'm trying to ramp up my protein intake, that doesn't mean I should ignore plants. I'll work on that.
I need to get and stay in a healthy headspace. I'm starting to feel extra frumpy and puffy and not at all awesome, and I miss that awesome feeling and I want it back.
This sucks.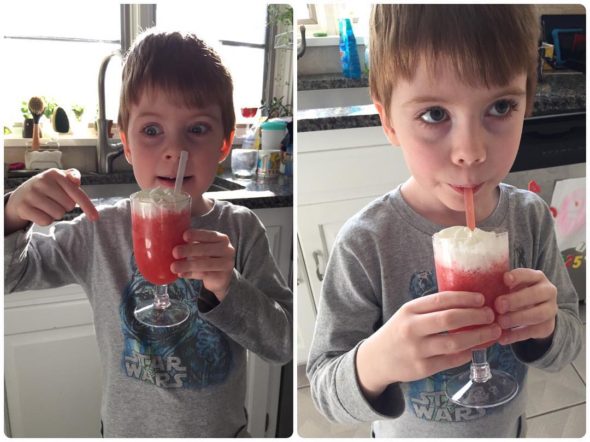 He created the recipe in his Smurf Recipes app on his Kindle Fire. It honestly wasn't very delicious — berries, water, and ice, topped with Reddi Wip — but a packet of Splenda made it more palatable.
I completely forgot that I hadn't tested this camera at all after I'd tried unsuccessfully to get the light meter to work after I first bought it on eBay in August 2015. I got a mighty good deal on it, due to its cosmetic condition. The dings and dents and missing cosmetic bits don't really bother me so much, as long as the camera works. I'd rather have a camera with character, anyway.
Connor, age five-and-a-half, called me upstairs after lights out tonight because his feet hurt. Totally legit reason, so I headed upstairs to dose out some Tylenol and rub his feet. On my way up, I yawned mightily and stretched my arms over my head.
"Maybe you should go to bed a little early tonight," my son suggested.
I think he might be onto something there.
Happy birthday, @schavitz! Today is also my boss's birthday and George Takei's birthday, so you're in good company. Enjoy your day!
Kirby art by @talcotts is hanging on my son's wall beside some Green Lantern art by Art Balthazar. Connor says he loves his Kirby "poster!"
Just having one of those evenings where nothing I'd planned to do sounds good. I had a whole to-do list figured out: balance my checkbook, post a blog entry from some notes I'd typed out earlier, epilate my legs, some other stuff. Instead, all I want to do is play on my phone and stuff my face.
Last week was weird. My son was home from pre-k with a fever, so I worked from home on Tuesday, took a personal day Wednesday, then worked from home again on Friday, with my husband rocking "Daddy Days" with Connor for the remainder of the week. I didn't plan my meals well, didn't get much activity or even any time outside. At today's Weight Watchers weigh-in, I'd gained just over a pound in two weeks.
I told my leader I wasn't that worried. That was kind of a lie, since I continue to be worried about my lack of judgement and self-control in the moment. Tired, cranky, depressed, thrown off, worried, stressed — all those lead to food.
When I'm in the right mental space, I know what to do. When I'm feeling shitty, I still know what I should do, but I sincerely don't care in that moment. It's not All Or Nothing thinking — I don't go down a crazy rabbit hole all night or all week because I screwed up — but it is self-sabotage of a sort.
I don't fit in my clothes right anymore. I feel jiggly and frumpy and blah, even though I currently weigh 32 pounds less than when I started Weight Watchers, and over 70 pounds less than when I got married 14 years ago.
I had reached the point of feeling a certain kind of awesome, back before I gained this ten pounds back over a year and a half, and I need to recapture that awesomeness somehow. It's not going to happen during this week of birthday cakes and fancy dinners (and I'm fine with that — birthdays only come once a year), but I think my present to myself for my 41st birthday will be to Treat Myself Right.
Technically, Bloom Day was two days ago, but better late than never, yes? I actually did get out to take these photos on the 15th, but didn't get around to posting them until tonight.
Here in my NW Ohio Zone 6 garden, spring seems to be a good week or two ahead of schedule. One day last week, all the spring bulbs decided it was time to bloom. (I mean that, too — I left for work at 8am to tightly closed daffodil buds and came home at 5pm to a yard full of nodding yellow heads.)
I don't know what all these varieties are, as they came with the house when we moved in some four years back, but here they are:
(more…)