Well, I've decided for sure that I'm not going to the Bluecoats show on Sunday. I'm just too damn broke, and I've spent too many weekends in a row away from home. I've already seen my boys (and girls) once this season, and I can't really complain about having no money when I spent it myself on a new brain for my computer.
I'm working 10am to 2pm on Sunday, after which I'm taking my four photography entries to the County Fair. I've got two of them already scanned to show you… hang on, and I'll boot up Aaron's computer and scan the other two.
[brief pause]
OK, here they are, in no particular order: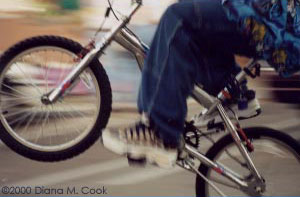 Due to the fact that the fair's categories are stoopid, I ended up entering in the Professional Division. I don't think I'm going to win anything, and the best I could really do as far as prize money goes is break even on my entry fees, but I figured what the hell. The bike photo and the fair photo are classified as "photo journalism," while the flower and the building/skyscape are in the "landscape" category. Creative categorizing, I know… but I'd already decided which ones I wanted to enter before I knew what category options were open to me. Silly me assumed that it would be like any magazine photo contest, with a Portrait-Landscape-Humor-Digital-Blah-Blah-Blah entry system. But no. In the Professional Division, here are my choices:
Landscape
Children Portrait
Photo Journalism (colored)
"Ohio Pride" – Structures
Family Portrait
I chose the Pro Division because the Non-Pro Division had such categories as B/W Architecture, Digital Imaging – People, "Ohio Pride" – People, Digital Imaging – Nature, Panoramic, Children – Holiday, and Child – Special Event. So, yeah. They've got a pretty selective idea of what kinds of pictures they want displayed at Ye Olde County Faire. Maybe they try to mix it up each year so people will take pictures of different things during the year or something. Which would only make sense if you knew the categories a little more than one month beforehand, IMO.
On a different topic, I'm really looking forward to spending some quality time with Aaron this weekend. Many recent breakups (and almost-divorces) amongst my friends and acquaintances have really made me appreciate the friend and partner I have in Aaron. We've been together for over seven years, and I still haven't tired of him. I'm still excited to come home early and see him before he goes off to work. Thinking of him still makes me smile. Sure, I miss the early days of giddy butterflies and shaky caresses… but I love even more the sure, steady support and comfortable intimacy we share now.
I had no idea in my angst-filled youth that there was something like this awaiting me…