Not long ago, I contacted my great-uncle's case worker in Florida to see how he was doing in the nursing home there. I'm not technically his next-of-kin (my Memaw was his sister), but I've been told by my family that I'm his sole inheritor (if he had anything left to inherit). So, I feel obligated to check on him every now and again, to make sure he's still hanging in there. He doesn't write much, and he could never hear well, and he was never really all that mentally cohesive, for that matter. But his case manager, Patrick, said he's doing OK. I told him that, if he ever felt the time was right and that Uncle Charlie could take the news, to go ahead and let him know that his sister died. Last year.
Man, do I feel like a dick.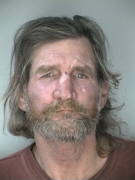 Anyway, there's one other relative to inform yet: my Uncle Donnie. Yep, that's him on the left there. He's my mother's older brother—and he's only 50, though he looks pretty bad these days. Uncle Donnie is a carney: a basically homeless vagrant who works for the carnivals as they come around. Ever since I was a very small child, I've known that Uncle Donnie is a carney and sleeps under overpasses and hitchhikes to get where he wants to go. It seemed perfectly OK to me then, and only in ensuing years have I come to realize that no one else even knows a carney. This is not a normal career move.
Anyway, after thinking and thinking, I finally Googled the Hillsborough County Sheriff's Department in Hillsborough County, Florida. That's where Donnie prefers to spend his time, for the most part, having grown up there. And, whaddaya know, I found him in the online arrests database. That's where the mugshot came from. And, surprisingly enough, the most recent arrest report (from February of this year) gave a P.O. Box in Ruskin where he could be reached. I'll be damned. We can contact my homeless vagrant uncle!
I e-mailed the link to Mom and told her that it's her responsibility to tell her brother that their mother's dead. I'm not taking that on, too. I found him—the rest is up to her.