I've never owned a halter top, as far as I can remember. I know my mom liked them when she was younger (read: before she had me and gained weight). Eventually I figured, what the heck. I wanted to see how I'd look in one… and I'm really kind of getting into this t-shirt surgery thing. Plus, I was curious about Sheryl's claim that halters really are made so that even those of us with ample boobage can go braless in one. O.o
I ended up combining this tutorial for a basic halter top with this one for an empire waist. I knew I'd need some semblance of support, and just having a basic, flat halter top with no tightly-fitted bodice just wasn't going to cut it.
The Process: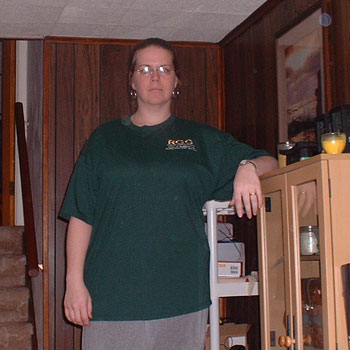 Witness the hunter green RCC shirt, intact and in all its 2XL glory.

I took my fabric marking pencil and, comparing the two tutorials, drew in where I'd be cutting and sewing.
I cut off the sleeves and removed the collar, then mostly removed the back and turned some of it into the halter straps. I also took some off the bottom, to make it shorter. Once everything was cut, I finished all the newly-raw edges, then I hemmed the bottom and turned down the cutout back, where the empire drawstring would thread through. (I'm really proud of my hem. It looks tres keen, IMHO.)

This is the finished product! It's not exactly how I'd envisioned, but it was a learning experience. I was thinking about maybe putting a white or gold edging along the neckline, but I don't know if it turned out so well that I'll be into putting a whole lot more work into this particular design.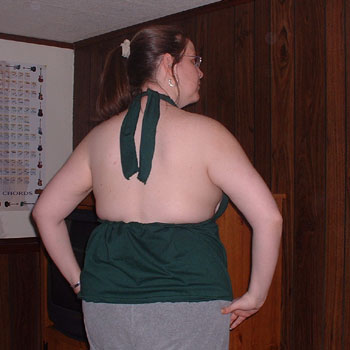 Witness my flubbery back! No, really, check out my keen drawstring action. The original plan had been for it to tie in the back there, but a.) I'm just not that coordinated, and b.) the drawstring (made from the leftover material off the bottom of the shirt) ended up stretching like a mofo.

Here's a view from the side. Not a bad t-shirt surgery experiment, after all.
I have discovered two things tonight. #1: I like the way a halter top makes my shoulders look. #2: It really might be OK not to wear a bra with one of these; it's really quite comfortable. #3: I should just buy one, instead of trying to make one that will fit properly. ;-P