My Mom called a few days ago, and I told her I was thinking of donating my hair again and having it cut short. Predictably, she squealed, "Nooo!!" I really think it's about that time again, though.
I've shared the few existing photos of the blunt bob from Summer of 2003 earlier. As I recall, that wasn't even one of my better hair days, but those are the only photos I have of my supar-shortest-evar haircut. This time, I want to go with something a little different. Maybe some layers, maybe long bangs or fringy face-framing hair. Only thing is, I tend not to want to (or have time to) fuss with my hair. I'd want a 'do that I could wash n' go, preferably allowing it to dry in the car during my 10-minute commute. o_O
Let me share with you some photos I've collected from around teh intarweb of hairstyles that are close to what I might want:


This is something I want to avoid: predictable-looking bob with bangs. I think it's really the lace collar that seals the deal for me, but that's beside the point.
I'd like to try some bangs, but not like these. I'm not even sure how bangs will work with my glasses.
*searches through old photos*
It's been a long time since I had glasses *and* bangs (9th grade), and there aren't many pics of me in that era. And my glasses were HUGE. Like, covering half my face huge. I can't imagine that my current glasses make half that much impact on my appearance. Maybe long bangs would be OK.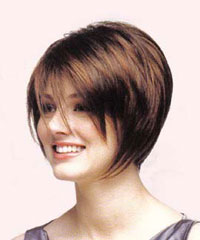 This is WAY shorter than I want, but I like the long and wispy bangs. Again, not sure how they'd work out with my glasses, though. Also, I don't know if I could live with my hair constantly in my face.



This is still shorter than I was thinking, but closer to what I'd like to end up with. I'm partial to my center part, having spent a couple of years training my hair to go this way, and it would take me a while to re-perfect that hair flip I had going on through high school.
Also, with this 'do, I could tuck the sides away from my face. It's funny that I want wispies, but I also like to have most of my hair away from my face. That was the one thing that bugged me all to hell with my bob, until I figured out that my short hair was light enough (weight-wise) that I could clip it up and away like I'm not able to when it's long.
I also like the volume of this style. My hair is thick, but is only moderately bouncy when it's super-short. When it's long, it's just long and straight and heavy and doesn't hold a curl for long. A layered style would give me a little more volume, I think, even if I have to fluff it out with my fingers while it's drying, or flip my head upside-down for some occasional combing or brushing.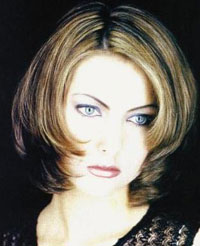 I really like this one, but I'm thinking that the face-framing is a little dramatic for what I want. Plus, OMG, this hairdo would require actual maintenance. A lot. There's no freakin' way her hair just does that slightly curly thing without some coaxing from heated implements and styling goop. And those are two things I'd like to avoid.


So, what do you think? What would look good on me, and not require more than a few minutes of morning maintenance, and not be all in my face all day? I like how I *look* with my hair down around my face, but having so much of it around my face is annoying and difficult to deal with during the day. I like my natural wispies, though, and frequently tease them out of my ponytail to let them fall around my face. It's just the entire curtain of hair in my periphery that bugs me.
Please feel free to leave comments and voice your opinion. I need some ideas!