One of Saturday's IKEA purchases was a Billy bookcase. I had previously measured the ceiling height in our finished basement, and determined that a Billy bookcase would reach to within an inch or two of our low ceiling. I had also determined that the white plastic shelving unit currently living in our basement was just plain ugly, and needed to go.
The white plastic shelving unit was a throwback to Aaron's bachelor days, when an $8 shelving unit worked perfectly fine either as a bookshelf or for general storage. (I had one, too, I admit, but mine was black.) The shelving unit was thrown up in the basement as a stopgap measure — in my mind, anyway — until we could get some nicer-looking furniture in the basement.
So, I came home Saturday night with a couple pieces of nicer-looking furniture for the basement, including the Billy bookcase. Sunday afternoon was spent assembling the bookcase, then unloading and removing the shelving unit and replacing it with said bookcase. The assembly really wasn't any worse than putting together a Sauder bookcase — it may have been easier, in fact, thanks to slightly different procedures with locking screws and whatnot. I did miss with one of the nails while attaching the back, and messed up the middle shelf a little. It's not very noticeable in the grand scheme of things, though, as Aaron kept assuring me right after I did it.
Unfortunately, nicer-looking storage doesn't magically turn the stored items into books and knick-knacks and cuteness; I still have super-8 equipment, camera equipment, sewing and craft supplies, photo storage, and other randomness on the bookcase. At least it looks a little classier, though: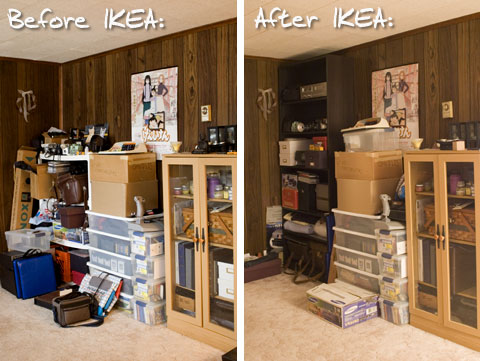 The white plastic shelving unit is now in the garage, where plastic shelving units belong. 🙂