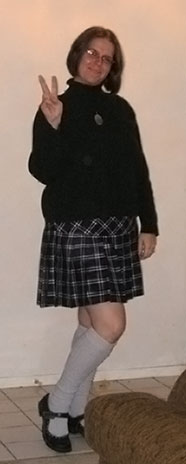 I bought this skirt at the mall last week. Afterward, I purchased some socks online — these are technically over-the-knee socks, but my still-oversized thighs forced the socks into submission as Harajuku-style scrunch socks. I finally located a black turtleneck sweater in the back of the closet to complete the outfit, and voila! Cuteness.
While shopping, I made the mistake of picking things up, saying, "But where would I wear this?" and putting them back. I almost said that with this skirt, but it was just too damned cute. It wasn't until later that I recalled a favorite sentiment from those evil What Not To Wear hosts: Do you need an excuse to look fashionable? Freaking wear it to the grocery store! Who cares?
Really, though: 80% of my wardrobe is casual clothes that I wear less than 30% of the time — that is to say, on the weekend. Sheryl thinks I could totally wear this outfit to work (with nylons instead of socks), but I'm kind of hesitant. I'd feel less professional and more cute, and I'm not sure how that would work out. Maybe, though. We'll see.
P.S. – For yet another startling photo comparison of my new weight versus the old, check out the original "Cute Skirtness" entry from March 2005.