The good news: The scale is moving in the right direction.
The less-good news: I'm still not maxxing out the program as well as I could.
We didn't have a Weight Watchers At Work meeting this week, since all the meeting rooms were pre-booked with quarterly personnel meetings. My unofficial weight loss for the week, as measured by our home scale, was another 0.4 pounds.
Aaron convinced me to buy myself some new clothes for work this weekend, since I've been bitching about my lack of nice summery clothes that fit for months now, and it really made a difference in my attitude about myself. I think it also improved my posture, since I bought some shirts that are a little more form-fitting than I usually wear; I'm not used to my clothes touching my midriff, so I've been sucking in my gut activating my core muscles more during the day.
I've also re-started the 100 Push-Ups program — there's a nifty iPhone app for that, don't ya know. My pecs are righteously sore, but in a good way.
Weight graphs and food logs after the jump: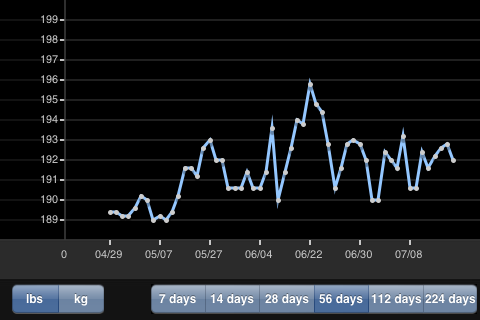 Food journal:
Tuesday | Wednesday & Thursday | Friday & Saturday | Sunday & Monday
Trends I noticed:
The weight-loss graph is evening out, even if it's not going down as much as I'd like. Even and stable is a good first step.
I eat more when I play Xbox — especially Civilization, since there's built-in down time during battles.
I eat less when I'm engaged at my computer, mainly because a.) my brain is busy and doesn't get distracted by food, and b.) my hands are occupied with the keyboard and mouse.
When I give in and eat something I shouldn't, I tend not to even look up the Points values (General Tso at Jing Chuan, Honey Nut Chicken at Bangkok Kitchen). As if recording the food but not counting the Points makes it OK somehow.
Caffeine is indeed an effective appetite suppressant, especially during that late-morning stretch before lunch, although I should probably go easy on the Diet Dew.
In other news, to hell with giving myself weekly goals. You know? I should just stick to the program, and not pick and choose: "Well, this week, I'll work on getting this aspect back to where it should be…" Eff that. I'm going to do the best that I can, as often as I can, and still enjoy the hell out of myself at the Ann Arbor Art Fairs this weekend.