Since I've been writing this blog for over seven years, the subject of Christmas has already come up a few times. So, to keep from repeating myself as much as any other reason, here are some of the highlights:
From Christmas Aftermath, 26 December 2003:
Aaron's grandparents' house is a completely different experience than mine. At any given holiday, depending on who shows up, there's between 9 and 17 people around the table. I'm really unused to that kind of massive family gathering, but I'm growing to enjoy it more each year. It's like Aaron said: over at Mom and Gary's, it's kind of fun and relaxing, with lots of quality time with just them, but after a while you get bored — especially if they're watching TV or talking on the phone. At Poppa and Grammie's, though, it's exciting and fun to be with so many people at once, but after a while you get frazzled and just need to leave. 🙂
Back in 2004, this was what our street looked like on the day before Christmas Eve (thankfully, I had Christmas Eve off that year):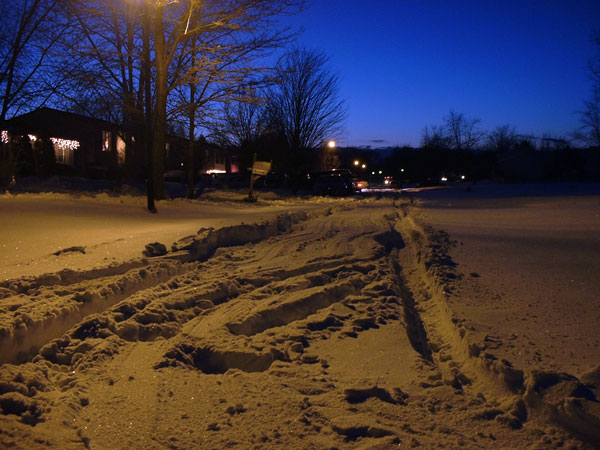 I've also recounted the story of my Santa Claus deconversion:
I remember the day well. I was six years old, and it was December 1982. I was sitting at the kidney-bean-shaped table in the front of my first-grade classroom, with the five or six other kids in my Advanced Reading group.

Mrs. Henighan asked us, "How many of you believe in Santa Claus?"

I raised my hand, of course. What was there not to believe? I didn't realize there was any believing or not-believing involved. Santa had magic keys to my apartment, and brought me toys on Christmas Eve. End of story.

Only one or two other kids raised their hands.
Oh, hey, here's my first Christmas!
A few years back, I compiled all of my Christmas childhood memories (or the most vivid ones, anyway) into one massive blog post:
We had fantastic 70's ornaments, too. They were all either orbs or pointed oblongs or bells, in pastel green and yellow (and blue?), with this great crystal-like coating, almost like large crystals of salt were glued to the outside of the ornaments. They made a neat brushing tinkling sound against the tree when they moved. There were also ornaments I'd made in school, like my handprint in plaster and things like that. We also had strings of lights, of course, both large blue indoor/outdoor lights and small indoor blinky lights, which would all be strung on the tree together. The blinking strands had to "warm up" first, but they'd start blinking a minute or so after you plugged them in, and would make that distinctive *buzz-tink* as they blinked on and off.
If you'd like some video fun, you can check out my high school choir (with a solo from yours truly) from the 1992 Holiday Concert, or my step-brother Philip and I trimming the tree in 1999 (ten years and fifty-plus pounds ago for me). Or, if you'd prefer some musical fun instead, download Aaron's 2001 compilation, Christmas Music That Doesn't Suck!
Hopefully this gets you (and me) into the Spirit of the Season.