I don't blog much about my weight loss anymore, really. I check in with Twitter and Facebook every week at my weigh-in with my slow and steady progress, but I kind of feel like the weight-loss lifestyle is old hat.
My progress, like I said, has been slow and steady: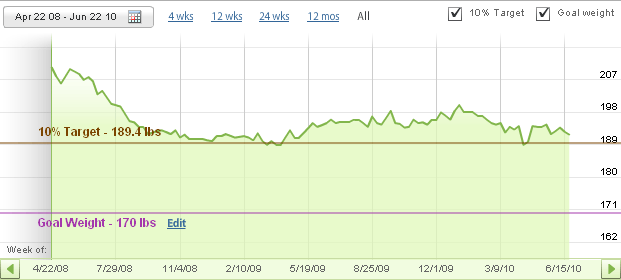 There was quite a while there when I'd "lost that lovin' feelin'" and wasn't working the program as much as I could — marked on the graph by that slow gain over the majority of 2009.
Topping 200 pounds at my weigh-in on January 5, 2010 made me refocus my efforts. I started tracking more regularly and more accurately, especially on weekends. I worked on increasing my activity (something I've had to refocus on lately, since I've been working through my normal lunchtime walks). I tried harder to find healthy options when going out to lunch with my co-workers, rather than throwing up my hands and succumbing to a piece or three of veggie pizza.
Last weekend was kind of an eyeopener of sorts for me, though. My Mom came to visit from Texas, and we spent some quality time together in Toledo, and some time in my hometown of Medina, two hours away. And not only did I track every meal (including stupidly large breakfasts and a trip to Olive Garden with friends), but I also stayed within my weekly allotted Points… and I lost almost a pound at this week's weigh-in!
It is a lifestyle change. It can be done.
I am doing it.
Sure, I have 20 pounds yet to lose before I reach my (tentative) goal weight, but it's only a matter of time now. I'm not one of these ladies who never hits a plateau, and loses all of her excess weight in a single 17-week session. It's a little more challenging for me, a little more time-consuming. But still possible.