Honestly, when I got the invitation to E's baby shower, I wasn't excited at the prospect of attending another awkward shower where I know no one besides the mother-to-be. Unlike many other baby shower invites I'd received in the past, though, this one was local — only 15 minutes from my house, not in Columbus or West Salem or some other hours-away destination.
I can't complain about never being invited to anything if I don't go when I am invited, I decided. The RSVP was Regrets Only, so all I had to do was buy a present (via their Amazon registry) and just show up. So, I looked through E's registry and picked out a baby journal and a Star Trek onesie, both gifts that I felt would be appropriately "me."
I waited until the night before the shower to wrap the presents. It was a Friday night, and I decided to make it a movie night — so, I put in the HD-DVD of Blazing Saddles (which looks amazing, by the way) and sat in front of the TV to wrap.
Most people would just buy a gift bag with obscenely cute bows or flowers or duckies or something and be done with it; not me. I opted for a more personalized route.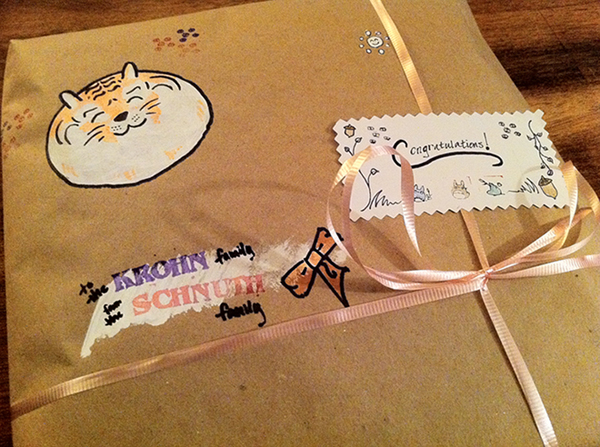 I remembered E showing me a super-cute stuffed tiger toy in the baby's crib, and telling me that her daughter would be born in the year of the tiger. So, with some plain brown paper as my canvas, I drew my own super-cute tiger with acrylic paint, Sharpie, and an orange highlighter. I even Googled reference photos for tigers, so I'd get the stripes and coloring right.
While I waited for the tiger to dry, I used my Japanese Totoro stamps to decorate the rest of the wrapper (which required a couple of do-overs, actually — the white tag wasn't originally in the design) and added a To and From section with some alphabet stamps I picked up a few years back. Once everything was dry, I wrapped the presents in the newly-adorned brown paper, tied it up with an appropriately-girly pink ribbon, and was quite pleased with myself.
Until I got to the shower the next morning.
My decorated brown paper package looked as hopelessly out of place as I felt, as it sat amongst the elaborate packaging and ribbons and tissue paper, in view of the heirloom antique crib.
As for me, after I tried my hand at some of the shower games and talked to Great-Grandma, I sat down with some of E's friends. I didn't even have time to introduce myself, though, before I spotted a familiar face from the Aikido dojo, and relocated myself to her table. Turns out she also didn't know anyone at the shower besides E, so we spent the luncheon catching up and gratefully trading gossip.
When the time came for the opening of presents, I was a little anxious. Would my handcrafted packaging be recognized for the thoughtful act it was meant to be? Would E like my presents? …Would she keep the wrapping?
Turns out I had nothing to worry about. My present didn't get opened until well past the halfway point, in the midst of everything, but everyone took notice of my artwork. E's family made sure she planned to save the wrapping — and they liked my presents, too.
(For the most part, anyway. One relative commented about how she'd liked my beautiful wrapping, but she didn't know what she thought of me after the Star Trek onesie. E had to assert that it was mainly for her geeky husband.)
As she opened my present and acknowledged each item, I was expecting a big epiphany on my part. I didn't get one.
See, the Totoro bib wasn't on their registry.
The Totoro bib was a purchase from our first trip to Japan. As many of my readers know, that trip was a happy result of a very unhappy circumstance: my miscarriage at 10 weeks. In the aftermath, we had decided to seriously do all the things we'd wanted to do before we had kids, starting with taking a trip to Japan. So, while we were there, we still intended to have children… eventually. Hence, I couldn't possibly pass up the Totoro bib — not when I might never have the opportunity to buy one anyplace else when our time finally came.
But years passed, conversations were had, and decisions were made: we wouldn't be using that Totoro bib. Might as well give it in friendship to someone who will.
I wasn't sure what kind of reaction I would have when E opened her present and found the Totoro bib — for which, of course, she had no idea of the backstory. Heartwrenching sadness, perhaps; or at least I'd get a little misty at what might have been. I wasn't prepared for my lack of any sort of reaction, outside of happiness at E's happiness. It was as if the bib had never had any emotional significance to me, and was really just a baby shower gift.
I guess that's what acceptance feels like.
As the present-opening festivities continued, I realized what a great network of support, tradition, and love E has behind her at this important and joyous time in her life. That overflowing support really underscored the decision Aaron and I have made not to have children — not that I wouldn't like to bear his child(ren), but that it just wouldn't be a good idea for us. We don't have that sturdy network of support, among a myriad of other reasons (which I won't go into here).
Parents of children young and old would undoubtedly tell me it's all worth it in the long run. But I think I'll be content to spoil E's daughter with love and gifts, and go home to a quiet, non-babyproofed house when it's all said and done.