I was sitting in the parking lot of the movie theater, eating a banana behind the steering wheel of my car, watching runners and walkers of all ages trickle into the building.
"I'm sitting in the parking lot before my first 5K, eating my breakfast banana and watching the other runners arrive," I tweeted. "Exciting, surreal." And it really was.
I walked into the building, car key clicker looped onto my shoelaces, bib and timing tag in hand, looking for the flock of bright green shirts that would be my teammates (even though I only really knew one person on the Heartland team). Turns out they were right by the door, so I didn't have to look far.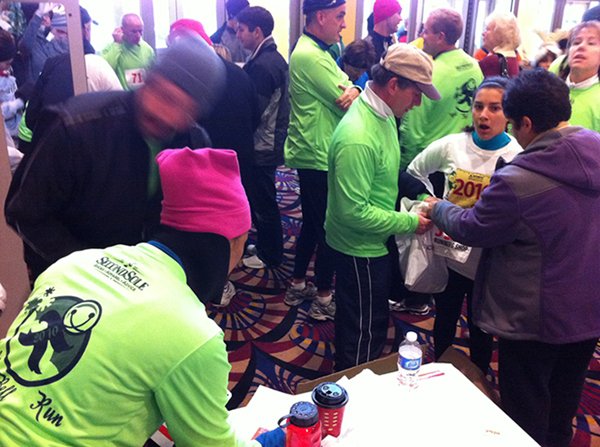 I also found that the one person I knew was in charge of doling out the remaining green tech shirts, so she wasn't going anywhere. We chatted while I got my timing tag on my shoe and my bib on my hoodie. While we chatted, I looked around at the other runners and realized that I really should have layered one of my thrift-store tech shirts under the new green one I got for my fundraising efforts. They say not to change anything up for the race, though, and wearing the hoodie and scarf over the tech shirt was how I'd been doing things, so it's just as well.
As we chatted to pass the time, she asked me what my pace was. I hadn't run the race last year, after all, so she was understandably curious. I only lied a little when I said I had an 11-minute mile (it's actually about 12:15, but has been as low as 9:15 for shorter distances). She offered that, if I could run the whole 3.1 miles instead of run-walking, we could run together! I was doubtful, but was feeling the pre-race hype, so I agreed to try to pace her.
She also decided she wanted to be ON the starting line, instead of farther back in the pack. I had no place whatsoever being on the starting line — I might have actually enjoyed the experience more had I been ensconced in a swarm of fellow runners — but there we were.
And the gun went off, and there we went.
Faster runners streamed around us on either side, and my co-worker had taken off WAY faster than I was ready to go. I tried to keep pace at first, but quickly realized that would be a poor idea.
"I can already tell you're too fast for me, girlfriend," I called to her. "Have a good race!" She looked at me sympathetically, in that Are you sure? sort of way, then continued her quick, high-kneed run down the straightaway.
Back at my own pace, I migrated to the side of the road and took everything in. It wasn't long before I started second-guessing myself: I'm on the left side of the road, running slow. Should I be on the right? Does it matter? I looked over my shoulder, didn't see anyone I'd be cutting off, and started my move to the right side of the road.
Let's pause here a moment.
Remember when I said that I knew I shouldn't do anything on race day that I hadn't done in practice? Well, the very last run before the race, I'd decided to clip my iPhone to the inside of my hoodie pocket, instead of using my armband (which tends to slip down over more cumbersome clothing). It had seemed to work well enough, so I did that for the race, leaving my armband at home.
Bad idea.
Back to the race — where I'm positive I must be known to several runners as That Girl Who Dropped Her iPhone. See, I hadn't counted on actually moving my torso in different ways, or swinging my arms slightly different. My arm caught my iPhone and it went spinning. Luckily, like I mentioned, there wasn't anyone directly behind me, so my iPhone didn't get trampled. I spun around and quickly picked it up, facing briefly into an onslaught of runners, then got back into my groove and moved to the side like I'd originally intended. Once I was sure I was no longer potentially endangering other runners, I looked at the iPhone that was still in my hand (somehow, the earbud had found its way back into my ear without conscious thought) — still playing, no cracks, case still attached.
Whew. OK. Crisis over. That sucked. Clipped the iPhone back into my pocket and settled back into my run.
At around the half-mile mark, I'd gotten my iPhone playlist and my run-walk timer going, and I found a happy groove by Mile 1. Run two minutes, walk one. I also enjoyed looking around at the other run-walkers and finally understanding the joy that comes from being at the back of the pack and seeing the race unfold around you.
The course ran a loop around the back of the outdoor mall, then connected to a local country road for an out-and-back segment. This made for a surprisingly mellow and low-key run for me. I kept passing and being passed by the same few people: a couple of women in festive hats, and a larger man in reindeer antlers, among others.
I'd seen a printout of the route when I picked up my race packet at work the day before; on the map, though, the out-and-back portion hadn't exactly been shown to scale. That stretch of country road was a LOT longer than I'd counted on.
One part that was fun about having the course laid out with an out-and-back section was seeing the faster runners coming back as I was heading out. The pace car came back through just as I was heading out. After the quickest ran past, I enjoyed watching the general masses of runners, seeing the expressions on their faces: focused, happy, miserable, or some combination thereof. I also saw my co-worker, who called out my name as she approached me. That was cool; I yelled her name back as we passed each other.
I'm not quite sure how I did it, but well before I reached the turnaround — I DROPPED MY IPHONE AGAIN. What the hell? I was so frustrated and pissed off at myself, I was lucky I didn't say anything worse than "God Bless America!" One of the runners coming up the other side called out a heads-up, although there wasn't anyone around me that would have been tripped up by my party foul. I barely broke stride, despite having to pick up pieces of my case this time. Plugged the earbud back in, reattached the piece of case that had popped off (only slightly scuffed, and the phone was perfectly fine — thanks, Marware!), and opted to hold the iPhone in my hand for the final mile or so.
After I reached the turnaround, I started seeing walkers coming up the other way, facing me. I was a little embarrassed to be quite so far back in the race, but didn't let it bug me. Just plugged away with my 2:1 run-walks.
Finally, I hit the water station at the end of the out-and-back and guzzled a cup during a quick walk break. Not far beyond that were two young ladies flanking the course on either side, encouraging the runners: "Only 200 meters to go!"
"I can do that!" I proclaimed aloud, and proceeded to run.
Coming up the last straightaway toward the finish line, I came up behind the two ladies that I'd been do-si-do-ing with the whole race. I ran alongside them for a while, then commented to them that I should have just kept pace with them instead of taking walk breaks, since we were passing each other the whole time!
No acknowledgement. Not even a glance. WTF? OK, whatever. I brushed it off and moved past them.
I heard one of them tell the other to move her legs faster instead of taking bigger steps. Don't mind if I do, I thought, and picked up the pace even more. A few yards into my final push, I decided to sprint — and realized that I didn't have anything else to give. Good sign, I suppose: I left it all on the course.
There was an announcer at the finish line (who, amazingly enough, pronounced my name correctly), and a photographer to record the occasion for posterity:
(Note that the ladies behind me seem to be having a rough time of it. I understand now why they weren't up for being social. Sorry, ladies!)
I did manage to sprint the final few yards to finish in 36:13. That made for a pace of 11:40 per mile, which is faster than I usually run. So, despite my jokes about setting a Personal Record (since it was my first race), I guess you could say I really did.
After I crossed the finish line and slowed to a walk, I very seriously wondered if I was going to puke. The wave of nausea passed fairly quickly, at which point I remembered to turn off my iMapMyRun iPhone app.
After a few minutes of walking around outside, checking the Twitternets, I went inside and grabbed a bottle of water and a bagel with cream cheese. The only other food there seemed to be doughnuts, and I just couldn't stomach that much sugar right then. Alas, with that one bagel, I ate all the calories I'd just run off. Ah, well.
I hung around for some time afterward to listen to the awards (my team raised the most money for arthritis!), and eventually got bored and left — but not before checking the list for my official time and placement:
Time: 36:13
Pace: 11:40
152 out of 171 total runners
21 out of 23 in my age division
76 out of 90 female runners
Overall, I had a good time, raised money for a good cause, and had a great first race!
I haven't signed up for a second 5K yet, but I'm planning on it. If nothing else, I only finished barely two minutes behind my co-worker friend, and I've promised her that, next year, she's going DOWN.