I started out 2012 as the mother of a tiny infant, and ended it as the mother of a rambunctious toddler. That in itself has made 2012 one of the most dynamic years in recent memory. Add to that some unexpected changes in my fitness plan, dealing with the death of a loved one, and getting more focused on my job, and you can probably guess that this has been one hell of a year.
Motherhood
I've written at length every month about Connor's milestones and his daily goings-on, but to recap… He started this year unable to even sit up on his own, a touch underweight, and exclusively breastfed. January was when we started supplementing with formula; by April, the attempt to breastfeed at home and pump at my full-time job had finally failed, and Connor was on formula and pureed foods.
About that same time, he learned to roll from back to tummy; not long after, he figured out tummy-to-back. By May, rolling was his new mode of mobility. In June, he figured how to sit on his own and how to pull himself to standing, and he took his first steps unassisted just a day or two before his first birthday (September 3rd). By year's end, he was nearly running, and had forgotten all about that crawling thing he did over the summer.
I've explained to some people — and this is a subject for a much longer and more introspective blog post — that sometimes I feel a duality about myself and being a parent. I feel like a person who has chosen not to have children, but who has one, anyway. This probably makes it sound like I don't love my son — but I do. Immensely. I just feel like there's another me, off in an alternate universe, doing the things I did before I became a parent. So, I guess that this year has been a journey for me in that respect, as well: coming to terms with this duality, recognizing it, acknowledging it, accepting it, and being OK with myself for even realizing these feelings.
The Estate
On the day before Christmas Eve 2011, my father-in-law (a widower) passed away suddenly and unexpectedly. Since all the executors named in the will were already deceased, my husband was appointed administrator of the estate.
Nearly every weekend from the end of January through mid-June was spent at Aaron's childhood home, a half-hour west of where we live, sorting through his father's (and some of his mother's) effects. Luckily, Connor was still tiny and portable — we brought him into the house in his infant seat, and would rock him and jiggle toys at him while we decided which items Aaron or his brother wanted to keep, which were just trash, and which could be donated.
Then there was the stress of having to secure a bond (so Aaron wouldn't abscond with his brother's inheritance, I suppose), and deciding which expenses had to be paid out-of-pocket prior to any funds being disbursed into the estate account (do you really need to keep up with the water bill if the house is vacant?).
In the end, the entire process took just under a year. The house was the last piece of the puzzle: it was listed for sale in June and had sold by August.
Aaron had an interesting and not precisely perfect relationship with his Dad, so there's still some unresolved stuff to work through here. In the meantime, though, we're glad that all the estate bullshit is over and done with.
Running and Fitness
I wrapped up 2011 with my triumphant post-baby return to running by rocking out the Jingle Bell Run 5K with Sheryl. February 2012 continued the running streak with the Get Luckey 5K — our first race with no walk breaks, and the only day that winter that had been ridiculously snowy.
We continued our lunch-time runs around downtown through the spring and into the summer, going places we never thought we'd go: mainly, across the Maumee River.
We took advantage of an art-installation-cum-scavenger-hunt called You Are Here Toledo to locate interesting places to run. There were dots across the river for the Toledo Rowing Club, International Park, the James M. Schoonmaker (Willis B. Boyer) Museum, and the Anthony Wayne Bridge; we also hit ones on the downtown side for Oliver St. Studios, Imagination Station, Promenade Park, and several others. In the end, I "collected" enough You Are Here dots with the iPhone app to get a free You Are Here Toledo poster. (Which I still need to frame and bring in to work to hang on my cube wall.)
Alas, my running career came to an abrupt end in the late spring, when my chiropractor informed me that I have a Grade 2 spondylolisthesis, and should be doing no high impact activity whatsoever (for pain management's sake).
Instead of just throwing in the towel altogether, Sheryl and I adjusted our workouts. Instead of running together two days a week, we switched to doing a yoga class one day and lifting weights another day, then doing cardio separately.
My weight loss graph only suffered a minor hiccup — honestly, me being forced to diversify my activity was probably definitely a good thing. I've discovered that I love yoga, that I missed weight-lifting, and that walking is still a valid form of exercise.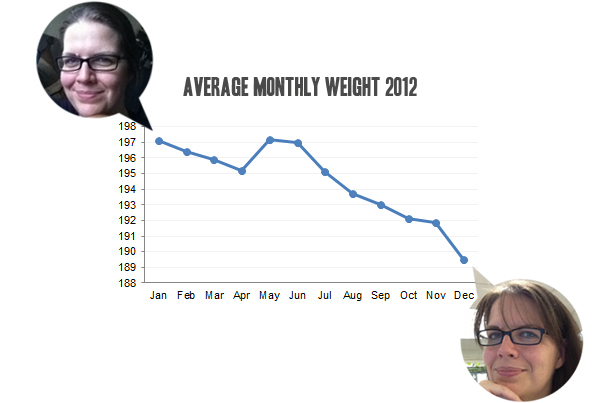 I should note that I didn't totally quit running.
Sheryl and I ran the Jingle Bell Run 5K at the beginning of December, after a month or so of me getting back in the proverbial saddle. It's my runniversary — the first race I ever ran, and my return to running after pregnancy — and I can't imagine that running it once a year (with the requisite month or two of training runs beforehand) will cause me any more pain than I deal with on a regular basis.
Braces
This year, I spent a lot of time at the dentist. My office has a dentist, periodontist, oral surgeon, and orthodontist on staff, so all my potential needs are covered at one location. So, once I finished the antibiotics that my periodontist prescribed, and my gums seemed to be happily hugging my teeth once more, I asked about getting a consultation with the orthodontist.
It went quicker than I'd expected. After one last visit with my perio guy for some deep cleaning of one particularly stubborn spot, and some time to heal after that, I got my braces on November 15th.
I'm supposed to have them — or, at least, be under orthodontic care of some kind, be it braces or retainers — for two and a half years. I can already tell that my teeth are moving, which is exciting. One of my co-workers has been mentioning that she can see the difference in my top teeth, too. (I don't smile with my bottom teeth, so she can't see them — but those are moving into line, as well.)
It's not covered by insurance, but it's worth the expense. Or it will be in the end.
Work
I don't talk about work much on my blog these days. I stopped that a.) when I got pegged for blogging about work during work hours back in 2008 (actually, I was just bookmarking a link on del.icio.us, but it fed to my blog) and b.) when I realized that my co-workers could easily find my blog, my Yelp reviews, my Facebook page, my Twitter feed, and that my boss's boss had read my blog. (Yeah, I about shit my pants when he told me that during one of my annual reviews.)
Last year, shortly before I went on maternity leave, my boss unexpectedly took a position at another company. The aforementioned boss's boss took charge of the department for the few months I happened to be out on leave, and my current boss was hired in just as I was returning to work.
New Boss and I had a bit of a rocky start; I had thought that my old boss and I had an understanding that I would be in line for a promotion, but boss's boss wasn't on board at my post-maternity-leave review, and New Boss really didn't know me from Adam, so she couldn't go to bat for me yet.
Over time, though, I got to appreciate her management style, and I think we both realized that maybe I don't need to be molded into the data warehousing code guru that I'm not. I'm a dashboard designer, a user interface developer, and my skills are unique on our team. As she assigned me more projects that I loved, I grew to love my job even more, and not feel quite so dumb for not knowing whether to write a nested subquery or a common table expression. During our monthly one-on-one meetings, I admitted to her that I'd be OK without a promotion if it meant I got to keep doing these projects that I enjoy, since the job description (advanced database techie coder guru) doesn't really fit what I love to do (make the data aesthetically pleasing and easily consumable).
I got a much more favorable review this Fall than last; New Boss (who isn't so new anymore) gave me some good feedback for where I'm excelling and how to improve in the future.
The elephant in the room, as always, was my "attendance." I know I'm jeopardizing future job opportunities by putting this out there, but:
I'm not hourly; I'm salaried. Still, since I know that morning tardiness has ALWAYS been my downfall (as in, running for the school bus in 10th grade with my hair wet and my shoes untied), I've been using the Daytum app to track my Days Worked by logging the day as soon as I'm at my computer and ready to work. Lunch in fridge, coffee and instant oatmeal at my side, computer booted up.
I've been tracking this for a few years now, but this year — this Year In Review, in fact — is the first time I've compiled the data and actually looked at it.
And, man, it's embarrassing.
I now have a weekly average minutes late on a sticky note in my cube. Unlabeled, not anything flashy, just the week number and how many minutes late I was on average. Now that I'm logging my sleep with a proper app that lets me see my data the way I want to (unlike Fitbit), I'm also able to correlate my average weekly bedtime with my average minutes late and try to find a sweet spot with my bedtime. We'll see how that goes.
At any rate, I'm hoping to have some solid data to show to my boss when I ask her to give me an update on my progress in a few months. Like, "See? I've improved! I come in almost on time now…"
Sigh.
The Fun Bits
In years past, I've tracked and graphed things like how many books I read, what music I listened to, how many miles I walked and where, where I ate and with whom, how many photos I took and where. This year, I did start out tracking some of those things, but eventually realized that I'm not as into living the examined life as I once thought I was.
It started when I upgraded iTunes, and my Last.fm scrobbler went on the fritz. All the music I listened to on my computer and my iPod and my iPhone was no longer being aggregated to a single site… and it was surprisingly liberating. For the longest time, I hadn't wanted to listen to a CD in the car on on the stereo, or satellite radio, or try out Pandora or Spotify or any of that, since I couldn't track it on Last.fm. Now that I'm no longer posting everything there, I'm free to listen to the awesome new Stenobot album in the car and not feel like I'm missing out somehow by not tracking it.
Some things are easy, though. For instance, it was (relatively) straightforward to count up how many photos I posted to various places online this year:
I used to post EVERYTHING to Instagram; after their Terms of Service debacle, though, I backed off and began using Flickr more regularly again. I still post things to IG every now and then… just not anything I wouldn't mind being sold or sublicensed without proper credit at some point in the future.
It's also easy, using Daytum, to track all my health care visits (both for myself and for Connor):
The one x-ray was when I discovered I had spondylolisthesis; the three orthodontist visits were consultation, braces being put on, and unstuck brackets being re-attached (the same day). I'm on a three-month dental cleaning rotation, plus I got teeth extracted for my braces. And I see my chiropractor once a month, at least. Notably absent from the list: OB-GYN and General Practitioner.
Interesting (or not) facts about my year:
I logged the exact same number of coffee shop visits in 2012 as in 2011: one hundred and five.
I ate Chinese and Dim Sum the exact same number of times in 2012: thirty-seven.
We did not go on vacation. This was the first vacation-less year since 2007.
We discovered a new Vietnamese restaurant, and ate there more than twenty times.
I ran 146 miles, 13 of which was training for the Jingle Bell Run 5K. I also walked 46 miles for fitness. (According to dailymile)
I'm underwhelmed by the access I don't have to my Fitbit (pedometer) data. I can't determine the total distance I walked without hacking the gibson.
We only went garage sale-ing once, at the Waterville Community Garage sale in June. Three stops were hits, while seven were misses. Then we got too hot and went home.
I posted only 48 actual blog entries — less than one a week — but hundreds of tweets. Twelve blog posts were letters to Connor, and thirteen were photo posts.
I'm sure I must have forgotten something interesting that happened this year, but I think this is long enough as it is. I can already tell that 2013 will have just as much in store, if not more.
Happy Belated New Year!