Mothers Day Weekend as a whole was interesting and busy in ways that I may get into later. Mothers Day itself was a pleasant and relatively relaxing day, despite us still doing the typical things like laundry and shopping.
As with all Sundays, I woke with Connor and let Aaron sleep. He gets up with Connor three days a week, Connor goes to daycare two days a week, and I rock the weekend mornings. It's only fair. Plus, it gives me time to hang out with my boy — which I especially appreciate when he's not being a cranky toddler.
On Mothers Day, he decided to be quite affable.
Lunch was Mommy's Choice, so I chose Korea Na (or Koh-ree-AHH-nuh as some people like to pronounce it — including the hostess). I wanted to try their sushi, since they have a fancy new sushi bar and accompanying sushi chef, and I know Connor loves the side dishes there. Korea Na doesn't open until 12:30pm on Sundays, though.
That's OK — we just stopped by Lowe's first to buy my Mothers Day gifts!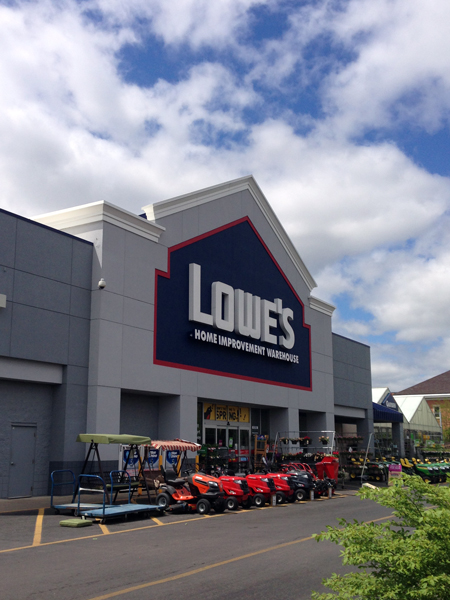 I picked out two hanging baskets of Impatiens: one for just outside the sunroom, and one for above the kitchen sink. I had a hard time choosing flowers with just the right light needs that weren't purple. We have a preponderance of purple flowers on our property.
When we arrived at Korea Na, there were already a couple of parties there — and we only arrived five minutes after they opened! It does my heart good to see their business thriving. The Kims seem like good, hardworking people, and they deserve to have things go right for them. Plus, Mrs. Kim makes some damn good food.
I ordered the Sushi and Sashimi Combo, and Aaron got the Soondooboo Chigae (a tofu stew). Connor had a bit of a meltdown a couple of times, but some lunch calmed him down, for the most part. The boy loves fish cakes! As for the sushi… it was good. Next time, though, I'll get something Korean. There are plenty of other places in town where I can get good sushi, but not so many where I can get good Korean food.
After lunch, we swung past Starbucks. By the time we got home, it was way past quiet time for Connor, so Aaron took him straight upstairs and put him down. We had some time together to relax and drink our coffee and eat our cinnamon coffee cake before we had to finish writing the grocery list and start the laundry and embark on normal Sunday stuff.
We also hung up my hanging baskets!
While Aaron was gone to the grocery store, Connor was napping, and the clothes were washing, I called my Mom to wish her a Happy Mothers Day — and to make sure my gift made it to her OK. She had hinted that she'd like some of the Harry Potter books for her Nook… so I bought her all seven! (Hey, it was a deal, and I know she'll love them as much as I did.) Turns out that she downloaded them just fine, once she jumped through all the Pottermore hoops of signing up and entering codes.
Connor woke up from his nap just about when Aaron got home from the store. I went upstairs to get Connor changed, then brought him down for snack-snack. He brought his Curious George with him, and offered him a sippy and a kiss.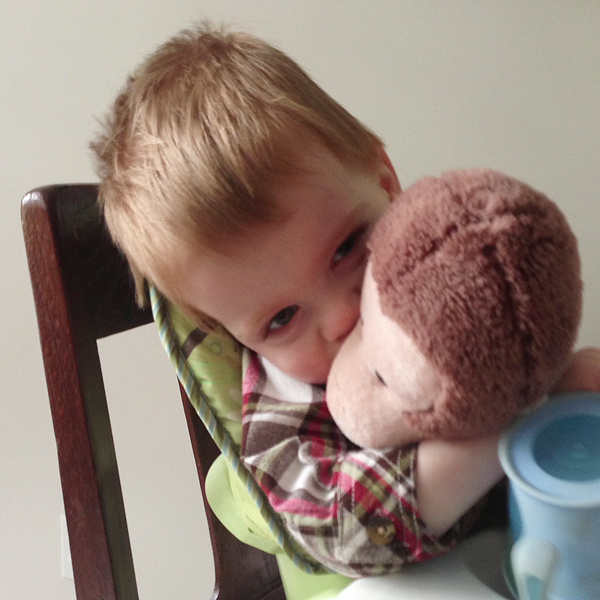 Next comes the part where my Mothers Day is going to sound like the opposite of every other mother's Mothers Day, but…
I got to cook dinner!
Every weeknight, right after Aaron leaves for work, Connor wants to 1) let me go potty, 2) help me feed Mei Kitty, then 3) eat dinner. Well, once I remind him that he should have something to eat before we go play in the sunroom. So, I end up nuking a frozen meal to share between myself and Connor, or I find something else quick and easy (like, less than ten minutes easy). Every Sunday, once Aaron gets back from the grocery store and we get the food put away, we're all too brain-dead and tired to make food, so we end up nuking a couple of meal-sized frozen entrees that Aaron picks up specifically for dinner, and we feed Connor a pre-packaged toddler TV dinner.
For Mothers Day, I wanted to cook. I had a recipe in mind that I'd found on Pinterest: a creamy avocado pasta dish. We all love avocado, and we all love pasta — can't go wrong! While I got things together in the kitchen, Aaron entertained Connor in the living room (out of sight of Mommy, which made him a little irritated for a while). The avocado sauce didn't take long to make at all — just a puree — but the pasta took a maddeningly long time to boil. Yeah, I'm a little impatient.
Finally, dinner was ready!
(I know it doesn't look particularly appetizing here. A food stylist I am not.)
I served up some for Connor, then served up the rest for Aaron and me (and topped ours with pine nuts and sundried tomatoes), then called the family in for dinner.
Everyone loved it!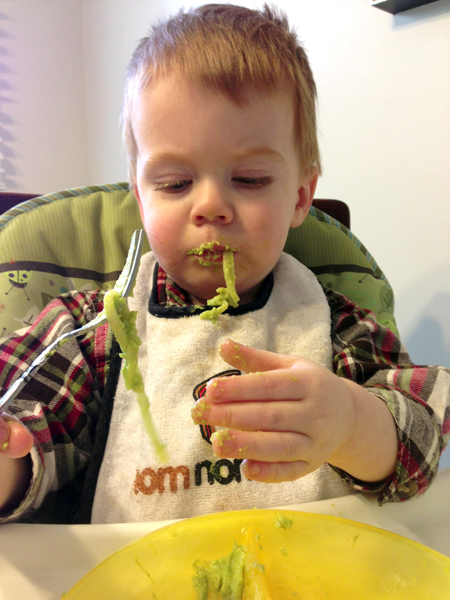 I decided to let Connor try out his fork, which was a rare treat for him. He attacked the pile of extra sauce I'd dolloped out for him first, and he knew exactly what it was: "Cado? Cado?" He did well with the pasta, too, and only had to ask for help at the very end. (He even ate my leftovers for dinner the next day!)
Since I cooked, Aaron volunteered to clean up. It was epic cleanup compared to what we usually have to deal with, since I'd dirtied a pot and bowls and the food processor and utensils, so I was grateful.
We got the bedtime routine going on shortly thereafter, and got Connor to bed with very little fuss. Then it was time to finish laundry (again, with much help from Aaron) and watch No Reservations Parts Unknown with Tony Bourdain.
I got to bed a little later than planned, since Aaron and I talked (like we rarely get to do anymore) well past the end of our TV show… but it was time well-spent.
It may not have been extravagant or full of ultra-pampered goodness, but it was just what I wanted: a calm and non-drama-filled day with my husband and my son.
I'm one lucky mother.