When we bought our three-bedroom split-level back in 2004, we never intended it to be a "starter home." We had every intention of living in that house for the foreseeable future.
The future isn't as foreseeable as one might think.
Seven years later, our son Connor was born; a few months after that, Aaron's father passed away unexpectedly. Neither of these were planned events, but they both worked in tandem to get us out of our first home: with the inheritance Aaron received, we were able to afford to move to a competitively-priced home in a better school district this past March.
Now for our next trick: selling a home that we purchased halfway through the housing bubble.
Even after our refi, we were underwater — barely. We knew we were going to take a bath on the house, but we also knew that it wouldn't sell unless we put some money into it. So, right after we got moved into our new home, we got started on hiring the professionals we'd need to get it in sell-able condition.
Our realtors agreed with us on the work that we thought needed done — interior paint, carpet cleaning, new bathroom faucet, other minor repairs — so we got some recommendations and hired a general contractor and a painter. There were definitely some hurdles along the way: difficulties getting the painting estimate nailed down (yes, we want the ceilings and trim painted); a few minor items being forgotten on the contractor's side (like securing the downspouts to the side of the house as requested); and, oh, yes, there was that minor issue of one of the painters getting electrocuted and ending up in the hospital for a couple days for observation.
Finally, in mid-May, our house was ready to list.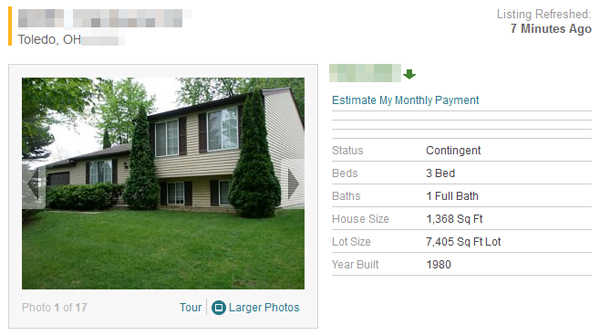 Showings came few and far between, it seemed. We pressed our realtor for better communication, and asked if there was anything else we should be doing to get more interest. We did drop the price once to generate more interest, and that seemed to work, but we hesitated to do it again, since we were already expecting to get low-balled by any offers we might receive. We knew the house would likely be on the market for at least six months, but those first couple of months went sooooo slooooow.
Then, in mid-August — an offer!
Of course, the offer was much lower than we would have liked, and left us holding the bag for much more of our principal mortgage balance than we had hoped… but it was an offer, nonetheless. Which we accepted. Which then led to more FHA-related repairs, and more time and money sunk into this underwater ball-and-chain. Foundation repairs, electrical work, pest inspection and treatment…
…and then the vandals broke in and stole our goddamned copper plumbing.
Broke in the back doors, flooded the basement, all for probably fifty bucks of copper. We had been planning to close in two weeks, and then this. Luckily, our homeowner's insurance covered the $8000 needed to repair the damage, but (as cheesy as it sounds) it really broke our spirits. It surprised us when the buyers didn't back out of the sale. We called back our original contractor to make all the necessary repairs, plus install the security storm door the buyers requested.
Again, there was some back-and-forth and some confusion with the repairs (no, we will not pay to replace the remainder of the old paneling so it matches the color of the new paneling), and the estimates and repairs — massive as they were — postponed the closing by about a month.
The final closing was today.
Right now, the sale of this house just feels like a burden lifted from our shoulders. If not for the vandalism, we might be feeling sentimental about having sold our first home together, and Connor's first home; instead, we're glad to finally be done with this whole escapade. No more double mortgage payments, no more paying a landscaping service to mow the lawn at the old house, no worrying about raking or snow removal or keeping the pipes from freezing.
So, farewell to our "starter" home. I hope the next tenants enjoy the quiet dead-end as much as we did.