This house feels like home.
Granted, some things still feel new or weird — the garden upkeep is a bit much, and we're still not entirely used to the sound of the sump pump in the basement, and snowblowing the driveway can be a very long and labor-intensive process — but, overall, after just over a year, this place feels comfortable.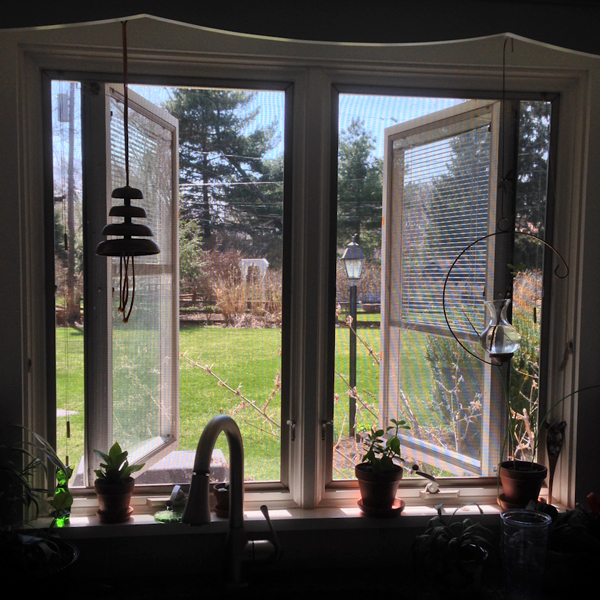 One of the main-floor bedrooms is set up as Aaron's game room, and the other as our home office, while Connor's room and our bedroom are upstairs. We have a spacious basement with a waterproofing system that gives us peace of mind. We have a formal dining room that we use for, well, formal occasions — birthdays and holidays, mainly.
And bathrooms! We have two and a half of them. That means that none of us will ever have to do the pee dance at home because the potty is in use. Hallelujah.
Those daunting flowerbeds give us beautiful flowers in the spring and summer, and garlic, and chives. We've also planted tomatoes (well, technically, I planted them last year and am hoping for some stout volunteers this year) and may someday branch out into other edibles, like strawberries or herbs. (It's going to be another year before our raspberry bush bears fruit again, since our former landscapers cut it to the ground during our "fall cleanup." Thanks, guys.)
We're located close to the highway, on a well-traveled road that gets plowed in a timely fashion in the winter. We have places to walk when it's nice, and we can get to a park without taking the car.
The place is lived-in, but we keep it as clean and uncluttered as we can. It's neutral and well-lit and feels updated, even though it still has great mid-century architectural elements (as it was built in 1963).
Our last house was great for what we could afford at the time, what we needed, and what we had been used to. It was on a quiet dead end street, was affordable, and had been plenty spacious enough for us when we moved in ("How are we ever going to fill this finished basement?"). Now, though — especially with our son to consider — having some more room to stretch out has been fantastic.
We finally purchased some furniture for our three-season room (aka the sunroom) that will double as family room furniture when the sunroom is out of commission in the winter months. When that's delivered in a few weeks, we'll finally feel like we've finished settling into our new house.