It's been kind of a plateau month. The initial burst of awesome is subsiding, and now I'm settling into life around 175. I still want to lose that last 15 pounds — or at least ten — but things are going a lot slower.
I'm realizing that the process feeds on itself: if I'm actively losing weight, it's easier to stick to Plan. If I'm stalled, it's easier to say Fuck It and eat a box of mac and cheese before bed.
I'm also realizing how the little decisions can affect the end result. I've tried putting visual reminders on the fridge and in the pantry — I'm not allowing myself to buy any more clothes until I reach my next five-pound mark, so I have some White House Black Market catalog pics posted where I can see them — but they've become part of the scenery, and I either scoff at them or ignore them as I'm reaching for another snack.
But every little Point really does make a difference in the bottom line, whether I want to believe it or not. I'm going to have to go all-out for a while again to make this work.
I've started tracking my daily PPVs in my weight tracker spreadsheet, determining which days are the biggest offenders for going over Points and which days I've managed to stay within my Target, either using or not using Activity Points.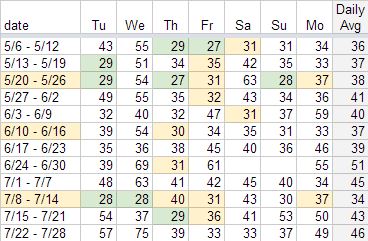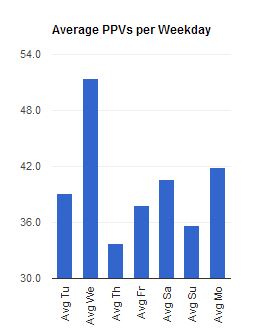 Wednesdays are my going-out-for-lunch days with my department at work, and we go out as a family for lunch and dinner on Saturdays, so I've come up with a compromise.
There is no reason I can't stay within my Daily Target on "normal" days. I can plan ahead, I can eat fruits and veggies, I can go nuts on tea and coffee and water, and I can stay away from food trucks and vending machines.
NSVs:
The resident gastric-bypass success story at my work (yes, I realize she's so much more than just that) said she's been meaning to tell me that I look good, especially since she realizes what a struggle it can be.
I ate no processed food for over 24 hours (with the exception of store-bought low-cal bread and some PB2). Felt awesome.
Non-scale failwhale:
After going off the 24+ hours of unprocessed food, I went nuts and ate tons of snacks when I wasn't hungry. It was like the processed food became a bigger trigger than before.
Ate a box of mac and cheese after Connor went to sleep… the night before a weigh-in. Again.
Maybe I can make Tuesdays and Thursdays my Unprocessed Food days! Start the Weight Watchers week off right on Tuesday, then cleanse from Wednesday's lunchtime food fun on Thursday. Yeah, I like that idea. I can do that. I've been rocking the toddler-approved recipes on Green Lite Bites lately, so finding stuff to make should be no sweat.
There is NO REASON — none — that I can't put on my big-girl pants and discipline myself to eat properly. When I work the plan, the plan works. I really don't need all these charts and graphs and numbers to tell me anything except that yes, if I do what Weight Watchers says I should do, I'll lose the weight they say I'm likely to lose.
Once that changes, then I'll re-evaluate. Until then, all I need to do is stay on plan.
I can do this.