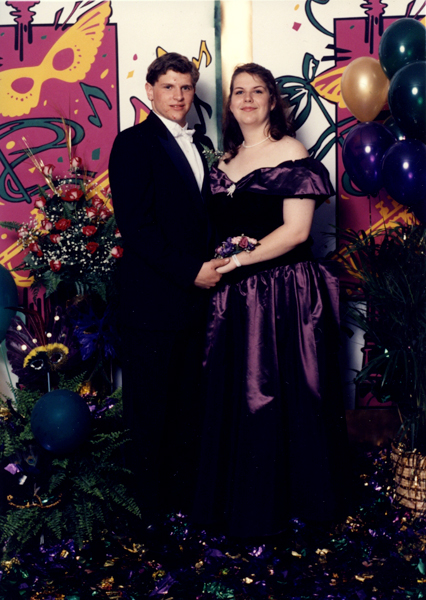 Senior Prom. "Mardi Gras in New Orleans," May 20, 1994.
My date was Rick, a Sophomore trombonist from Wind Ensemble. We technically went as friends — one of the female trumpet players acted as a go-between and told him I'd like him to go with me to Prom, even though we weren't going out or anything. He agreed — and suddenly I was put in the position of needing to find a dress.
One of Mom's acquaintances was a hairdresser in a former life, and also knew of a secondhand shop somewhere in the Cleveland area where we could find me a plus-size prom dress on the cheap. I don't remember what all I tried on, but I do remember falling in love with this velvet-and-taffeta number. (It was the '90s, after all.)
I had a pretty good time at Prom, as I recall. Rick did kiss me once — and, yes, it was my first kiss at age 18. Also, he stared down my dress at my cleavage all night, which was kind of to be expected. No hanky-panky went on after Prom — mostly because we were just friends, but also because I didn't have a car, so my Mom had to drive us to Prom and to After Prom. Yeah, classy, I know. But at least I went to my Senior Prom!
Fast-forward TWENTY YEARS. My Mom found that dress in a box that I somehow didn't take with me when I moved out. That dress got subsequently moved with her to multiple houses and apartments — probably four times in all, five if you count when she and I moved right after I graduated high school — and finally made it back into my hands a couple months ago. I was going through the various boxes last weekend, and came across the box with the dress. Crumpled, smelling faintly of cigarette smoke, but still on its hanger and in its plastic sleeve (for all the good that did).
I don't need to keep it. It doesn't have that much sentimental value to me, and it was secondhand in the first place. It's going back to the thrift, to complete the circle.
But I had to try it on.
It's probably two sizes too big for me now. It's falling off of me. Just look at that!
I've been kind of curious how my current size compares to my high school size, and now I know for sure. I felt like a million bucks at Prom — well, at least a grand, anyway — so it doesn't particularly matter that I was wearing a size 18 dress, as long as I had a good time, and good memories to show for it.
I hope someone finds that dress at the thrift store and loves it as much as I did — but in a much more retro, ironic sort of way.