Non-Scale Victories:
A couple different WW members used tips of mine to keep themselves on track!
I'm on the short list of people who regularly attend fitness classes! Got a mass email asking what classes people would attend over the holidays, with a note to forward it on to anyone who attends classes that she had missed in the list.
Stopped tracking for a few days. Gained a few pounds. Went back to tracking. Lost it again. Overall, I've edged up about 3½ pounds since my lowest weigh-in back at the end of October, but I've been in that same 3½ to 4-pound range since August.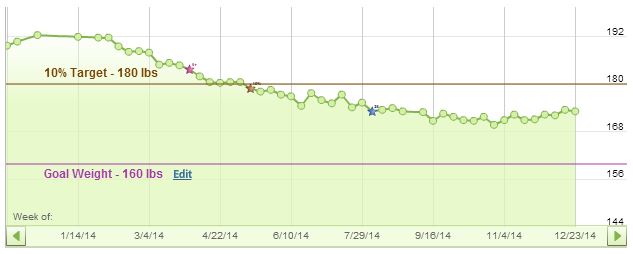 My overall goal for the holidays (i.e., Thanksgiving, Christmas, and New Year's) is to continue to maintain my weight. I'm OK with gaining a few pounds, as long as I can rein myself back in after a few days of debauchery.
I find that if I gain a few pounds for a few days of overindulgence, those pounds tend to come off quickly. The kind of weight that doesn't come off quickly is the kind that creeps on over time, unwatched, and that's not the kind of weight I intend to put on ever again.
I'm going to enjoy my Mom's butterball cookies, and Tom's fudge, and the Lofthouse cookies we bought from the store, and the zucchini chocolate cake I'll be making tonight or tomorrow. I'm going to enjoy the maple-glazed ham and the sweet potatoes and the green bean casserole and the chicken paprikash and the rolls and everything else. And I'm not going to feel guilty about it.
But I'm also not going to make an excuse out of it.
I might not track over the holiday weekend, but I also won't wait until after New Year's to get back to my normal habits. Once the Christmas leftovers are gone from the fridge, weight loss begins in earnest once more. This plateau has gone on long enough, and I have ten pounds yet to lose.