It started with a post on Facebook, and a comment from Aaron's cousin Megan. It ended with what felt like spectacular parent and toddler fail at one of our favorite restaurants.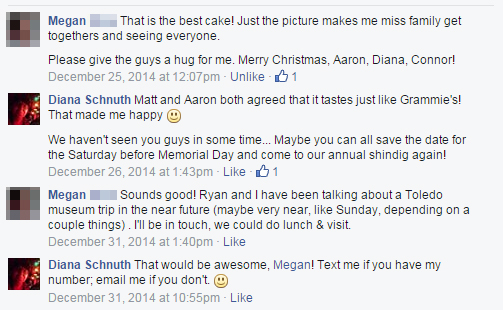 Megan and Ryan decided to come to Toledo on Sunday to check out the museum for the day, and thought, wouldn't it be nice if we all met up for dinner before they headed back? So, Aaron and I rearranged our normal laundry-and-groceries Sunday to be laundry-and-groceries Saturday instead, so we could meet Megan and Ryan at Pho Viet Nam for dinner on Sunday.
(After all, haven't we been saying that we wish we were more social with family and friends, and that we wish something different would happen for once? Here it is!)
We inadvertently hyped up Connor for Something New After Quiet Time by telling him that he'd get to see Cousin Megan for dinner. So, once he was napped and ready, he was super extra stoked. He's also been in a kind of a boundary-pushing phase lately, so that probably didn't help.
We arrived right on time! They'd arrived before us and procured the only large table for the five of us. An even larger party came in around the same time we did, though, so we got bumped to a booth with an added chair on the end for Connor. That was possibly the biggest strike against us, since Aaron got saddled with the vast majority of the Connor-wrangling that we usually share, and since there wasn't enough room on the table to keep Connor out of everything.
He yelled. He demanded snacks. He knocked over a water glass when he flailed to give Daddy a hug. He asked to go potty. He made a mess with his noodles. He demanded attention while the grown-ups were talking — and he got attention from the other parties in the restaurant. He grabbed Megan's chopsticks (after she was done with them, thankfully). And all the while, we tried to put a good face on things and assure them that He's Not Usually Like This!
Since we hadn't seen Megan for a good year and a half, we had been looking forward to catching up with her and Ryan. Aaron said afterward that he didn't feel like he really got to visit at all. I, at least, got a few Connor-free minutes of conversation while Aaron was changing Connor's water-soaked pants, then again when he took Connor potty.
After an hour or so of this, all told, Megan and Aaron went up to pay our respective checks, leaving me at the table with Ryan and a very wiggly Connor.
"I don't want to come off like a jerk," I said to Ryan, "but this —" and I jerked my thumb toward Connor, "is why we didn't plan on having kids."
It's the honest truth, and I felt for some reason like it had to be spoken in that moment. Of course, I did my standard But Of Course I Love My Son backpedal after stating that uncomfortable truth.
We said our goodbyes outside in the freezing rain and sleet, hugs all around, me carrying Connor so he wouldn't slip and fall in the frozen mud.
That was probably one of the most exhausting dinners out we've ever experienced.