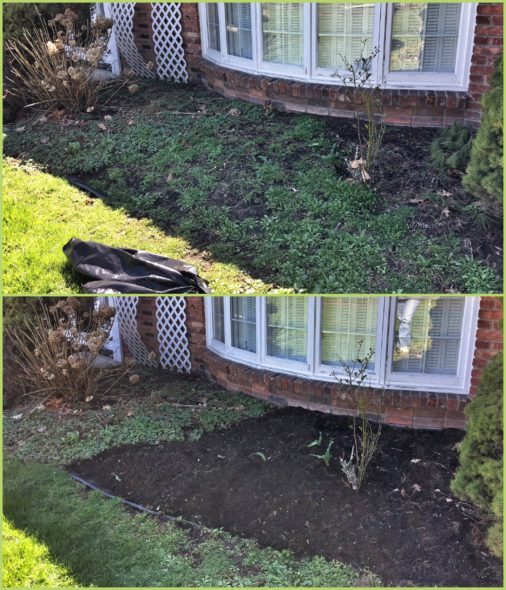 I only spent two hours weeding and cleaning up today, but I could easily have spent all day, if I'd had the time.
My main goal was to clean up the "tulip bed," above. I call it the tulip bed because I planted some couple dozen Angelique peony-flowering tulips in the border a couple autumns ago. Last spring, deer ate the tops off of two-thirds of them. Earlier this spring, deer and other wildlife just straight up ate the bulbs right out of the ground. I have about six left, and I intend to use this photo as a reference for where I should plant some more bulbs come this fall.
Anyway.
I spent some quality time weeding here, then pulling up last year's stems of Solomon's Seal in the next border over, along with pulling the most egregious of the weeds there. I also swung through the front garden (what I pompously call the Cottage Garden, although it really looks nothing like one yet) and did some spring triage: pulling up skeletons of last year's annuals, making sure weeds don't choke out new growth from peonies and yarrow, that sort of thing.
I'm planning a gardening morning off of work in a couple of weeks, but I'm chomping at the bit to get out there and tackle some more tasks: plants I'd like to move, more weeding, some pruning, etc.
When we moved into this house four years ago, I didn't exactly go from zero to gardener in a season. It took me a year or two to ramp up and grow into it. Now, though… this is a full-fledged hobby of mine, disguised as yardwork.