Back in January, I resolved to cook fifty new-to-me recipes in 2017. Unlike some of the other resolutions I made (like, say, posting to my blog daily), I succeeded and surpassed my recipe goal.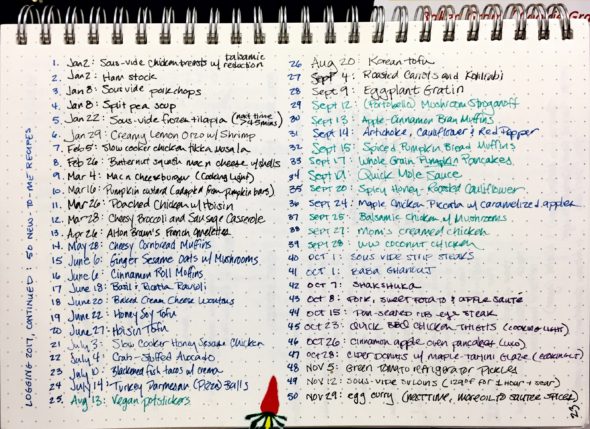 I reached 50 recipes by the end of November, and (while I ran out of room on my notebook page to record them) I continued trying new recipes through December, reaching a total of 55 new recipes I tried this year — better than the one per week I'd originally been shooting for.
Some of the recipes, of course, were more successful than others. The undercooked sous-vide tilapia wasn't my best moment, and neither was the woefully under-spiced egg curry. Some, though, became house favorites.
These are my top ten. 
It should be noted that I deviated from AB's original recipe: I had ground turkey rather than chicken on hand; and I happened to have a jar of pizza sauce in the pantry, as opposed to the ingredients for his Weeknight Spaghetti Sauce. So, my version is technically Turkey Pizza Balls.
I scoured the internet for a honey soy tofu recipe, and I came across this one. It's a very straightforward recipe, and it's become my go-to pan-fried tofu recipe. In fact, I just made it again tonight. Nom.
This is more of a method than a recipe, but I'm including it, anyway. My omelette success is now highly repeatable, and the methodology (up to a point) translates to scrambled eggs, as well.
Amusing side note: once, after perfecting this method, I accidentally got the egg pan too hot, but served my son (age 6) the resulting overcooked scrambled eggs, anyway. His reaction to the slightly browned and definitely dry plate of eggs: "What is this?"
This one would be higher on the list if my son liked it. He's just not into citrus flavors, though, so this one's for the grown-ups. The orzo is cooked risotto-style, and a last-minute addition of cream cheese tightens up the sauce and enhances the texture.
5.) Cheesy Artichokes, Cauliflower, and Red Pepper — Cooking Pleasures, January 2010
Again, not a hands-down favorite of my son's, as he's not a fan of either artichokes or bell pepper, but he'll gladly eat the cheesy cauliflower out of it. It takes a little too long for our typical 30-minute weeknight dinners, but for a weekend side dish? Oh, so worth it.
There's no link to this recipe online, as Cooking Pleasures was the magazine of The Cooking Club of America (of which I was a "lifetime" member), which quietly went defunct a few years ago.
6.) Split Pea Soup — The Kitchn
The whole family LOVED this recipe, and the only reason it's not higher on the list is because we only made it once. I'm planning to make this one a New Year's tradition in our home, though, using the Christmas hambone to make a delicious stock as the soup base.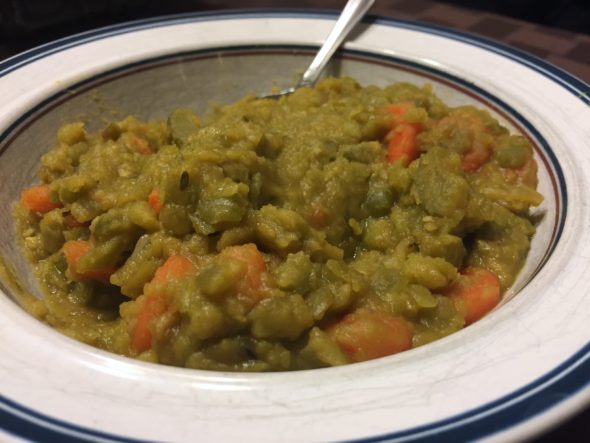 7.) Baked Cream Cheese Wontons — Damn Delicious
Delicious, easy… but somewhat time-consuming. And even the kiddo loved the ones without green onion — because, you know, green food is gross.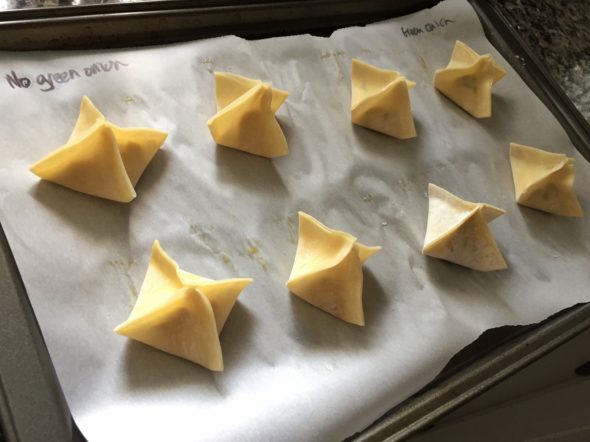 I modified this recipe to make a bounty of donut holes, rather than actual donuts, as I own a cake pop / donut hole maker and not a donut maker or pan. I also modified this recipe to eliminate the maple-tahini glaze, as my son claimed the glaze "ruined" the donut holes. I wasn't a fan of the glaze myself, to be honest. I wiped off as much as I could before it set, and rolled the donut holes in cinnamon sugar instead.
The crema was the big takeaway from this recipe. I could put that sauce on almost anything and everything. Mr. Brown would likely be scandalized at the shortcuts I began taking after the first time of making the recipe as written… but for a quick weeknight taco topping, it serves the purpose just fine.
10.) Quick Mole Sauce — Real Simple
I just had a hankering for mole one evening, so I looked online and found this recipe. The quick nature of it — and I bypassed some steps to make it even quicker — leaves the sauce tasting more raw than mole generally does, but I plan to make this one again with some tweaks.
Honorable Mention: Sweet-and-Savory Tomato Jam from The Kitchn
I'm not sure how I didn't write this one down on my official list, but I made this jam from my bountiful tomato harvest, and it became quite literally my favorite condiment ever. I just ran out yesterday, and I'm planning to crack open a can of whole tomatoes to make another batch. Granted, it probably won't be quite as awesome as it was with homegrown, garden-fresh tomatoes… but I'm guessing it'll still be pretty awesome.
One unfortunate omission from my handwritten list of recipes was the source of said recipes. There are a few in there that, if I want to make them again, I'll need to scour a few different locations to find them. Binder, recipe box, Pocket, iPhone photo of my computer screen… Luckily, I'm pretty sure I can locate any recipes I'll really want to make again in the future.
Next year, though, that won't be a problem, as I'm planning to devote each month to a different cookbook that I may or may not have ever cracked open. But that's a post for another day….