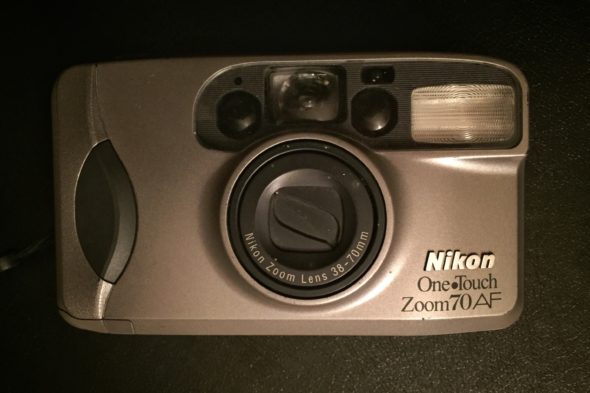 I picked up this Nikon One Touch Zoom 70 AF for two bucks last February at my favorite thrift store (which has since closed — RIP, Savers).
I loaded it up with my last roll of 35mm 400-speed film, only to discover that it made a crazy grinding noise with each advance of the film. The first 8 exposures or so were different nighttime views of the living room as I was debating whether to continue the roll or give up entirely.
I ended up deciding to leave the film loaded and just take some snaps around the house over time instead of taking it on a photo walk downtown.
I finished up the roll over St. Patrick's Day weekend, just snapping indoor photos at home. I experimented with selfies using the timer, portraits with different flash modes, zoom distances — all the while expecting that the photos weren't going to come out, anyway. That grinding noise is ominous.
Of course, since I didn't record info on any of the photos, it turns out that the camera works just fine.


A little more about the camera… According to the Nikon Product Archive, this camera was introduced in 1997. It runs on one 3V CR123A photo battery, and it has a few different flash and timer settings. (The camera I owned in 1997 was a MUCH more basic point-and-shoot, and I was envious of my peers who had "fancy" cameras like this one.)
You could even imprint the date on your photos, if that's your thing. You'll need something pointy to do it, though — and if, by some miracle, this camera is still functional in the year 2049, your New Year's Eve photos will be the last ones you can date-imprint, as it cycles back to 1998 from there.
Like I mentioned, I didn't expect any of these photos to come out, so I intentionally didn't take any particularly special ones — and I didn't note any of the settings I tried.
Things I did notice: firstly, this is not a selfie camera. The attempt with the flash was both out of focus and blown-out, as expected, and this was the result in ambient window light:
The photos I took with this camera honestly reminded me of all the snapshots in my college-era photo albums, both taken with my crappy P&S and with my friends' fancier point-and-shoot cameras.
If I'd taken this camera out on a standard test run, I'd have probably had more examples of its quirks — for instance, the left edge of the frame is noticeably soft, as evidenced in the photo of my living room wall, and enough photos are off-center that I'm pretty sure the viewfinder isn't aligned quite right.
Also, flash is helpful if not a necessity indoors, as evidenced by these two images:
While I prefer the look of the ambient light by far, the image is just far too soft. I suppose that could be due to a dead-center focus and a wider aperture (f/4.7 at its widest) throwing everything except the Bat Symbol slightly out of focus. Such is the risk of using a point-and-shoot, I suppose.
At the end of the day, this is a decent camera. If I'd had this camera back in 1997 instead of my Kodak Star 35, I would have been over the moon. As a collector of cameras in my adult years, though, I'm not in love with this camera — especially this particular one, with its excruciatingly loud auto advance. It's probably going back to the thrift, so some other film camera enthusiast can have a go with it.