In 2017, I resolved to cook 50 new-to-me recipes. In the end, I tried a total of 55 from various sources: online, magazines, cookbooks, the recipe box.
This year, I decided that I'd delve into my collection of cookbooks. We inherited several old-school cookbooks and compilations from my husband's family, plus I've gotten some as gifts over the years, bought some for cheap at garage sales, and gotten some freebies from Weight Watchers meetings.
I'm planning to devote each month to one cookbook, and cook at least one recipe per week from that cookbook. January's cookbook was from Trinity United Methodist Church in Swanton, Ohio, published in 1990 — from the estate of my in-laws.
First, I paged through all the recipes, taking notes on a post-it as I read. Lots of "oleo" mentioned… The Bread and Butter Pickles recipe on page 5 needs a GALLON of cucumbers? …Also, next recipe, using pickles to make pickles is cheating… There's a cup of butter in the BBQ sauce?!
I also marked a few recipes that sounded like ones my family would like, and that we would have most of the ingredients to make. These are the recipes I selected.
1.) Meatza Pie
This reads like a cross between meatloaf and cheese pizza. Once I got the meat mixture in the pie pan, I looked at it and wondered where the grease was going to go.
The answer: along the edges. It honestly looked kind of gross when I got it out of the oven. (I do love my microwave, but something about cooking meat in it just doesn't seem right to me, so I went by the oven instructions.)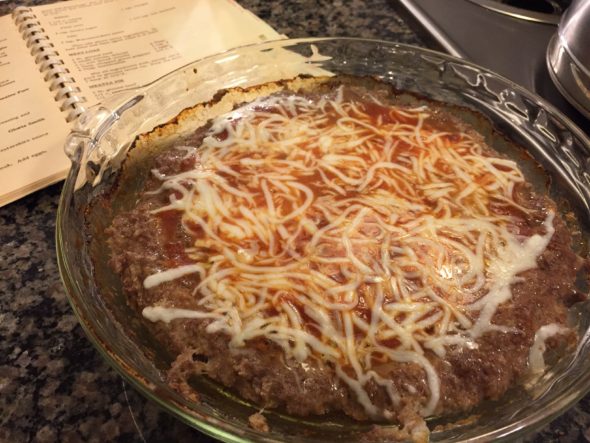 I depanned it immediately to get it out of the grease. I still wasn't sure.
It was delicious. Dense, but delicious. Even my son (age 6) loved it!
If and when I make this again, I may try mixing beef and turkey, maybe adding some typical meatloaf fillers like onions and peppers, and basically treating it like a meatloaf with a higher surface-to-mass ratio, topped with pizza sauce. Oh, and I'll probably cook it using the Alton Brown meatloaf method of shaping it on a sheet pan so that the grease can run off and away from the food.
2.) Salmon Noodle Romanoff
Before trying this recipe, I'd never heard of Noodles Romanoff before, and I had to Google it to figure out what exactly this dish was supposed to be. Sour cream and cottage cheese in noodles?
It's actually pretty good. The texture of the cottage cheese in with the noodles is a little unexpected, but once my brain could process that nothing had gone bad and curdled in the oven, I enjoyed it.
I made it again, later in the month, and discovered that subbing Greek yogurt for sour cream is not a viable substitute in this recipe — it was definitely missing something.
3.) Curried Chicken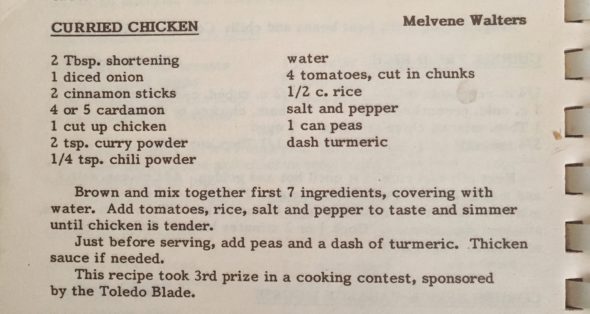 This was a total winner. I did make some substitutions — boneless chicken thighs instead of a whole chicken, plus I left out the peas — but I don't think my substitutions changed the dish very much.
I made this one twice, as well, and doubled the amount of rice the second time around. That was even more perfect: it reminded both me and my husband of the chicken and rice or curry chicken we used to have at home growing up.
It takes a while to prepare — 45 minutes — but I could see this becoming a weekend staple.
4.) Hot Chicken Salad

I made a half-recipe of the Hot Chicken Salad, as I was low on cooked chicken. As it was, I used the leftovers of the Curried Chicken along with a can of white meat chicken, and that seemed to work out well.
Even though we're a Miracle Whip Light family, I happened to have a jar of Hellmann's Light in the fridge. Since the recipe specifically calls for "real mayonnaise," I figured I'd bust out the Hellmann's for this application. Even though it was "light" mayo, that added a LOT of calories and fat that we probably didn't need.
Next time I have a bunch of leftover chicken to use up, I'll probably make this again… except I'll try the Miracle Whip instead.
5.) Sweet and Sour Meatballs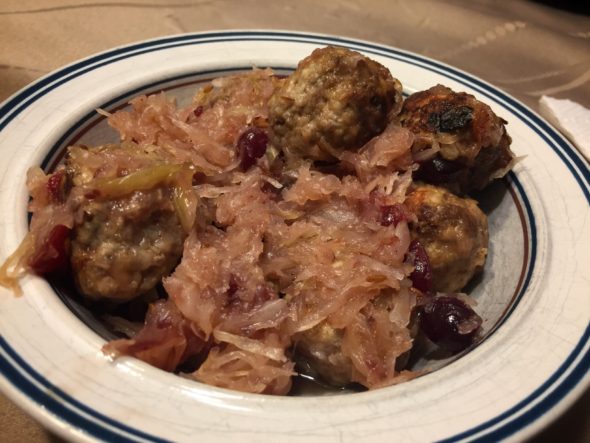 As with any meatballs, prep for these was a bit time-consuming — but I expected as much. These particular meatballs were also of a looser consistency than I'm accustomed to, so I added some panko to the mix. Even after that, the rolled meatballs weren't firm enough to make ahead and store in the fridge without browning them first.
Overall impression: good party food (think toothpicks on a platter), but a little too sweet and tangy for a main course.
6.) Corn Stuff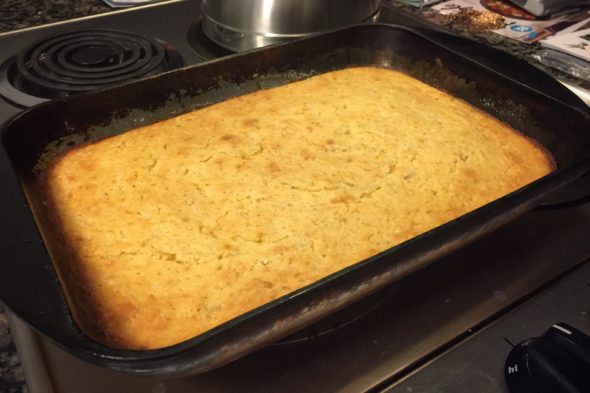 Even after reading the ingredients list, I wasn't sure what consistency "Corn Stuff" would be until I made it. As it didn't seem like the sugar would contribute much to tenderizing or browning, I substituted Splenda to save on some calories. In the absence of any directions, I guessed that a 9×13 pan would be a good option for baking, and I was correct.
As it turns out, it's like very, very moist, custardy cornbread, and it's delicious. It disappeared fast. A+ would make again. I might even try fancying it up like my family used to do with regular cornbread, and add some bell pepper or bacon or some other flavorful chunkies.
7.) Aunt Ginny's Ground Beef Fix-ups
I forgot to photograph the last Trinity recipe of the month, but I've discovered over the course of the month that I'm not much of a food photographer, anyway.
This recipe reminded me a lot of Campbell's Taco Skillet — just sub tortillas for noodles and add some spice to the party, and there it is. I love Taco Skillet, ergo I also love this.
Overall, this cookbook was what you'd expect from a collection of recipes from a church congregation: sometimes absolute winners, sometimes misses, sometimes missing a step or two in the instructions. What made this particular cookbook endearing was that my husband could identify many of the names — so-and-so was the Church Secretary… my Sunday School teacher in sixth grade… the one who put folding chairs in the back of her conversion van… His additional details breathed a little extra life into what would otherwise have been just a collection of recipes tagged with names unfamiliar to me.
I see myself coming back to this cookbook in the future — especially since a few of the recipes we tried were huge hits. There were also a few that just weren't seasonally appropriate, like Watergate Salad, and a couple of maybes, like Corn Chowder and Veggie Pizza, that I'd like to try someday.
February's Cookbook of the Month is Cook Korean! A Comic Book with Recipes by Robin Ha. So far, it's a very different culinary experience than recreating recipes by Midwestern housewives, but the results have been delicious.