Category Archives:
creative
We hit up the Goodwill today before dinner, just for something to do, and I came away with three cameras:
Kalimar 3D 35mm camera, with box and manual… and unused envelope for getting 3D prints with your developing.
Ultronic panoramic 35mm focus free with a half-exposed roll of found film. (I might have passed on this one if not for the found film.)
Canon Sure Shot 80 tele. I don't usually go for point-and-shoot zooms, but I follow a couple of film photography bloggers who have an affinity for some of these, so I figured I'd take a chance on romance. If nothing else, I donate it back and recoup my $3 on my taxes.
I was proud of myself for leaving a broken rangefinder at the thrift for someone else. I have enough broken rangefinders at home already.
As soon as I got home, I loaded two AA batteries and a roll of ISO 400 into the 3D camera. Can't wait to see what comes out of that!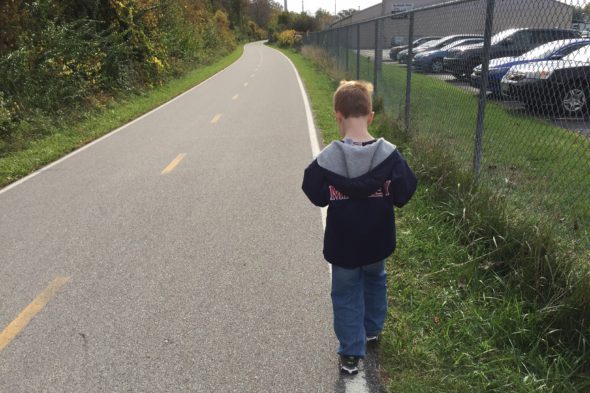 Connor only agreed to take a nature walk with me today if we could take turns photographing nature with the film camera I brought along.
My son will sometimes pretend he's The Flash, or Sonic the Hedgehog. He loves to run.
So, when I learned that our school district was hosting an Elementary Cross-Country Series, I knew I had to sign him up.
Unfortunately, we had to miss the first meet of the three-meet series because that was the day Connor had his annual checkup and flu shot — firstly, I couldn't justify both coming in late to work for his appointment and leaving early for his cross-country meet; and secondly, he was hobbling around all day on his flu shot leg, so having his first-ever race on a bum leg would not have been a good experience.
I brought my "good" camera with me to capture Connor's first-ever actual race, the second meet of the series.

[Taken 16 September 2017]
We took Connor to the thrift store for the first time to get a Halloween costume. While we were there, we let him choose a toy, and he chose this Millennium Falcon.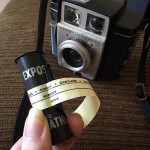 I purchased the Brownie Twin 20 at Savers (a thrift store) for $4 two years ago, and discovered an ancient roll of Ansco black-and-white still loaded with only four or five exposures used. Unsurprisingly, the found photos didn't come out, and neither did the photos I attempted to take on the remainder of the roll.
Finally, a year and a half later, I did a real test of the Twin 20! Back in February, I loaded it up with Ektar 100 speed, spooled onto a 620 spool.
Just had a blast practicing my shoot-from-the-hip street photography skillz with my teeny tiny Pentax Auto 110 SLR with the 18mm wide angle!
Connor and I used the first half of our respective camera rolls on a late autumn day with leaves blowing and green grass aplenty. The next weekend, we finished up our rolls on a snowy winter morning.
You know you've got the #sewing bug when a stack of neglected mending suddenly looks like an opportunity to practice blind hems and buttons.