Even with a few substitutions that turned Chicken Parmesan Balls into Turkey Pizza Balls, this was AMAZEBALLS. @altonbrown #everydaycook
My son saw me making meatballs and asked — nay, *informed* me he would help. Dinner was late, but worth it. Thx, @altonbrown! #everydaycook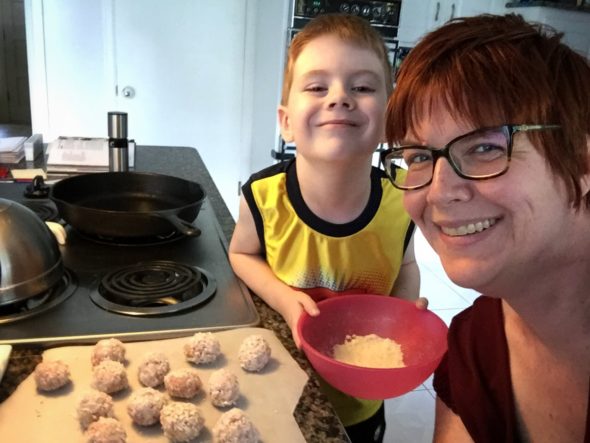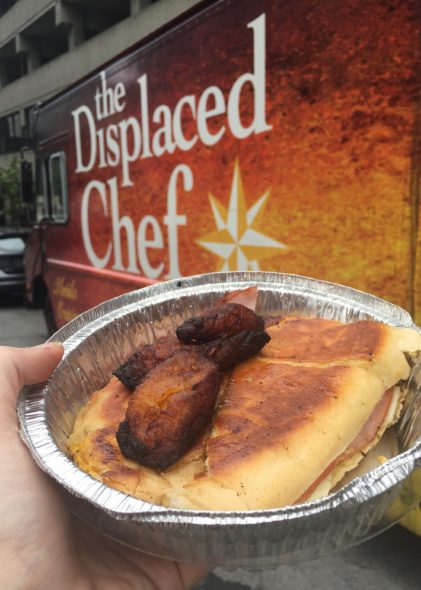 Just like in Ybor City, proclaims the menu. Alas, during the years I lived in the Tampa area as a kid, I only visited Ybor City once, on a field trip, and I'm pretty sure I didn't have a Cuban for lunch.
My Cuban from The Displaced Chef was delicious, but not as filling as I'd expected, and maybe not delicious enough to justify the wait. Seriously, I wonder what everyone else was ordering, because people who had been two or three spots behind me in line got their food before I did.
I wish the food truck had some more of the Cuban dishes served at the sit-down restaurant in Perrysburg. I'd gladly wait a few extra minutes for an order of piccadillo or ropa vieja.
If I hit up The Displaced Chef again, maybe I'll order one of the platos. Or just get an order of fried plantains. Om nom nom.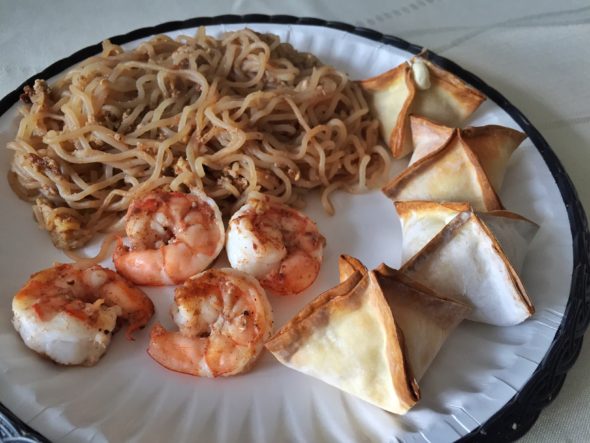 Like many people (including my late Memaw), the recipes I concoct aren't so much measured as they are eyeballed. That said, these five-spice shirataki noodles are such a hit with my son that I want to at least share the basics, just in case someone out there would like to try it for themselves (or their own picky offspring).
I made new-to-me recipes twice in one evening! First, I made Ginger-Sesame Oats with Mushrooms and Charred Green Onions for dinner. My five-year-old son, of course, hated it.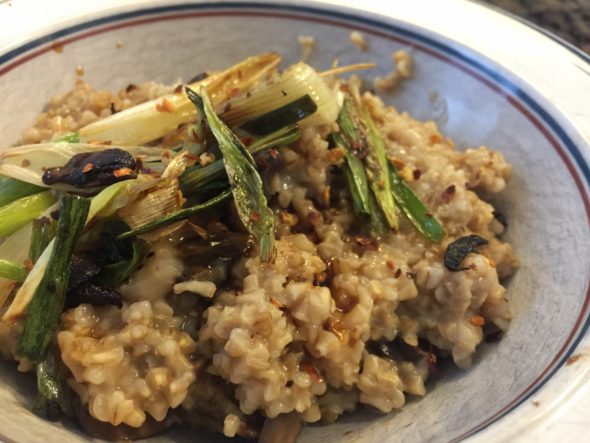 After he went to bed, I made Cinnamon Roll Muffins. (He already knows he'll get a muffin for breakfast tomorrow.)
I was pretty pleased with both endeavors, and baking after my son went to bed kept me from snacking, so that's a win, too.
I'm well on my way to cooking/baking 50 new-to-me Recipes in 2017!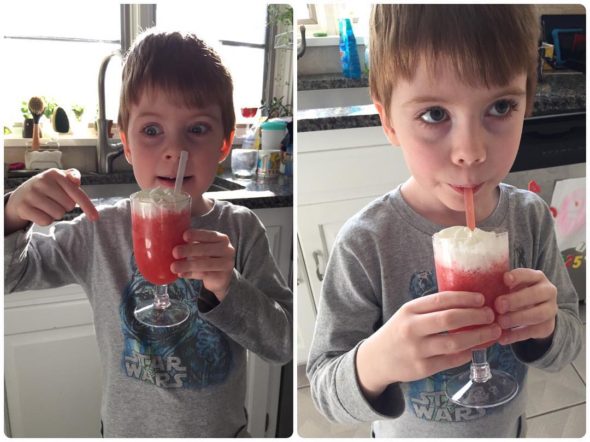 He created the recipe in his Smurf Recipes app on his Kindle Fire. It honestly wasn't very delicious — berries, water, and ice, topped with Reddi Wip — but a packet of Splenda made it more palatable.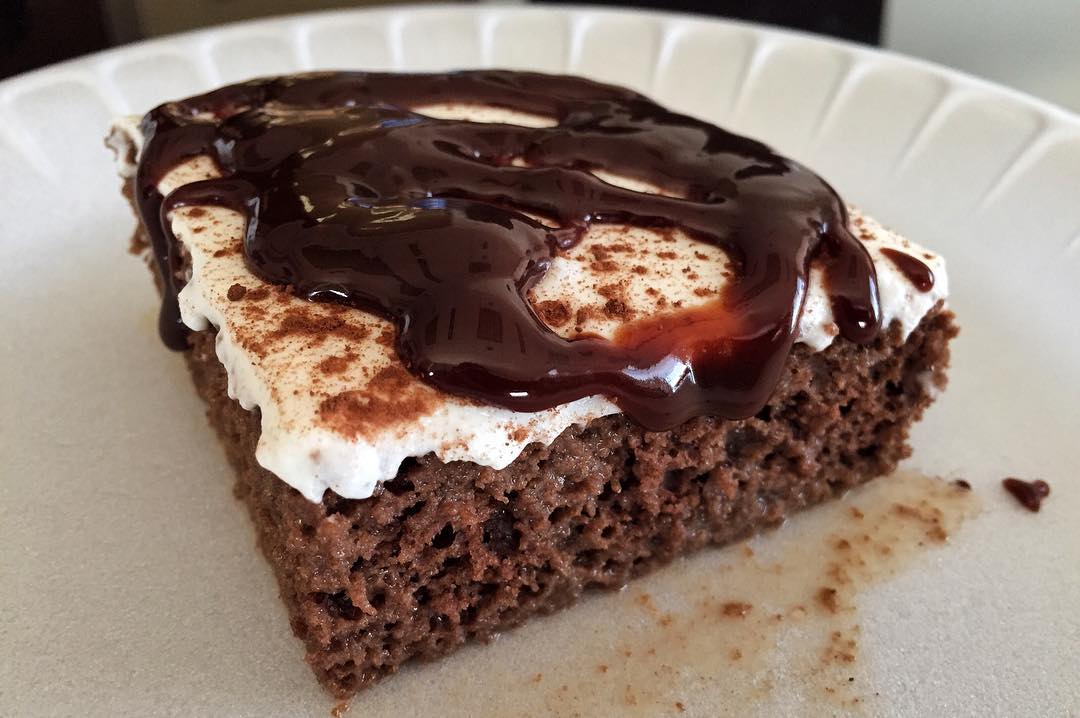 As featured in the Detroit Free Press and made by my boss.
The prep time on this casserole recipe from Cooking Light may not have taken into account my lack of a lackey to be my Sous chef. That 50 minutes ended up being closer to an hour and a half — plus, I got interrupted once by my son. That was my entire stretch of "me time" that I get after my son goes to bed, and I'm not entirely sure it was worth the effort.
I may appreciate this as Time Well Spent come tomorrow, when I stick one of these in the oven for 25 minutes and poof! dinner is ready. Or in another couple of weeks, when I make the casserole I'm about to freeze.
Honestly, though, unless this is The Best Damn Casserole I've Ever Had, I'm unlikely to go to the trouble again.
Honestly, it was almost a shame to get an unexpected bluefin upgrade on this particular roll, where I didn't feel I could properly enjoy it. The exquisite texture of the tuna was overshadowed by everything else going on (mainly the cream cheese).
Still, though, I'm grateful to be such a regular that I get upgrades like this! My once-a-week sushi habit is paying off… sort of.
Some of my resolutions and goals I did publicize on the blog, while others were ones I listed in my bullet journal. They're all totally doable — none of these are unreasonable, and not all of them are ones I need to think about every day.
Post daily to blog
Cook 50 new-to-me recipes
Offload two items of clothing for each one I purchase
Create a budget and stick to it

Shop Amazon mostly using gift cards earned through my credit card
Only shop ThredUp with trade-in credits
If it can be mended, don't buy a new one

Return of Photo Thursday – post a photo to the blog weekly
So, how am I doing? In the style of Wil Wheaton's Life Reboot, I'll give myself letter grades for each point.  (more…)