Category Archives:
gardening
trying not to kill the beautiful things
Monday morning finally, finally felt like autumn here in Zone 6. We've been enjoying an extension of the summer weather, mostly… although my garden has been looking like it's just about done for a while now.
Honestly, I've Lost That Lovin' Feelin' when it comes to my garden this year. I remember that I'd decided this spring that, come fall, I wanted to plant some crocus sativus — the kind that produces saffron — but I never got around to ordering them, and I'm certainly not in the mood to plant them.
I need to take a day or three off work and do some serious weeding, on top of the usual fall cleanup. I haven't been weeding regularly since midsummer, and it's obvious. I just feel… overwhelmed.
My main goal has been to make my borders low-maintenance, and this is exactly why. I don't need this stuff getting away from me for a couple weeks, and then me just giving up on it for the rest of the season.
There are a few bright spots amongst the Bermuda grass and the weeds and the overgrown ground cover, though.
For once, I've left a stand of Passion flower long enough for it to fruit. I'm not even sure if I have the yellow or the purple variety, but I'll find out soon!
No freeze in the forecast for a good couple of weeks means all the green tomatoes still on the vines will likely ripen out of doors. October seems a bit late for my tomato harvest, but this is how it went last year, too.
While I've very much Lost That Lovin' Feelin' regarding my plantings this year, thanks to the weeds and grasses overwhelming my sparse gardening schedule, I still went out on Bloom Day (with the Good Camera, no less) and documented what's currently in bloom in my borders of benign neglect.
No long shots of well-manicured gardens this month; I've been slacking on weeding and maintenance, as often happens at the end of summer. So, without additional comment, here is what's blooming in my Zone 6 garden this month.
I'm a little behind on my Bloom Day post this month, so without further ado, here's what was in bloom as of four days ago: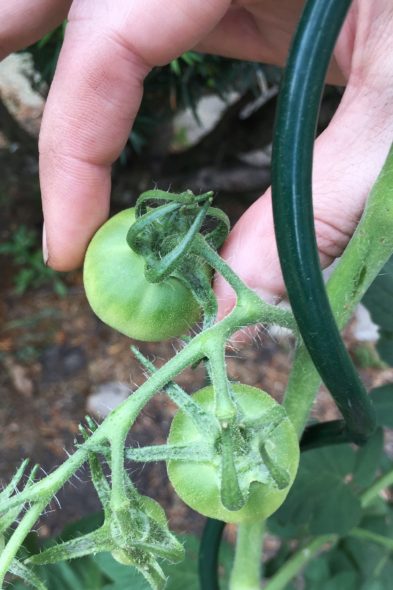 Early Girl is probably about four feet tall — maybe taller — and has several fruits on the vine.
Most of the other varieties I planted also have little fruits — Black Krim, Sun Sugar, Ponderosa Red — but none are as far along as the aptly-named Early Girl.
I planted the remainder of the Ponderosa Red tomato plants that didn't find a forever home with co-workers, so the final tomato plant count is:
Four Ponderosa Red in the veggie garden
One Ponderosa Red in a container
One Black Krim in the garden
One Sun Sugar (cherry) in the garden
One Sun Sugar in a container
One Yellow Pear in the garden (failing to thrive)
One Yellow Pear in a container
One Early Girl in the garden
Also in the vegetable garden: three Black Beauty eggplants, one Millionaire eggplant, and one cucumber.
Even though some of my seedlings didn't make it (mostly basils and flowers), I'm pretty pleased with my vegetable garden so far this year.

[Taken 24 June 2017]
This bush blooms in both pink and blue. My soil's pH must be totally whack.
In no particular order, I present to you what has been blooming in my Zone 6a/6b garden in NW Ohio over the past couple of days:
I'm not precisely sure what this is. This is the first year I haven't yanked it out before it even thought about blooming. I'm hoping it's some sort of woodland native that some creature transplanted here, as I live about half a mile from a nature preserve.
(more…)
I feel funny when people are so impressed by the fact that I grew these tomato plants from seed. I'm figuring it out, but I'm no master.