Category Archives:
gardening
trying not to kill the beautiful things

[Taken 24 June 2017]
This bush blooms in both pink and blue. My soil's pH must be totally whack.
In no particular order, I present to you what has been blooming in my Zone 6a/6b garden in NW Ohio over the past couple of days:
I'm not precisely sure what this is. This is the first year I haven't yanked it out before it even thought about blooming. I'm hoping it's some sort of woodland native that some creature transplanted here, as I live about half a mile from a nature preserve.
(more…)
I feel funny when people are so impressed by the fact that I grew these tomato plants from seed. I'm figuring it out, but I'm no master.
So far in this week's tomato exodus, I've given away four Early Girl, four Yellow Pear, and one Sun Sugar tomato plant. Twelve more to go!

[Taken 3 June 2017]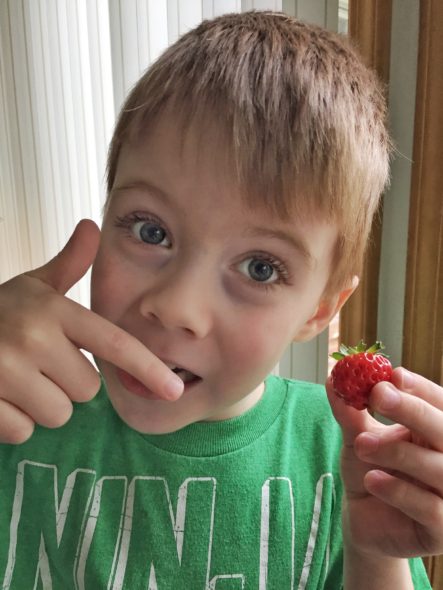 Connor was SO excited to see that the first Aromas strawberry was ripe. We planted them last spring, both in a large container and outside in the garden, and the container we overwintered in the sunroom brought forth ripe fruit this spring before the plants outdoors.
I gave it to him as part of his dinner tonight (along with our dinner frittata and a side of grapes and cheese cubes).
The consensus? "Blech!"
Really?
Yep. He let me finish the berry he'd bitten into, and while it looked red and it was quite juicy, it wasn't nearly as sweet as a truly ripe berry should be.
So, let that be a lesson to us: once it looks ripe, give it a little more time — maybe a couple of days? The outdoor strawberries are going gangbusters with green berries right now, so we'll get to try our hand at identifying ripe berries (and protecting them from the birds) soon enough.
Tulip 'Angelique,' the tree peony, the earliest red herbaceous peonies, and the dogwood blooms have all faded. Now my Zone 6 garden is preparing for the next wave of awesomeness.
Starting along the front fence, where passersby are most likely to enjoy the view for a few seconds as they speed past…
The Amur Honeysuckle is in bloom and throwing a magnificent scent.
The herbaceous peonies have been ready to pop for a couple of weeks, it seems.
The front fence used to be more festive in the spring, until one landscaper a couple years back thought my oriental poppies looked like broadleaf weeds and nuked them with Round-Up, and overmulched my Siberian Irises such that most of them didn't make it. The ones that did make it got weed-whacked by our lawn guys earlier this spring; apparently, they looked like grass to someone.
Chalk it up to life experience, and the knowledge that gardens are mutable and ever-changing, anyway. Moving on…  (more…)
It's quite possible that I'm trying to make my vegetable garden a smidge too crowded this year, even with the expansion from rounded to rectangle.
Im going to see if cucumbers will climb some twine supports up our decorative (read: nonfunctional) lamppost, and the zucchini will be growing up some sort of teepee or lean-to with twine supports. I bought spiral stakes for my tomatoes and eggplants this year, so that should keep crazy vining craziness in check. I may have too many varieties of basil… but I invariably lose a plant or two at some point, so I consider it insurance. (Plus, I'm planning to plant a few extras in containers, just in case.)
My son and I planted some carrots today: Bolero and Nelson. One is an early variety, and the other takes longer to mature. I'm planning to plant in shifts, so we have a longer harvest.
Some plants, like the paprika peppers, will go in the front garden (aka the cottage garden). Others will go in containers to be placed in various sunny spots where I won't forget to water them regularly.
Here we go…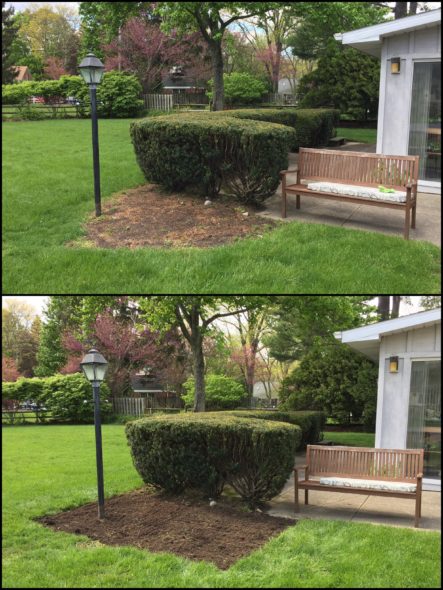 This is the before and after of my modest vegetable garden plot. What was once a bare spot where a hydrangea and some annuals grew long ago has expanded over the past few years — and will likely continue to expand over time.
I had intended to get a couple bags of compost from the garden center of some box store to mix in with my soil, but it's too late for that now. I should have already planted my carrots; instead, Connor and I will be sowing them tomorrow.
It's been a chilly and wet May here in NW Ohio, and I'm not sure when Planting Weekend will be, but I'm glad to have the garden ready to go whenever I'm confident that we've seen the last frost.