:: bridal shower ::
at sheryl's apartment
april 26, 2003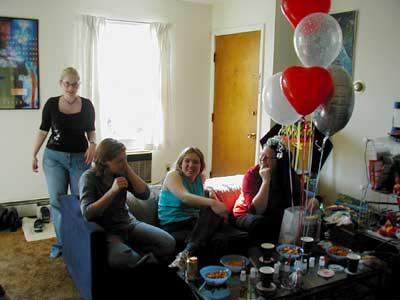 Left to right: Sheryl Stoller (honorary maid of honor), Andrea Stewart (bridesmaid),
Amanda Flowers (co-worker at the time) and me (bride).

Opening of presents: miscellaneous utensils from Mom...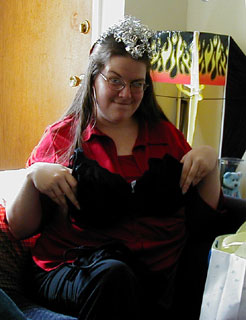 Sexy bra from Sheryl...

with sexy panties to match...

Thongs from Amanda...

Bath and Body Works goodies from Andrea...


and, among other things, peppermint peckers from Amy (modeled by my Mom).

Andi and Amanda display their door prizes

Amy with her door prize... on her head.

Here's my Mom with her door prize of bath stuff.

Sheryl made us dinner... she's scary when she's cooking.

After dinner came cake. Yum.

Of course, Andrea finally resorted to sucking helium before we hit the bars.

Then I tried on one of my new bras. My b00bz are gigantic!
Unfortunately, no one documented my severely drunken state at Sheryl's, at my place, at Brewsters (thanks, Sheryl, for correcting my failing, drunken memory), or again at my place. From what I understand, though, it was quite amusing.