The deer left me six dulce rojo paprika peppers by harvest time last fall. I've had them sitting in my kitchen, drying, for months now, and I finally decided that tonight was the night I'd put them through my spice grinder and turn them into a delicious spice.
I unintentionally made "pink paprika" by also including some seeds and ribs of the peppers — those inside bits can be hard to shake out of a dry pepper sometimes. Perhaps next time, I'll slice them in half and remove the ribs and seeds before I dry them…?
At any rate, it definitely has a distinct smell and taste about it, and it's just a little different from any store-bought paprika I've tried. I hadn't been planning to buy any more seeds for this year's garden, but I might have to try some different pepper varieties now.
I started compiling data for my Year In Review way back in November because I knew this would happen. It happens every year. I want to post my Year In Review, but once January comes, I can't find the time/motivation to sit down and do it.
This year, I finally decided to sit down and get it done during the last weekend of January. Yeah, that Sunday when there was a widespread cable outage in my metro area. *facepalm* So, I started writing and organizing in the text file I use for later blogging, saved on my Pusheen thumb drive. Then my son asked me to play Balloon Catch with him, then LEGO, in between the loads of laundry I still had to wash. So, the Year In Review didn't happen on Sunday.
Monday was a sick day for both me and my son (at least I didn't have his fever and wheezing cough), so it didn't get done Monday.
Come Tuesday, though, I managed to squeeze in some time over lunch and in the evening to start gathering my data and making it presentable. Finally, this evening, I sat down after I got Connor all tucked in and finished everything up. I stayed up later than I probably should have, but it's done, and I'm glad.
I'm not feeling the meta-reporting about my blog posts this year — instead, I'm focusing more on what actually happened during 2017. Even without the blog entry breakdown, though, this Year In Review will be chock-a-block with data you mostly didn't care about in the first place.
(more…)
Tonight I learned that Wei Wei, one of my favorite Chinese restaurants in Toledo, is permanently closed. I'll miss all my favorites on the Chinese menu, and the look on the owner's face when she'd talk with our son. Best of luck, Sherry and Wei. We'll miss you.
"Hey, Mom," Connor (age 6) asked, as we ate lunch at the kitchen table last week. "What's 'religion'?"
I wondered where he learned the word, and where this was going, but I answered him as best I could.
"Religion is what a person believes about how the world was made and where we come from. Some people believe that a god created the earth, and some people believe it was science." ("Science" is the umbrella term I tend to use with him for natural law, physics, astronomy, electricity, etc.)
"We believe that there is One God," he said in that tone of voice I knew well — the same tone of voice I used to use when I would say, "We believe in God the Eternal Father, and in His Son Jesus Christ, and in the Holy Ghost." I suspected that he'd actually absorbed some of the religious sidebars at his old preschool, after all.
"Actually," I interjected, "Your Dad and I believe that the world was made from science. Who believes that there is One God?" I was trying to figure out where he got this phrase.
He paused. "All my friends," he answered.  (more…)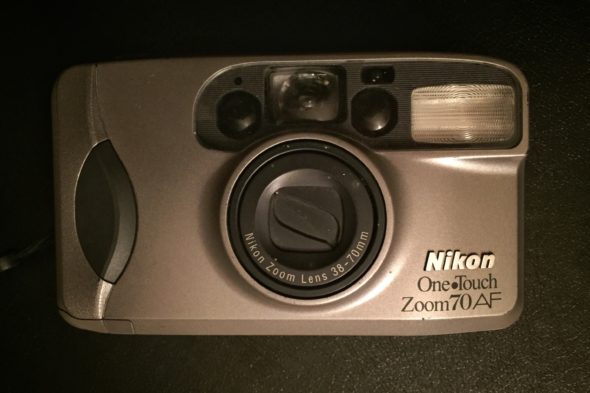 I picked up this Nikon One Touch Zoom 70 AF for two bucks last February at my favorite thrift store (which has since closed — RIP, Savers).
I loaded it up with my last roll of 35mm 400-speed film, only to discover that it made a crazy grinding noise with each advance of the film. The first 8 exposures or so were different nighttime views of the living room as I was debating whether to continue the roll or give up entirely.
I ended up deciding to leave the film loaded and just take some snaps around the house over time instead of taking it on a photo walk downtown.
I finished up the roll over St. Patrick's Day weekend, just snapping indoor photos at home. I experimented with selfies using the timer, portraits with different flash modes, zoom distances — all the while expecting that the photos weren't going to come out, anyway. That grinding noise is ominous.
Of course, since I didn't record info on any of the photos, it turns out that the camera works just fine.
Up 1.2 lbs from last week's #weightwatchers weigh-in, and up 0.2 total from two weeks ago. Unsurprising, after a couple intense workouts that left me sore, plus a couple days of not tracking my meals this week.
I got a call from my husband Aaron yesterday on my work phone. Calling on my work phone is generally reserved for things that would take too long to text, or things that are urgent, surprisingly time-sensitive, or otherwise important. I'm instantly in a tense, reactive mode.
"Do you know if Mei has a new hiding spot?" he asks, after we exchange the usual telephone pleasantries.
I was shooting to lose 1.8 lbs at this week's #weightwatchers weigh-in. I only lost one pound.
BUT.
That's two weeks in a row that I lost a pound. I'm moving in the right direction.
The last couple of weeks have seen the weather reach the Average Extreme Minimum Temperature for my USDA Hardiness Zone (6a/b), rise back up to 50F for one rainy day, then go back to ice and sleet and snow.
As per usual for January, the only bloom in sight is my kalanchoe.