Seems like Life goes by so fast sometimes that I hardly have time to savor the moments, much less document them. There were a few funny (and not-so-funny) moments with Connor recently that I didn't want to forget, though.
Pre-K Graduation was last month — Connor, being the youngest in his class and not having been allowed early entrance to Kindergarten, was the only one who didn't actually graduate. Sounds like there were a few kids in his situation last year, though. He still participated in the activities and the skit; he just made his way to our spot in the audience once it was time for all the graduates to don their caps and gowns and receive their Pre-K diplomas.
The dynamic this next year will be a little different, I think; his old class was mostly girls (he was one of three boys versus seven girls), and his new class is mostly boys with only two or three girls. I'm guessing he won't be coming home with quite so much detailed knowledge of My Little Pony or Frozen.
Connor hates Dora the Explorer now because he doesn't like the way her bottom looks when she's facing sideways. I'm still not entirely sure what he means, even after doing a Google Image Search.
He's so adamant about his hatred of Dora that he made us get rid of all three or four of his Dora books. He's probably going to have us thrift off his poseable stuffed Boots, too. He was so totally into Dora for so long; now I'm actually glad that we couldn't seem to find much non-girly Dora-related merchandise.
He's been into Jake and the Neverland Pirates for some time now. He doesn't have any Jake toys, outside of the bath toys he got for his 3rd birthday — but he's so inventive, he doesn't NEED official merch. Small pillowcases are swords when he wraps one around his hand just so, and a blanket on the floor is a pirate ship, with paper-towel-roll spyglasses for everyone.
Last weekend, we missed out on the annual Old West End Festival garage sales because Connor came down with a fever on Friday night. Saturday was spent recuperating at home — no eating out, no playing outside, just chillaxing. Which, honestly, was just fine by me, especially since I got to spend Quiet Time outside weeding and doing other necessary yardwork.
Connor dropped my new Instax camera Monday morning — he had wanted to take a picture to have something to remember me by while he was at school. There was some confusion about where he should press to take the picture, and how he should hold the camera. Of course, I didn't have his hand in the wrist strap, and the camera fell, sending little plastic bits skittering across the kitchen floor. He was inconsolable about not having his picture of me, though, and I wasn't thinking fast enough at that point in the morning to come up with something else to let him take with him instead of a Polaroid.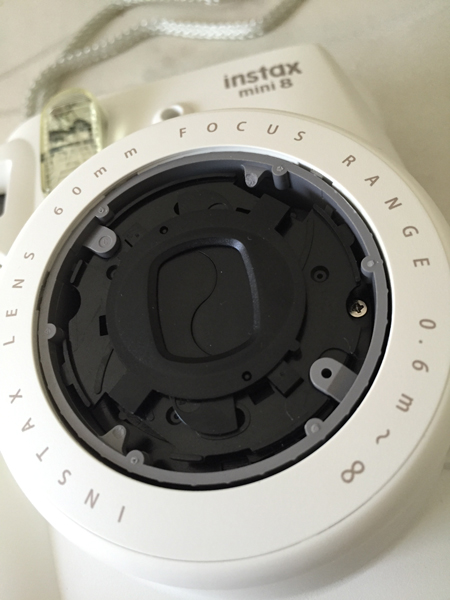 Luckily, Daddy managed to get all the black plastic bits back into place, and I got the white plastic lens cover back into place with the help of a reference pic. We successfully took pictures on Tuesday morning, and he kept his picture of me in his pocket all during the school day.
Tomorrow, he'll be going to the zoo with his babysitter while Aaron and I go garage saling at the annual Waterville Community Garage Sale. He's been totally hyped for that ever since we told him about it a couple days ago.
Next week, we're going to Dayton to visit my Grandpa and Grandma Cook — me, Connor, and Grammy are going, that is. It'll be Connor's first overnight away from home, so it's kind of an experiment to see how that goes over. I'm looking forward to it. I know Connor is, too.