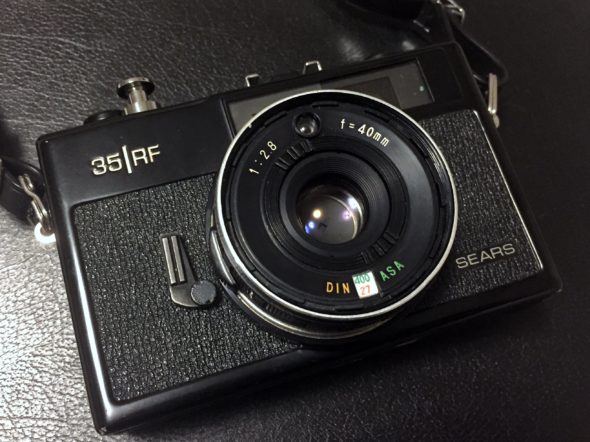 I picked up this camera at Savers for $3.99, all wrapped in a plastic bag with its flash, original lens cap, and a PC cord. At first glance, I mistakenly thought it was a trashcam — that is, a cheap plastic 35mm jobbie with a few rudimentary settings and a shitty lens. I bought it under that assumption, because I like the variability of trashcams. (File under: Life is like a box of chocolates)
When I realized what I'd actually bought, I was over the moon: a Sears-branded Ricoh rangefinder. It had gummy seals (and lots of them) and needed a battery, but the shutter appeared to work. I just needed to get it clean and tested. Knowing my love of rangefinders, I expected that this might end up on my film camera short-list, so I was excited to get going on it.
Instead of replacing all the seals right off the bat, I decided perhaps I'd clean the inside (after photographing the gummy seal locations, of course) and just mummify the thing in gaffer's tape for the first test, per some advice in this forum thread.
(Once I'm ready to replace the seals, I'll be following Jon Goodman's esteemed instructions, crossreferenced with Matt's Classic Cameras.)
So, I cleaned out gummy seals, loaded the camera with film and wrapped the seams in gaffers tape the best I could.
I didn't eliminate all the light leaks with my gaffer's tape, but I took care of enough to get a feel for the camera.
Things that stood out for me: first, I rarely use flash, but I felt the need to test it, anyway, since it came with the camera. It is very bright, and should not be used on subjects any closer than about 5 feet. The camera can focus as close as 3 feet, which makes it quite usable for hand-held self-portraits (OK, selfies), as long as you don't use flash.
The auto-exposure was accurate with the overcast conditions of most of my test roll. On all of the frames where I used the auto feature, I recorded the exposure info the camera calculated, just because.
This camera feels like a solid rangefinder. Nothing about it makes me hate it — it's just the right size to fit in a coat pocket, has just the right heft and balance, focuses well, has threads for a cable release and a PC connection for a flash and a self-timer… I like it. I really like it.
Now that I've seen what kinds of images this camera can make, I'm planning to go forward with resealing the back. If I mess it up, though, I honestly won't be too distraught, because a.) I have similar rangefinders I like just about the same, and b.) the camera only cost 4 bucks. (Plus, it's just seals. They can be redone. It'll survive.)