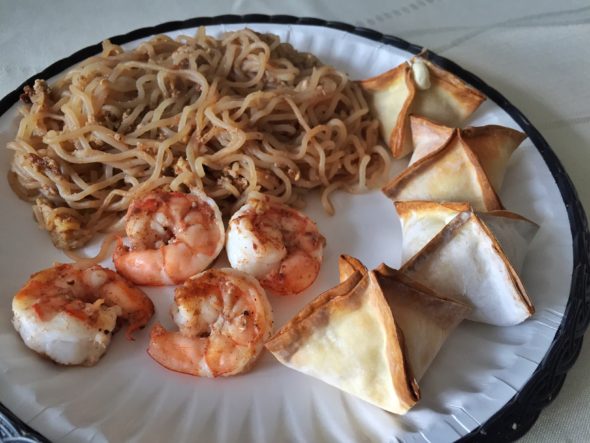 Like many people (including my late Memaw), the recipes I concoct aren't so much measured as they are eyeballed. That said, these five-spice shirataki noodles are such a hit with my son that I want to at least share the basics, just in case someone out there would like to try it for themselves (or their own picky offspring).
Now, shirataki noodles (aka miracle noodles, yam noodles, or konjac noodles) have a particular texture about them that many people find… weird. They're made of a kind of yam flour, and are frequently packed in a pungent liquid that must be drained off before par-boiling, stir-frying, or some other method of making them less chewy and off-putting. My preference is to stir-fry.
Here's how I make my Five-Spice Shirataki Noodles*. Again, I don't really measure, so bear with me.
You'll need:
One 8oz package shirataki noodles
Soy sauce
One egg, beaten
One pinch (or packet) sugar, Splenda, or other sweetener
Sesame seed oil
Five-spice powder
Raw shrimp (optional)
Stir-fry vegetation: onions, bell peppers, mushrooms, etc. (also optional)
The process:
Heat your favorite skillet**, saute pan, or wok over medium-high heat.
While the pan heats, open the pack of shirataki noodles and drain. Rinse if desired (i.e. if the packing liquid was particularly pungent).
Drizzle about 1 tsp of sesame seed oil into the pan.
While the oil is heating, combine the sweetener and a splash of soy with the beaten eggs. Whisk until thoroughly combined.
If you've chosen the vegetation option, add those to the pan now.
Once the veggies have gotten a head-start on cooking, throw in the shirataki noodles. Douse with soy and sprinkle on five-spice powder. (Alternately, combine the five-spice with the soy before drizzling.)
If you've chosen the shrimp option, make a spot for them in the pan, add them to said spot, and sprinkle them with five-spice.
Make a spot for the eggs in the pan and pour them in. Let them cook into a little egg-pancake, mostly, then cut the pancake into little chunks and mix in with the noodles. (I do this when parts of the eggs are still a little runny, so the egg also cooks onto the noodles just a little.)
When the shrimp are pink all the way through, everything should be good to go! Plate and serve.
If you rock the Weight Watchers program like I do, you may be intrigued to note that the above recipe clocks in at only four SmartPoints. The pointage will increase depending on how much shrimp you include, but the four shrimp I had (2 oz cooked) were zero SmartPoints. If you don't rock Weight Watchers, well, the above recipe totals 191 calories.
* I actually call these "Chinese noodles" when I tell my son what's for dinner, even though they're about as Chinese as I am. Yes, I feel a little guilty about this, and intend to change my ways in the future.
** My husband got me a non-stick skillet from my Amazon wishlist for Mother's Day a few years back, and HOLY CRAP it is just about my favorite pan. It's definitely the best nonstick I've ever owned. Calphalon FTW. (I wish they paid me to say that, but they don't.)
But wait, you say. What about those Baked Cream Cheese Wontons?
That is a recipe I found online at Damn Delicious, and I made only minor modifications.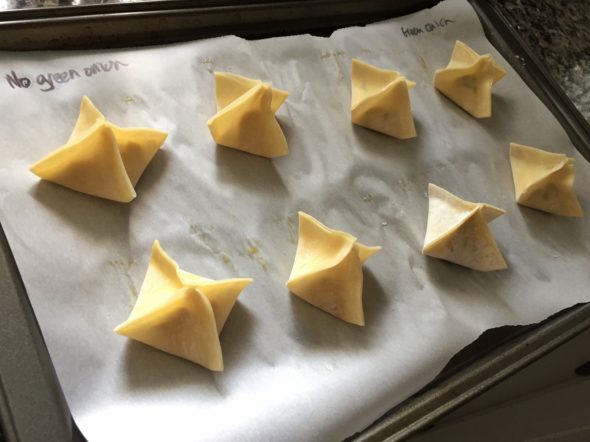 First, I halved the recipe, because my five-year-old and I didn't need to eat THAT many wontons.
Second, I used fat-free cream cheese, because that's how we roll at my house (and we're used to it).
Third, I only used a single (giant) shrimp for eight wontons. Should have used at least two, but maybe not the entire four ounces called for by a half-batch.
Fourth, I substituted ginger-garlic paste for the minced garlic and the grated ginger, because I had it on hand and I LOVE that stuff.
Finally, I baked on parchment paper instead of a prepared baking sheet, because zero clean-up. (See also: above photo of dinner served on a paper plate)
I opted against the addition of sriracha, and I even omitted the green onion from half of the recipe, as my son is currently averse to anything spicy or anything green.
HOLY CRAP YOU GUYS. I'm glad I only made half the recipe, because I would have eaten them all — and at just one Weight Watchers SmartPoint per wonton? *swoon*
My son even ate them with minimal cajoling (not the brown crispy parts, of course) and asked to take his last wonton to school in his lunch tomorrow. High praise, indeed!
So, I'm feeling pretty accomplished tonight, after making a successful dinner (that is, a healthy meal that my son actually ate) and completing new-to-me recipe #18 in 2017!
I also made a batch of my Three-Point Jiffy Blueberry Muffins… but that's a recipe for another day.