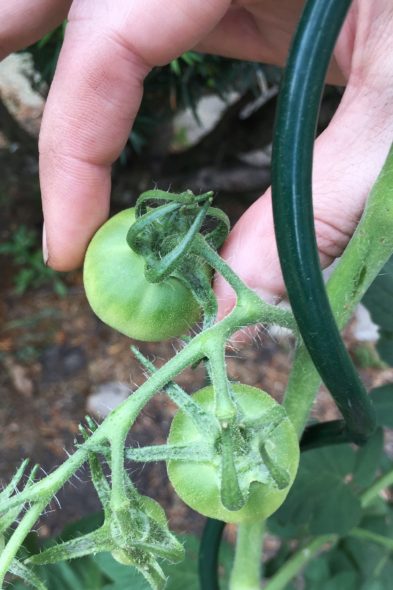 Early Girl is probably about four feet tall — maybe taller — and has several fruits on the vine.
Most of the other varieties I planted also have little fruits — Black Krim, Sun Sugar, Ponderosa Red — but none are as far along as the aptly-named Early Girl.
I planted the remainder of the Ponderosa Red tomato plants that didn't find a forever home with co-workers, so the final tomato plant count is:
Four Ponderosa Red in the veggie garden
One Ponderosa Red in a container
One Black Krim in the garden
One Sun Sugar (cherry) in the garden
One Sun Sugar in a container
One Yellow Pear in the garden (failing to thrive)
One Yellow Pear in a container
One Early Girl in the garden
Also in the vegetable garden: three Black Beauty eggplants, one Millionaire eggplant, and one cucumber.
Even though some of my seedlings didn't make it (mostly basils and flowers), I'm pretty pleased with my vegetable garden so far this year.