History of Luzerne Co. PA 1893 - 1500+ pages!
Item #1421229837
Bidding is closed for this item.


(to seller)
(to bidder)

| | |
| --- | --- |
| If you are the seller or the high bidder - now what? | |

Currently
$152.50
First bid
$2.99
Quantity
1
# of bids
21 bid history
Time left
Auction has ended.
Location
Bowling Green, OH
Country/Region
USA/Detroit
Started
Apr-01-01 23:19:00 PDT
mail this auction to a friend
Ends
Apr-06-01 23:19:00 PDT
request a gift alert
Seller (Rating)
dmcook (28)
view comments in seller's Feedback Profile | view seller's other auctions
High bid
mfcwizzard (138)
Payment
Money Order/Cashiers Checks
Shipping
Will ship to United States only, See item description for shipping charges
Relist item
Seller: Didn't sell your item the first time? eBay will refund your relisting fee if it sells the second time around. Relist this item.
Seller assumes all responsibility for listing this item. You should contact the seller to resolve any questions before bidding. Auction currency is U.S. dollars ($) unless otherwise noted.
History of Luzerne County, Pennsylvania with Biographical Selections was edited by H. C. Bradsby and published by S. B. Nelson & Co. Publishers of Chicago in 1893. This 1500+ page volume contains historical information about the county and biographical information about its early residents. A handsome and useful addition to any genealogical or historical library!
Contents
The book contains eleven chapters, plus biographical sketches, portraits, and maps. Some of the more descriptive chapter titles are Habits and Customs, Battle of Wyoming, Hartley's and Sullivan's Expeditions, Sugar Loaf Massacre, The Dead That Still Live, Churches of the County, City of Wilkes-Barre, Hazleton, and Townships and Boroughs.
The History of Luzerne County contains a biographical index including over 2,500 names. Some of the most commonly occurring names are Abbott, Anderson, Armstrong, Atherholt, Atherson, Ayre, Baldwin, Barber, Barrett, Beaumont, Bennett, Benninger, Bonham, Booth, Brader, Brown, Burke, Campbell, Carpenter, Chapin, Clark, Connor, Conyngham, Courtright, Crockett, Culver, Curtis, Davenport, Davies, Davis, Dodson, Dorrance, Dougherty, Dymond, Edwards, Evans, Finch, Fisher, Frantz, George, Good, Griffith, Hale, Harris, Harrison, Harvey, Hayden, Hildebrand, Honeywell, Howell, Hoyt, Hughes, Hunlock, Hunt, Hutchins, Ide, Jackson, James, Jenkins, Johnson, Jones, Jopling, Keller, Kelly, Kester, Kisner, Kitchen, Knapp, Kocher, Koons, Kunkle, Kunkel, Kyttle, Lamoreux, Leibensberger, Leisenring, Lenahan, Lewis, Long, Lyman, McGroarty, McMurtrie, Martin, Masters, Meixell, Miller, Mitchell, Montanye, Moore, Morgan, Murphy, Myers, Nichols, O'Brien, Oplinger, Parrish, Patterson, Pettebone, Powell, Price, Quigley, Ransom, Rees, Reichard, Reynolds, Richards, Riechers, Rittenhouse, Roberts, Robertson, Roderick, Rogers, Ross, Ryman, Santee, Schappert, Schmitt, Schooley, Search, Seely, Shaver, Sheridan, Shiffer, Shoemaker, Shonk, Sickler, Smith, Snyder, Sorber, Spencer, Stark, Stevens, Stull, Sutliff, Tammany, Thomas, Thompson, Turnbach, Underwood, Van Horn, Wagner, Wall, Watkins, Weiss, Wheaton, White, Whitebread, Whitesell, Wilcox, Wilkinson, Williams, Wilson, Wolf, Wolfe, Yost, and Ziegler.
Condition
All pages appear to be intact, legible and undamaged. The outer spine of the cover has been reinforced with clear tape which is just beginning to peel--however, the information beneath is still clearly legible. The inner spine of the cover has come loose from the actual pages of the book itself, but all pages are still securely held into the inner binding. The edges of the cover are time-worn, giving this antique book a charming personality. Inside the front cover is a label denoting this book the property of a Mr. Byron A. Leacock of Huntington, Mills, Pa.
The Fine Print:
Item sold as-is. Buyer pays shipping and handling charges--approximately $14 for Priority Mail (2-3 days), approximately $5 for Book Rate (delivery in one week). Contact seller for more exact shipping costs. Continental U.S. Only. Payment by money order will ship the next business day; personal checks will be held for ten business days. Seller reserves the right to refuse bidders with overall negative feedback ratings or bidders with any negative feedback posted within the past few weeks. Good luck!
---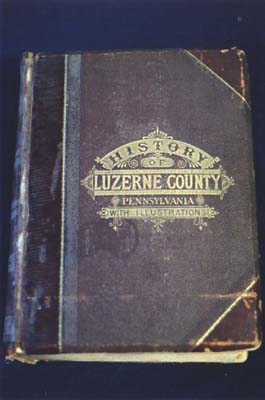 Free Honesty Counters, Listing Tools from Andale.
Bidding is closed for this item.
If you're the seller or the high bidder - now what?
Contact each other. The seller (dmcook) and the high bidder (mfcwizzard) should contact each other within three business days to discuss payment and shipping details.
Leave feedback for the other party once the the seller has received the payment and the winning bidder has received the item.
Leave feedback to seller - Leave feedback to bidder.
Details for the seller and high bidder(s):
The seller should contact the winning bidder(s) with information on the total cost, including shipping, and where to send payment. The winning bidder(s) must pay the seller directly for the item(s), and it is the seller's responsibility to fulfill the order when payment terms are met. The binding contract of the auction is between the winning bidder and the seller.
If the seller is unable to establish contact with the high bidder within 3 business days of the end of the auction, he/she may lose the place as winning bidder, and be at risk for receiving negative feedback and/or a Non-Paying Bidder warning, both of which can ultimately lead to suspension from eBay.
Seller - Want a safe, easy way to collect payment from the high bidder(s)?
To collect payment for this item using eBay Online Payments (a service provided by Billpoint), you can send the buyer a Billpoint Invoice






---




Copyright © 1995-2001 eBay Inc. All Rights Reserved.
Designated trademarks and brands are the property of their respective owners.
Use of this Web site constitutes acceptance of the eBay User Agreement and Privacy Policy.