Eleven AM on a Tuesday, and here I am, chillin' at my computer downstairs. Good times.
So, to catch everyone up on what's been happening at the Schnuth abode: we're both on vacation. I return to work one week from today, and Aaron doesn't go back until the following Monday. Our original plan, way back when we requested our vacation time, had been to attend the Star Trek Convention in Las Vegas, but we had to choose between buying a house and going to our very first Star Trek Convention.
Then, I had thought that maybe we could use our new tent this week. However, Aaron brought up the fact that it's the middle of summer, and it has the potential to get damned oppressively hot lately. With that in mind, we opted to wait until Labor Day to go camping.
So, what are we doing this week? All the shit in Toledo and the surrounding area that we haven't done yet (or haven't done for a while).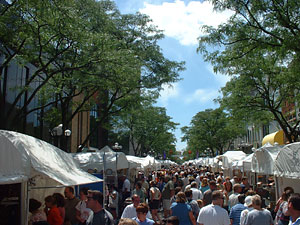 On Saturday, we went to the Ann Arbor Art Fair. In years past, we've always missed when it was, so we were thankful to have gotten a flyer from one of the artists at this year's Crosby Festival.
Anyway, Aaron and I went with Kris and Jamie, leaving Toledo around 9:30am or so. We arrived in Ann Arbor at the mall shuttle pick-up around 10:30am, paid our $3 per person round trip, and off we went. When we got to the fair, Aaron and I discovered that not eating breakfast had its disadvantages, and that we were starving. So, around 11am, we headed into Amer's and were delighted to find that they have some pretty decent salads there. Yum.
The rest of the day was spent looking at art (obviously), sitting on the grass in the diag and talking, browsing various stores (including, of course, Wizzywig), taking pictures, and just generally enjoying ourselves. I think we left around 4:00pm, and by then we were completely drained from walking all day. Great time, though.
As for the rest of our mutual vacation… Sunday was our normal errands / groceries / laundry day, and yesterday we went to the Toledo Zoo. Today we're planning to go to COSI, tomorrow we may go to Sauder Village, sometime this week we're going to see Fahrenheit 911 (since I haven't seen it yet), and we're contemplating going to Cleveland to check out the Rock Hall in its entirety. (We browsed the first floor during last year's Gravity Games, but we didn't get beyond that.) We may also visit Aaron's grandparents while we're in Cleveland, but I think the jury's still out on that. Although we would be allowed to sleep in the same bed now, if there's one big enough for the both of us…
On Saturday, it sounds like Frieser's neighborhood is having their 'hood-wide garage sale, so we'll be checking that out, then on Saturday evening we're joining Kris and Jamie again for the Full Moon Walk at Oak Openings Metropark.
So, even though we're not really going out of town this week, we're still having a pleasant vacation. Oh, yeah… I was so ready for a break.