I don't usually spend an excess of money on display items. However… I think I may have scored this before PodBrix.com exceeded their bandwidth: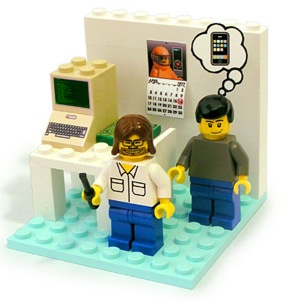 A limited-edition Young Woz and Jobs custom "Lego" set. I read about it on Wil Wheaton's blog, who read about on BoingBoing (which I need to start reading again).
Their mockup of the 1984 commercial sold out in less than a minute, according to their website. This set may have done the same, barring technical issues. The Young Woz and Jobs set went on sale at 9pm, and I had a heck of a time getting the page to load. I just kept hitting Reload, Reload, Reload… and kept getting Firefox telling me to Try Again. Then I got a few minutes of 403 Forbidden errors. Then, just after 9:10 or so, I got through.
I do have a PayPal confirmation e-mail, so I *think* I'm golden. We'll see if I am one of the elite 300 soon.
Update: PodBrix says, "If you were able to make it through to PayPal checkout and ordered, we have your order." So, it sounds like I'm golden.
BTW, Aaron saw the $200 price tag on the 1984 Playset and about shit a brick (a Lego® brick, perhaps?), but then he saw that the Young Woz and Jobs set cost much less. 🙂