Yesterday, Aaron and I went down to the local GameStop so he could pick up some used video games during their buy-2-get-1-free sale. While we were in the strip mall, we just so happened to notice that there was a clothing store next door for sizes 14 and up. Not sure how I missed that, after living in the area for almost four years, but there it was.
Since I had been saying I needed more business casual attire, and since I'd gone into the game store with Aaron, he convinced me to go into the plus size clothing store and get myself some work clothes.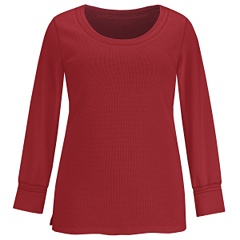 Aaron actually found the stretchy black button-down shirt, and I think he saw the cable sweater first, too. I know he pointed out the red pullover (which is a darker red IRL). I wasn't sure about the wraparound shirt, but it actually slims me quite a bit.
In addition to the four shirts, I got two microfiber underwire bras and one wireless bra. Thanks to my interest in this sports bra (before I realized it was a $65 sports bra), I'd recently re-measured myself to determine my correct bra size, which is actually an odd and difficult-to-find combination of band and cup sizes. Avenue had it, though, no problem.
I ended up spending nearly $200 on four shirts and three bras. Really, though, in the grand scheme of women's clothes, and especially plus sizes, that's not too bad. And now I have some classier business casual that isn't looking like it's past its prime.
Next time, though, I'll have to get some pants.