When I announced my intention to go on my normal lunch walk today, my supervisor looked at me like I was crazy.
"In this weather?"
Granted, the snow was coming down steadily, and the temperature was hovering around 12°F. But I was going to be hardcore — exercise is probably the best way to break through my two-month weight-loss plateau, after all, and there's no time like the present. No excuses.
Then she suggested I check out the tunnels beneath COSI, across the street. I'd only been down there once or twice, and always with other co-workers. I admitted that maybe today would be a good day to check it out on my own.
After not five minutes of walking outside, I made up my mind, and headed into the KeyBank building…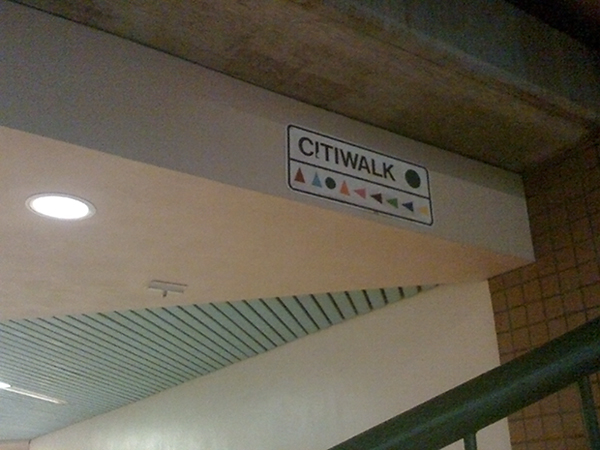 I remembered the way to go, for the most part, although the photocopied signs taped to one set of glass doors initially threw me off the trail. See, COSI recently closed due to lack of public funding, and these signs were letting visitors know that the science center was no longer in business.
But the doors are still open, as I discovered when I finally followed some people through. You can still walk through the halls, into what was once a mall called Portside Festival Marketplace.
As a relative newcomer to working in the downtown Toledo area, this dead mall is fascinating and sad and confusing. According to deadmalls.com, Portside opened in 1984, and closed in 1990 — which is painfully apparent from the remaining decor. There are a few scattered businesses still making do: a barbershop proudly proclaims that walk-ins are welcome, and businessmen eat some sort of fast food in a large windowed seating area that reminds me of what the old Falcon's Nest at the BGSU Student Union looked like.
After walking through the diamond-pastel ghost mall, the surroundings made a slow transition to modern and classy. The air was filled with classical music. Mirrored columns reflected a wide expanse of pale, clean tile and a pair of escalators. I assumed I had reached the Crowne Plaza Hotel (when, in fact, I had reached Fifth Third Center at One Seagate).
Here, the CitiWalk dead-ended and provided me with a map of where I had been. I had walked beneath the carcass of COSI, beneath the Crowne Plaza Hotel (formerly the Toledo Riverfront Hotel), through One Seagate, under Summit Street, and had ended up adjacent to the Vistula parking garage.
I made a U-turn and made my trip again, this time in reverse. I took a turn around the ground floor of One Seagate before heading back into the dead mall, and found a restaurant — and saw several smokers freezing out in the cold courtyard of One Seagate. I had often seen that courtyard from the outside, during my riverside walks, but never from the inside.
I understand now why it seems to make so much sense to attempt to revitalize Portside. There are enough businesspeople downtown that having a mall nearby makes sense. It's connected by above- and below-ground walkways to several businesses; you don't even have to go outside in the cold (or the heat). Buildings that are connected to Portside include the Edison building, Key Bank, Fifth Third Center (One Seagate), Four Seagate, and the Superior and Vistula parking garages. These buildings have hundreds and hundreds of office workers, so it would only make sense that a center of commerce would do well at the hub of all this.
Apparently not.
If Portside were ever to resurrect, I would go there at least once a week and spend my hard-earned money if I discovered that any of these were put in:
an Indian restaurant
a Chinese Dim Sum restaurant
a Japanese sushi restaurant (bento lunch?)
a Korean restaurant
an upscale hair salon
a nail salon
a bookstore
(I would say "a coffee shop," but Beaner's Biggby's is only a block away, in the other direction, easily accessible by cutting through the Superior garage.)
I'm sure that the multiple hundreds of local employees could probably make their own wishlists, too, and that those wishlists would start to find some common ground somewhere. There has to be a way to make this underground eyesore a profitable venture for Toledo.
For now, though, it's a bizarre ghost mall for winter mall-walkers.
I returned to my building via the overhead walkway that connects Key Bank with Summit Center and the Superior Garage. This is why I had opted to mall-walk:
I think that, for at least the next week or two, I will gladly join the ranks of Portside mall-walkers. If I ever need a secluded place to write or surf the web on my iPhone, Portside is also (sadly) the place to go.
I hope that The Powers That Be can formulate a plan to truly revitalize downtown Toledo. I remember coming to my first job interview downtown and being dazzled by the gorgeous view of Promenade Park from the 12th floor of Summit Center. I never knew that parts of downtown were actually pretty; I'd always associated downtown with the St. Vincent de Paul Thrift Store, and the Greyhound station, and the interesting folk who frequent such places.
It's honestly a little sad to be working by such a beautiful riverside park, flanked by tall and elegant buildings, hiding a dead underground mall and tucking away a row of classic but empty Victorian shops.
I don't have the answer, but I have the feeling that the very beginning may lie in luring the office workers out on their lunch hours.