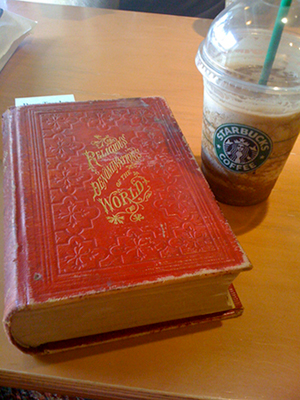 Aaron and I spent yesterday afternoon in Ann Arbor. Ate some delicious food of various ethnic origins, stopped into some interesting stores, and generally had a good time hanging out in a different town.
One of our standard stops in Ann Arbor is the Dawn Treader Book Shop. We've picked up some interesting books there in the past, and it's always fun to just look around. This time, I came across this 1872 publication, Religious Denominations of the World, compiled by a Vincent L. Milner. The title page states that it is "a general view of the origin, history, and condition of the various sects of Christians, the Jews, and Mahometans, as well as the Pagan forms of religion existing in the different countries of the earth: with Sketches of the Founders of Various Religious Sects."
This looks like a fascinating read. The Table of Contents includes dozens of religions I've never heard of before, and some I've only heard of in passing. It should be interesting to read about these religions from the point of view of a Christian from the year 1871 who is attempting to be as impartial as possible (per the Preface).
The only disappointing thing about this book, from a research standpoint, is that it claims to have been "carefully compiled from the best authorities on the subject," but it never references who those authorities are. What I've read so far seems to be factually correct, though, if a bit more biased than Mr. Milner might have thought.
Expect to hear more on my blog about Mr. Milner (if I can find anything) and his take on Mormons, Atheists, and obscure religions of the 1800s.