As I was sitting at my desk at work this afternoon, distracting myself by trying to come up with something to make for dinner, I realized that I probably had the ingredients at home for spinach lasagna. Lasagna noodles, frozen spinach, ricotta cheese, spaghetti sauce… So, I scoured the internet for a recipe that fit the bill, to no avail. I found a couple that sounded delicious, but with a few too many calories from a Béchamel sauce (white sauce), or with ingredients I didn't have handy.
Finally, I figured: Fuck it. I'll make my own.
I assembled the ingredients and wrote them down as I added them:
1 pkg frozen spinach
1 cup lowfat ricotta cheese
½ cup lowfat cottage cheese
1 egg
2 cups parmesan cheese, shredded
2 cups nonfat mozzarella cheese, shredded
1 can mushrooms
2 cups spaghetti sauce (e.g. Prego Chunky Garden Style)
6 lasagna noodles, cooked

Combine ricotta, cottage cheese, and egg in a bowl. Stir until smooth. Add thawed and dried spinach to the cheese mixture and stir to combine. Set aside.

In the bottom of an 8×8 baking dish, spread ½ cup spaghetti sauce, then layer noodles, spinach mixture, mozzarella cheese, cottage cheese, and mushrooms. Repeat. As the top layer, use the remaining noodles, then cover with the remaining sauce, then sprinkle on mozzarella and parmesan. Cover with foil and bake for 30 minutes; remove foil and bake uncovered for an additional 5 to 10 minutes or until cheese is melted and the sides of the lasagna are bubbly. Allow to set before serving.
Keep in mind that I intentionally didn't make a full 9×13 pan worth of lasagna because, hey, it's just the two of us, and we're on a diet. If there's a whole pan of possibly delicious lasagna in the fridge, it's going DOWN. So, best to keep the leftovers to a minimum.
I was pretty much winging it — really, how hard is it to make lasagna? — and was hoping the end result would be tasty. I'd calculated the calories and Weight Watchers Points while the lasagna was baking, and discovered that it really wasn't so bad: 340 calories (7 Points) for a small piece.
When I opened the oven door to remove the foil, I knew I'd done it right. The smell of lasagna was… wow. I haven't had lasagna in quite a while. I literally paced the kitchen floor, just waiting for it to be done so I could a.) take pictures of my lasagna for posterity, then b.) eat it.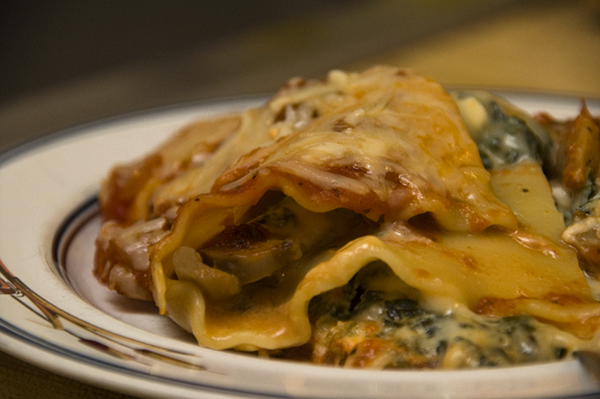 Yeah, that first piece always comes out all messed up, but it still tastes delicious. This time was no exception.
When I make this again, I might go a little easier on the parmesan, since that's where a good part of the calories and fat came from (we didn't have any low fat or fat-free parmesan, and I'm not sure if it even exists). Other than that, I thought it turned out fantastic — much better than most of my winging-it recipe-free kitchen experiments.
Oh, and despite trying to distract myself with some fruit after my lasagna, I still went back for a second piece. It was just that good.