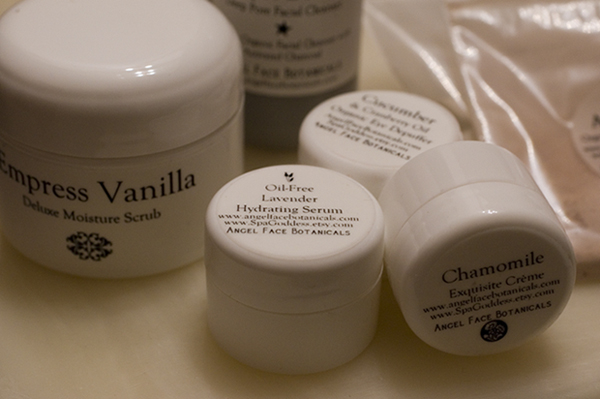 [Taken 11 Feb 2010 | 1/25 sec @ f/6.3 | ISO 800 | 50mm | ambient light, handheld]
Just ordered some new facial products from SpaGoddess on Etsy, after reading an interview with her in Ready Made magazine. I'm not usually one to get overly excited about such things, but these are definitely worth trying. I'm not ashamed to admit that, the day these products arrived, I washed my face RIGHT AFTER DINNER. I just could not wait.
I purposely bought several sample sizes of different products, to give them a test drive. I already have an idea of what I may be ordering again in the future (including one item she included for free!), and what I may pass on next time. Even the products that haven't completely sold me, though, feel better than the over-formulated, chemical-laden commercial products I've been using. These products from Angel Face Botanicals (aka SpaGoddess on Etsy) literally make it a joy just to wash my face at night. Highly recommended.