We almost didn't go.
Our annual family celebration was moved from the usual Christmas Day to Christmas Eve, for various reasons, and we were all fine with that. For us, it only meant that we'd get to open presents at home on Christmas Day rather than Christmas Eve, and that perhaps we'd enjoy some Chinese for lunch, too.
Aaron had been making the plum pudding the day before Christmas Eve when he got the call that his father had died. It was stunning, shocking, totally unexpected, especially since Aaron had just talked to his Dad on the phone the day before. I hurried home from work early and watched Connor while Aaron and his brother dealt with the immediate issues out at their Dad's house.
The next morning, Aaron managed to get some more administrative-type tasks done (like selecting a funeral home and providing the information for the death certificate) before we headed out to Cleveland. We considered staying home, but all we would have done would be to mourn and be angry and confused; better to do all those things around people who love us, rather than alone. So, we packed up the diaper bag and left, just a little later than we'd originally planned. (Aaron's brother had thrown his back out a couple days prior, so he did stay home.)
Connor wore his Old Navy guayabera with his new jeans (he's finally out of newborn pants!). It's so rare that we take him somewhere that he'll be out of his car seat and his outfit will be visible — when we do, when I know he'll be passed around, I make sure to dress him up in his cutest outfit (that won't fit him for long and should really be seen before we trade it in to the secondhand shop).
And passed around he was! Upon realizing that Connor's Grandpa had never once held him, and that we didn't have one photo of them together, I was adamant about photographing everyone as they held Connor.
Dinner was pretty standard (but delicious) Christmas fare at the Bura household: chicken paprikash with spaetzles, a ham, roasted vegetables, and cheesy potatoes (which hadn't been on the menu for years — everyone welcomed the triumphant return of Peggy's potatoes).
My step-brother Philip was in the area, visiting from Oklahoma, so he made a special trip to Uncle Pete's to see us and to meet Connor. It was great to see him, since we hadn't seen each other in a couple of years. He managed to show up between dinner and dessert, so he got to try Aaron's plum pudding, amongst other desserts. Phil didn't stay long, but it was enough, and it was greatly appreciated.
Aaron's cousin Nate brought his two kids with him. His youngest, Andrew, is three years old, and it was fun for me to watch Aaron interact with him, especially during the gift-passing game that Aunt Dee organized (and that I so wanted to photograph or video, had I not been in the middle of playing along!). It was also fun to watch both Andrew and his sister Caitlin react to our presents for them; they genuinely liked their gifts, so score two points for Aaron and me! I had no idea that Andrew was into Cars, so the play-along Cars book with the toy tools was an even bigger hit than I'd thought it would be. And with the Muppets having a bit of a resurgence with their new movie, Caitlin was super excited to get a copy of The Great Muppet Caper to watch on her new laptop.
For everyone else, we gifted them framed photos of Connor at one day old. He doesn't look anything like that anymore, but everyone loved getting a picture of Connor. We also got a lot of positive feedback on the Christmas cards we sent out, with Connor screaming his fool head off and the cat trying her hardest to escape.
Aaron had made sure to load up his iPhone with photos of Connor's birth, so he could sit down with Dee and show them to her, since he he'd forgotten to load them up for Thanksgiving. It's the modern equivalent of bringing the photo album, I suppose.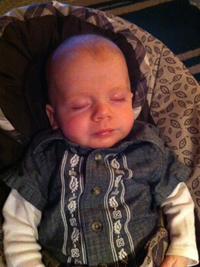 The actual logistics of bringing Connor to Christmas at Uncle Pete's wasn't so bad. We didn't bring any bottles this time, since our freezer stash is all but gone now, so I nursed Connor in one of the bedrooms three times during our visit. We also brought the bouncy seat, which was awesome for when he decided he wanted to take a nap right after Phil left and before we started the gift-passing game. We used up the last two newborn-size diapers we had stashed in the diaper bag, so he's officially in Size Ones now. (They claim to go up to 14 pounds, but Connor is a seriously skinny dude, so we'll probably rock these for quite a while.) Luckily, he didn't need the extra outfit we brought, and Dee had set aside the burp cloth we accidentally left behind at Thanksgiving, so us forgetting one at Christmas was no big deal.
On Christmas Day proper, the three of us went out to New Empire for Christmas Day dim sum — and so did the entire Chinese population of Toledo. We had to wait about 15 minutes for a table, which is highly unusual on any normal day, but probably not so unusual for Christmas.
After lunch, we came home and opened presents. Aaron got me a Nikon D90 DSLR (not a huge surprise, since he'd asked me what camera I wanted); an adapter to use my manual-focus Minolta lenses on my Nikon DSLRs; Civilization: the board game; and the Steve Jobs biography. The big gifts I got Aaron were an iCade (a miniature arcade cabinet for his iPad) and Absolute Sandman Volume 5, although I rounded things out with a couple of books and a couple of blu-rays. I got Connor some wrist rattles and a mini piano rattle that plays short snippets of classical music, and the Abtses got Connor a food mill for making baby food (so, it's more of a present for us, but Connor will enjoy the results). Dee also got Connor a Baby's First Christmas ornament, which I unboxed and put on the tree on Christmas Day.
Shortly after the present-opening, Aaron's brother came over with their Dad's important papers, including the will. The two of them sorted through all that, while I took Connor upstairs and fed him and got him down for a nap.
It's so sad that the memories of Connor's first Christmas are going to be forever associated with his Grandpa's death. It's hard to separate the happiness from the sorrow, and hard to reconcile one with the other. Eventually, it may become yet another sad footnote in our family history, but we're just too close to it right now.