Last Christmas, Connor wasn't really old enough to appreciate getting gifts; he was almost three months old, and I'm pretty sure he spent our gift-opening time laying on a blanket on the floor next to his parents while we opened gifts to each other. Well, I mean, we got him a couple of little things, but we figured he was too little to remember or even know what was going on.
This year was different.
It's not like Connor really knew what was going on — he didn't come bounding down the stairs expecting to see what Santa had brought him, or even understand the concept of presents — but he was at least able to enjoy playing with new toys.
The presents under our tree (or, more accurately, stacked next to it) were a good mix of To Aaron, To Diana, and To Connor. A couple of the presents to Connor were from people who weren't his parents, though: one from Fake Uncle Mark, and one from Grammy.
Fake Uncle Mark got Connor…
…a sign with his name on it! Homemade! Thanks, Fake Uncle Mark! (Connor doesn't look too excited about it, but his Mommy and Daddy already have it hanging up in his room.)
Grammy got Connor…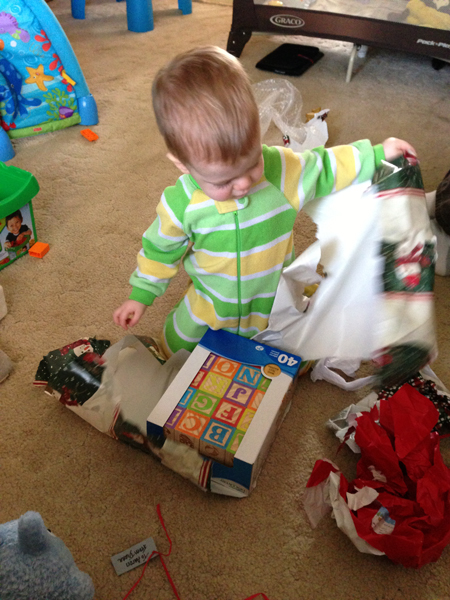 …alphabet blocks! These were a total hit. He loves dumping them out of their Velcro mesh bag, banging them together, building three-block towers, and knocking down the pyramids Mommy builds. I can tell these will be a staple with Connor.
Other things Connor got for Christmas from Mommy and Daddy included a stuffed Totoro plushie (since he loves Mommy's collectible Totoros so much); an iPhone case for his hand-me-down, deactivated iPhone 3G (again, so he won't want Mommy's real phone so much); and a toy box (more on this later — we hadn't put it together by Christmas morning, since we knew he wouldn't mind). Plus, there was all the stuff he got at Christmas Eve, including Duplo blocks (which are also a giant hit) and a vibrating, laughing cow toy.
Mommy and Daddy got each other a lot of cool stuff too. One of the things Mommy Santa Mei got for Mommy and Daddy was a memory-foam mattress pad for the bed, which came in a giant box.
Which, of course, turned into the best plaything ever:
After the opening of presents, we got Connor out of his jammies and headed out to one of our favorite Chinese restaurants for our now-traditional Christmas Day lunch of Chinese fare. Last year, we went to our favorite dim sum joint; this year, we hit up the authentic Chinese restaurant just up the road from us.
After lunch, it was time to head back home and get Connor down for his nap.
After he went down, and before we started toy box assembly, I took a moment to document our 2012 Christmas card wall for posterity:
OK. Time to put together a toy box
.
I didn't document the process, but it actually wasn't so bad. I should go write an Amazon review, actually, to help offset some of the OMG The Particle Board Was Bogus And It Was Christmas Eve And We Destroyed The Toy Box kinds of reviews, because it was one of the most straightforward pieces of pre-fab furniture we've assembled. Only problem, outside of the lid and last side being a little tricky to fit on, was that one of the pieces was incorrectly machined, so one of the screws isn't currently installed. We need to email the company to get a new part.
Even without that screw in place, though, the toy box turned out just fine:
It was actually kind of a present to Mommy and Daddy, too, since it gets all of Connor's toys out of sight, instead of neatly arranged on the living room floor.
After Connor got up from his nap, it was time for him to discover where all his toys went.
He can't quite reach into the bottom of the box, for fear of falling in, but he can reach into the front and pull out pretty much anything he needs. He's also learning "open" and "closed" as he opens and closes the lid (which conveniently stays up when opened).
In the days since, we've also started a new addition to the bedtime routine: now Connor helps Mommy put the toys in the toy box before going to brush his teeth. We're also learning the word "in," thanks to this new trick.
So, Connor still didn't really "get" Christmas, but he understood and appreciated his new toys. He got to see Daddy's family on Christmas Eve, and talk to Grammy on speakerphone on Christmas Day. And Mommy and Daddy appreciated the fact that Connor didn't want to get up at 6am to see what was under the tree.
Happy Christmas to all, and to all a good night.