Had I taken more photos, I would have liked to have made this post less wordy and more photo-heavy. As it is, I got so caught up in, well, enjoying myself that I forgot to snap pics until halfway through Saturday's fun.
I'm getting ahead of myself, though. First, there was…
Friday – Our Actual 10th Wedding Anniversary
I took the day off of work, partially because it was my anniversary, but partially because the parking garage downtown was going to be closed that day for construction, and I didn't feel like dealing with the hassle of parking in another garage. My initial thought had been that we could spend the afternoon at the Toledo Zoo.
Silly me.

Aaron had a last-minute chiropractor appointment (read: ow ow goddamn ow) in the early afternoon, but we also still had to buy food for the party. He figured he could easily swing past the store after lunch and before his appointment, while I stayed home with the napping toddler. He hadn't counted on general stupidity at the store, though, and what had been a quick errand turned into a long and stressful afternoon of running around with groceries and waiting for appointments and unloading groceries and speeding to more appointments, topped off with cleaning house.
It was a stressful and upsetting evening, until it wasn't.
After Connor went down, Aaron got the ranch burgers ready to grill, and all the fixins ready to put on tasty onion buns. I made my Memaw's macaroni salad (or a pretty close approximation of it).
Saturday – Party Time. Excellent.
Our plan was to get Connor down for his nap a little earlier than normal, and that's what we did. He went down for Quiet Time at 12:30pm, and we started prepping.
Cousin Nate arrived just after the official Party Starty Time of 1pm with both of his kids, plus a friend/teammate of his daughter's (for some much-needed tween-age company). Alas, after some slightly awkward attempts at conversation between me and Aaron and Nate's kids, Nate's daughter got an allergic reaction to something either in the house or in our yard, and opted to spend the remainder of the afternoon in the cab of their truck.
Yeah, I remember being in Junior High.
Nate's son couldn't wait for Connor to get up from his nap so they could play. Even though he's more than three years older than Connor, they love to play together, and it's super cute.
Donna arrived during slightly awkward I-Don't-Relate-To-Teens-Anymore time, while Connor was still napping. She brought some old-fashioned toll house cupcakes that hadn't turned out quite as she'd hoped. Old-school recipe + inadequate photos from poster of recipe = general confusion about cupcake assembly. They were totally delicious, anyway.
Aaron's brother arrived shortly thereafter with a cheese and meat tray. He'd lost power at home and the shrimp ring he'd been thawing had gone bad. He's kind of known for bringing the shrimp tray, so I could tell he was really disappointed. Still, though, Nate's kids totally devoured the cheese and meat and crackers, since no one had arrived with appetizers yet. So, it was all good.
Then Aaron decided to start grilling.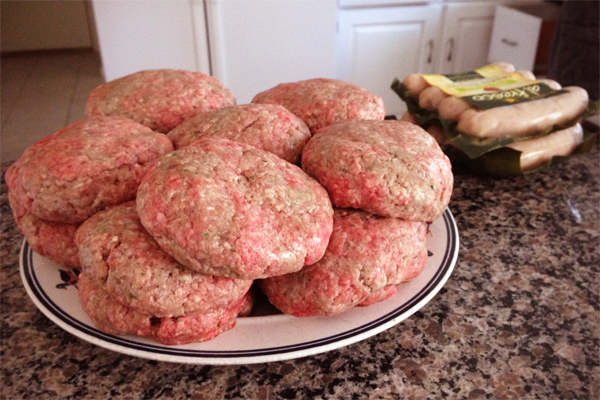 Cousin Megan arrived with Ryan — and with an amazeballs fruit salad and brownies.
Sheryl and John arrived with a giant veggie tray (pickled cauliflower om nom nom!).
We all hung out while Aaron grilled and while Connor was still napping. Around 3pm, John got a call from the tire place that was closing at any given moment. I wasn't sure if they were coming back after bailing for the tire place, so I went to fetch Connor from his nap in case he wouldn't get a chance to see them. He was awake and singing to himself — normal, but always super cute. I started to bring him downstairs right away, but then I heard that Sheryl and John would be back, so I took him back upstairs and got him freshened up.
Once he got downstairs, he was a little taken aback by all the people in his house, but he got used to it quick. He's typically shy in front of new people, and we don't usually have visitors. At all. So, that was different.
We sat him in his high chair and gave him lunch — he wasn't a fan of the macaroni salad (not used to cold "no-nee"), but he liked the chicken apple sausage — then sent him off to play with Nate's 5-year-old.
Some folks brought chairs, and some didn't, but we all milled around in the dining room, kitchen, outside. We gave everybody the tour of the house as they arrived, and everyone was duly impressed with the amount of house we managed to score. The boys enjoyed running around in the back yard, for sure, and the girls emerged from the truck to fast-pitch a water bottle across the yard for lack of a softball. Nate, who owns his own lawn care business, took some time to tour the grounds and to wish that he lived closer so he could take on the task of rejuvenating the flower beds.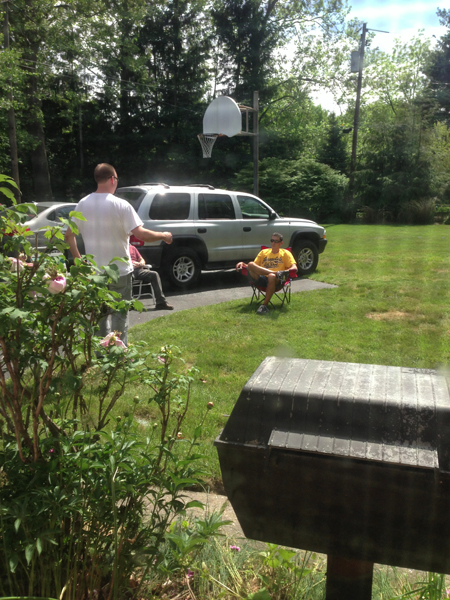 Alex and Richard arrived long after the food had been going on, and brought chips. Richard knows quite a bit about houses, and taught us some things about our place. He showed us the mezuzah on our formerly-Jewish home's threshold, taught us how to identify a three-way light switch, gave us some ideas about what might have been wrong with the electrical in our bedroom, and fixed our intercom!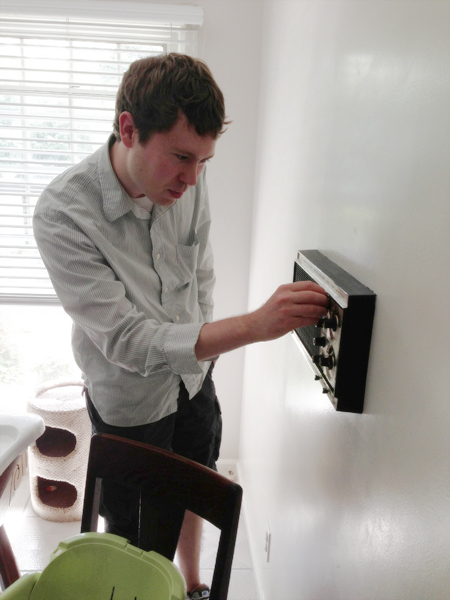 Folks started trickling out around 5pm, and Aaron's brother was the last to leave around 6:30. Connor was so exhausted from a busy afternoon of playing hard and being social that he went to bed an hour earlier than normal.
Overall, it was an awesome afternoon of fun and food and friends and family. I hope we do it again… but with some more advance planning and prep next time.
Sunday – Amy Time!
Amy couldn't make it on Saturday, so she came to hang out on Sunday. Just as well, since we wouldn't have gotten any quality Amy time if she'd come for the party. (Her greyhound is a little destructive, so she doesn't like to leave him overnight.)
She came by just before lunch, and she and I and Connor hung out for a while and talked until Aaron got up. (I gave her the Grand Tour of the house, of course, and she commented that some wall hangings and furniture might be in my future.) Then we all headed out to lunch at Star of India, then home for Connor's nap.
Amy and I took a walk through the park while Aaron supervised Quiet Time. Even though we've lived here for months, I still hadn't gotten the opportunity to walk to the bike trail that's so close to our house, since Connor isn't quite up for a stroller ride that's longer than about 20 minutes. It was so refreshing to have some time with Amy to walk and talk and just be friends.
You know how you can be apart from certain people for months and months (or longer), and then when you get back together, you just pick up where you left off? That's how it always is with Amy. Sure, we have things that happened that we can fill each other in on, but there's no initial weirdness like there can be with some people after a long absence. I love that.
Anyway, once we got back from walks, Connor was still asleep, so we had coffee time around the kitchen table and all three of us talked for a while. Finally, once Connor got up, it was time for Amy to give us our Christmas and Birthday presents!
Yeah, I know. It's just how we roll. She saves up her presents and gives them to us when she can watch us open them.
She got me and Aaron some stuff, and that was nice. (Seriously, though, I love the bracelet she got me, and our new refrigerator magnets are totally for the win.) What was the best, though, was watching Connor open his present.
A Little People Airplane! And his Little People DC Super Friends
can ride in the airplane, too. Who wouldn't want Batman as their Air Marshall? He loves the crap out of this toy, and we haven't gotten sick of the song it plays yet. (Amy said at one point, "I think I might be apologizing for this toy later…")
Honestly, I don't remember if present time was before or after we went out to eat at the Grape Leaf Diner. Both things happened, anyway, and dinner was huge and tasty, and Amy got lots of leftovers to bring home with her.
Then Amy had to leave to get home to her doggies and kitties before they reigned destruction on her house. But first, we had to attempt a picture.
Yeah, maybe not.
So, overall, an awesome weekend. More awesome than I'd thought it would be, honestly. And I got some good ideas for what kind of furniture we should get (eventually) for the sun room, since people ended up standing around in our dining room and kitchen and outside. Hopefully, we can plan some more shindigs like this in the future.
And more Amy time. Always more Amy time.