The old bed was old.
We'd gotten the Queen-sized frame, headboard, footboard, mattress, and boxspring (plus a box of sheets) for a steal of a deal from some friends of ours. At the time — 2003, I'm wanting to say — the used Queen was a major upgrade from the Full (aka Double) that Aaron had brought with him when he moved out of his house (and into several apartments on his own before we got engaged and shacked up).
So, the old bed was at least 12 years old.
We both have back problems already, and were waking up with aches and pains that we could tell were related to our old mattress. The memory foam mattress topper we bought a couple years ago could only do so much. We could have just replaced the mattress with a new one, except that we're both relatively tall people — he's 6'3", I'm 5'10" — and our limbs were aching (so to speak) for more room to stretch out.
When we got our tax return this February, we knew that a new California King bed was in our future.

On Date Night in February, after dinner and thrifting (hey, it's what we do), we decided the time was right to go test-drive some beds. Our chiropractor had given us a list of four "S" brands that she recommends: the best (and most expensive) was Stearns & Foster; then Simmons; and last, either Serta or Sealy. We headed into Art Van with every intention of walking out with a top-of-the-line huge-ass Stearns & Foster California King.
Our salesman from across the pond (we never asked where he was from, originally, since it seemed irrelevant — and if he'd told us a specific place, we'd likely have just smiled and nodded, anyway) got us started by having us feel the fancy new cooling technology that comes on some mattresses. Of course, once we felt the difference between the left cooling mitt and the right not-cooling mitt, we were sold. We'd complained regularly about our bed (especially our foam pad) being too stupid hot, and having something to counteract that would be fantastic.
Next, we took the diagnostic bed for a spin. Boy howdy, they had the volume on that computer cranked LOUD — presumably, so everyone knows that there's a diagnostic bed to be laid upon. Unsurprisingly, it told us that we both need a firm mattress, to slightly different degrees.
So, our salesman took us on a tour of beds, starting with the most ridiculously expensive. He told us this was on purpose — you start with the awesome ones, then try beds that are lower and lower in price until you find a bed you don't like. Then you take the next one up.
We never hit one that was too cheap for us.
We ended up spending about half of what we'd been prepared to plunk down for a new mattress, foundation, and frame. Unfortunately, the model we chose was out of stock, so we had to wait nine whole business days to actually enjoy our purchase.
We've slept in our new bed for over two months, and there's still a marked difference, although we're kind of used to it by now. That first couple of weeks, sleeping in our bed was like sleeping in a posh hotel. Now, though, it's just a pleasure to be able to stretch out, to roll over without worrying about kneeing one's spouse in the back, to be able to position oneself so that arms and legs and hips don't go numb in the middle of the night.
To recap, a before and after: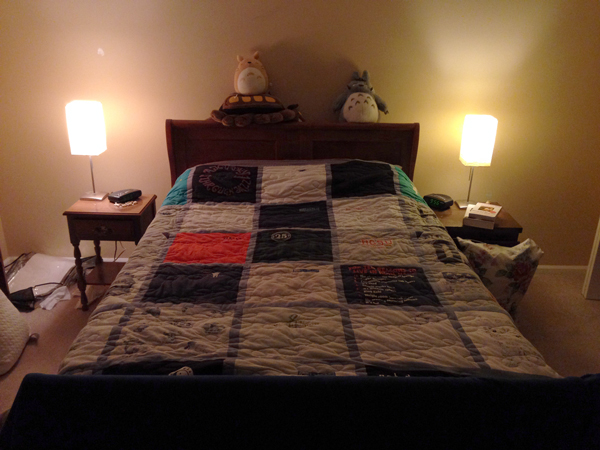 What a difference that extra foot of width makes. You wouldn't think an extra six inches per person would make much of an impact… but it really does.
Hooray for tax returns.