Date night is generally a night where the hubs and I can just go out and spend six hours remembering what we used to do before we were parents — that is, eat at nice restaurants, go to thrift stores, hang out at Starbucks, and enjoy one another's company. This month was no exception.
First stop: our favorite local sushi joint. Once upon a time, it was a budget sushi dive down the road from our old house, located in an old Pizza Hut. Nowadays, it's fancied itself up a bit and relocated in a strip mall. Still the same great food, even though we remember when we paid much less for a spread like this.
Actually, at this point in the evening, I hadn't planned on blogging anything about our evening, so this photo was accompanied with, "I just want to take a quick snapshot so we remember what all we ate later, so we can track it [on our Weight Watchers eTools app]." Hence why it's not a particularly fancy picture. 
Of course, after we'd declared ourselves stuffed, our server (and Aaron's 'stache brother) comped us some mochi ice cream, asking us to make sure not to tell anyone that Spencer hooks people up with dessert. –Oops.
Anyway, after that, we went to the antique mall.
It's a good place to walk around if you haven't been there for several months. Not so good to include in the standard thrift rounds, since the inventory rarely changes, despite the place having scores upon scores of booths.
We usually expect to walk around and see some cool stuff, but probably not buy anything — or maybe one thing. I did end up buying a few cameras, but these photos are of the things we didn't buy.
I took a picture of this crate because my Mom lives in Lodi.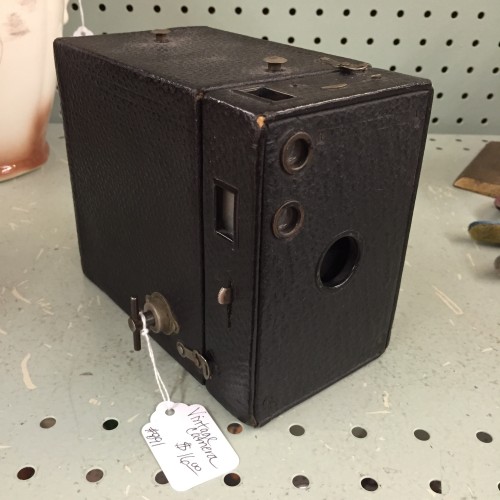 We saw no fewer than 20 box cameras of various sizes and in various states of disrepair. I understand that there's a way to retrofit some of these to take modern medium format roll film, but I wasn't about to spend money on one without even knowing how to open the damn thing.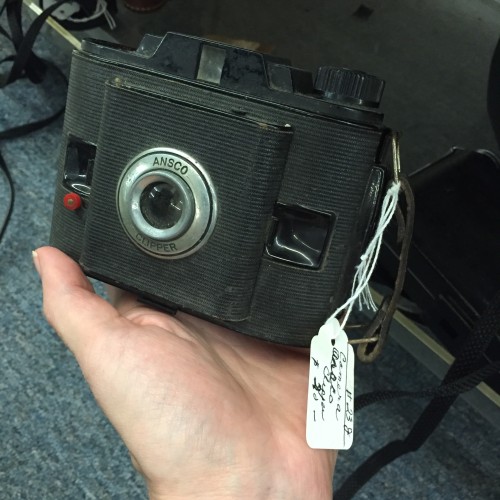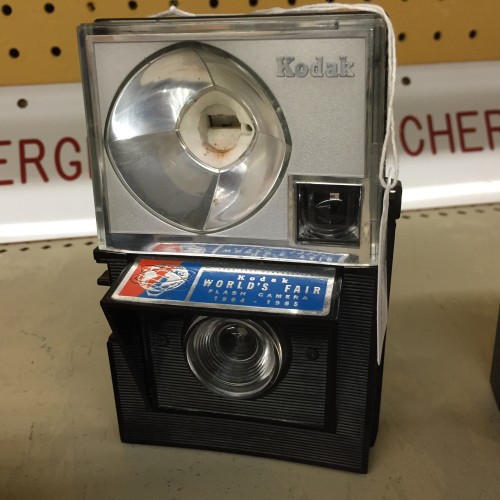 I bought four cameras in the end: three Brownies and one working version of a non-working display camera I just bought on eBay. I've already cleaned up one of them — the Brownie Reflex 20, black bakelite with the silver viewfinder on top — and loaded it up with film for a test roll.
After the antique mall, we went to the thrift store down the road.
This is kind of a collectors' item, as this regional coffee chain changed their name several years back, once someone finally clued them in that Beaner's might not be a politically correct or socially acceptable name for a business — even a coffee shop.
We got Connor a few pairs of shorts and a Yoda plushie. He hasn't watched Empire yet — only had the storybook read to him — so he doesn't really have an affinity for Yoda at this point. We've put Yoda away in the "Grown-Up Room" (aka the office) where Connor can't get at him yet.
Aaron got a couple of books, too. So, a good haul was had by all!
Off to Starbucks.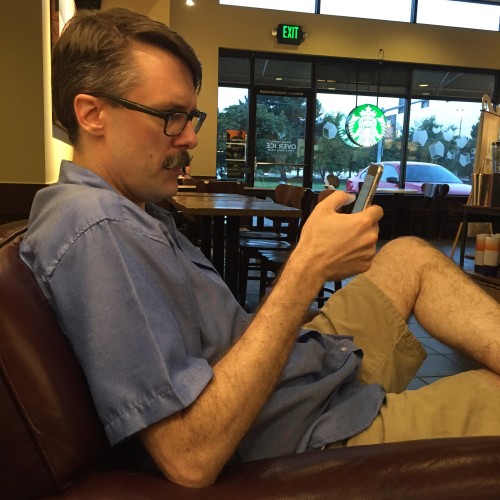 Time to hang out, drink coffee (decaf in my case), talk, check eBay on our phones, the usual coffeeshop-type stuff. We spent a good hour there, reconnecting.
I'm so grateful for our monthly date nights. Especially since we work opposite shifts, this six hour outing once a month is really necessary for our relationship as adults, as a couple, beyond our relationship as parents and housemates.
Plus, I mean, I added four cameras to my collection for about $12 each. Hell, yeah.