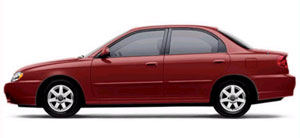 Twelve years and eight months ago, Aaron and I bought our very first car together.
We were engaged to be married in another six months or so, and we had shitty credit. We'd heard the commercials on the radio, though:
Do you have a job? Do you have $199? Then you could drive away in a brand new Kia!
We did drive away in a brand new Kia, after deciding that the new model with the CD player and no power doors or windows or cruise would be a better deal than the used one with the cassette deck and power everything. And after sweating bullets over our financing, which finally went through, albeit with an embarrassingly high interest rate.
Six months later, we put some 1,500 miles on the car during our honeymoon, and Aaron about killed his right foot driving all the way out to Massachusetts and back with no cruise. But we had a CD player!
Even with no cruise, though, that Spectra was good to us over the years. It didn't have any major mechanical malfunctions and was always reliable (if not particularly powerful).
Back in 2010, the Spectra got bumped from our "main" car to our backup car when we traded in Aaron's old Contour for a Kia Forte. That was a big step up, with leather seats and a sunroof and power everything.
It's been a great car, too; our only major complaints centered around handling in winter and less usable trunk space than average due to the shape of the trunk opening. Also, the windshield de-icer that was the main impetus for going with the leather package was a big flop. It has so many other things going for it, though, that those were just minor blips in our overall love for our Forte.
We finally traded in the old Spectra this past weekend, not because it showed any signs of dying anytime soon, but because we were ready for a new "main" car with more cargo space and better handling in the winter. Turns out we picked a pretty good time to trade it in, as it was up to 94,000 miles and would have been nearly impossible to trade in once it rolled over to 100,000. After that, cars go to the buy-here-pay-here lot. So, we got a $500 trade-in for our Very First New Car that we drove for twelve years plus, and our beloved Forte got bumped to backup car status.
We were leaning toward Kia's small SUV, and a test-drive of one of the other leading used crossovers they had on the lot sealed the deal. Alas, they didn't have the highest trim package in stock — if they had, we probably would have bought it — but we did get a car (SUV? vehicle? What do we call it?) with all-wheel drive, a back-up camera, touch-screen UVO infotainment system, USB and auxiliary inputs, and a few other bells and whistles. No moonroof, though. Connor and I are disappointed about that (but not too much, overall).
Ladies and gentlemen, our 2015 Kia Sportage.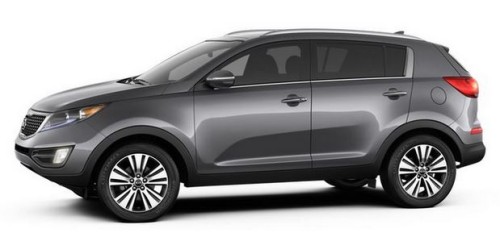 Once we consider trading in this car, Connor will probably be old enough to drive. Now there's a scary thought.