Now that I think about it, tonight's meal counts for not two new recipes, but three:
Sous Vide Pork Chops
I made the ham stock last weekend from the leftover ham bone from Christmas. It was then that I realized that an actual stock pot may be in my future, as my Dutch oven was not quite up to the task, volumetrically speaking.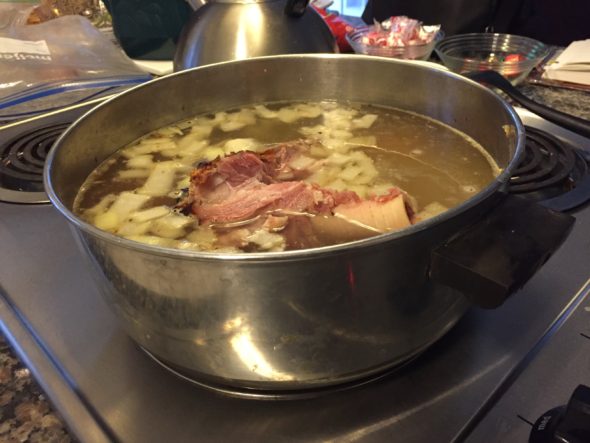 Today, I used the ham stock in the split pea soup.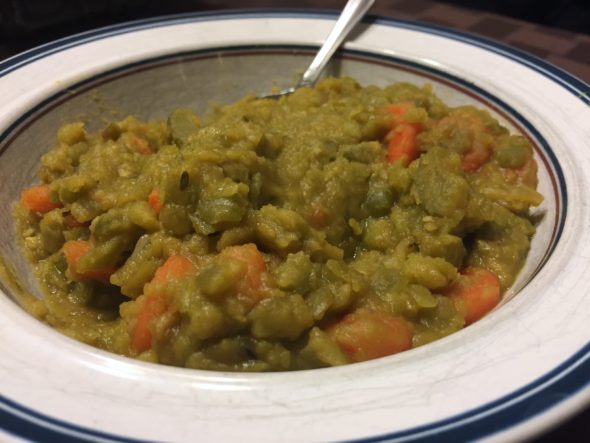 For the pork chops, I followed the recipe given in the companion app for my Anova Sous Vide device.
I may use my future stock pot for Sous Vide cooking, too, as my taller Dutch oven isn't quite up to the challenge for Sous Vide. I also need to get a little better at removing the air from the bags, as my chops tried to float on occasion.
One hour at 140F, then I finished the chops by searing in some butter in my cast iron skillet.
Tonight's dinner was a rousing success — so much so that I nearly forgot to photograph the end result! The pork was moist, the soup full of ham flavor.
After being "on the clock" to get dinner on the table in 30 minutes during the week, I'm really enjoying taking some two hours to make Sunday dinner for my family.