For this year's retrospective, I'm going to lead off with the most important things:
What Made Me Happy (top 11)
(As recorded every night before bed)
Talking with Aaron
Cooking / Baking
Hugs (mostly from Connor and/or Aaron)
Working out
Writing / Blogging
Eating sushi
Yoga
Gardening
Playing with Connor
Date night/afternoon
Being outside
If I'd consolidated some more specific things, like "working out" and "kickboxing," the list might look a little different, but not by much.
Other notable one-off things that made me happy:
Wearing a sheath dress and feeling good in it
Watching Connor eat sushi with his chopsticks and enjoy it
Driving everyone (my grandparents, my Mom, and my son) to the Air Force Museum
Connor being super sweet about my boo-boos from giving blood
Watching the rain with Connor
Setting up a WordPress plugin
Watching Aaron and Connor play Mario
Dining Out
Nicole is my oft-referenced co-worker — we enjoy Girls' Lunch once a week, most weeks. Other dining companions include my Mom (aka Grammy), who visits every few months; my grandparents, who we visited in June; our friends, the Sheets family; my friend, Amy, who we met for dinner on our way home from Grandma and Grandpa Cook's; and my brother-in-law, whose birthday we celebrated together.
I actually aggregated the restaurants by name at first, but then I thought that perhaps I shouldn't necessarily advertise where I can be found on most weekends for lunch or dinner. That could get weird.
Health
The biggest health-related milestone of 2016 was the end of my braces treatment. Huzzah!
I also had my first mammogram, being that I turned 40 in April, but that wasn't nearly as exciting.
| | | |
| --- | --- | --- |
| CHIROPRACTOR | 14 | Once a month & more if I need it |
| ORTHODONTIST | 7 | Braces off in May! |
| DENTIST | 4 | Still on perio maintenance every 3 months |
| BLOOD DRIVE | 2 | Turned away once because of a poison ivy rash |
| FLU SHOT CLINIC | 1 | Free flu shots at work FTW |
| MAMMOGRAM | 1 | Yay for 40? |
| ENDOCRINOLOGIST | 1 | Making sure my thyroid bump doesn't grow |
| NURSE PRACTITIONER | 1 | I like this NP better than my old one |
Fitness
The IFTTT applet failed to sync 47 days of data from Fitbit to Google Sheets, so I traveled at least 736 miles on foot in 2016 — that number could statistically be as high as 846 miles, though, depending on the missing data.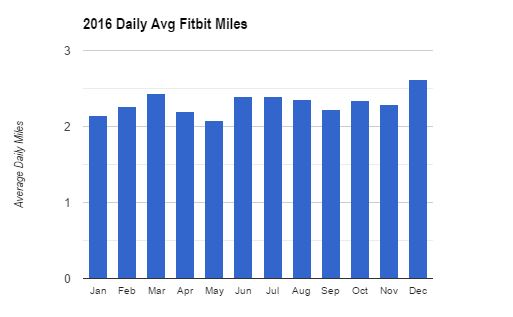 The dip in May may be attributed to missing data; the bump in December is a result of more lunch walks, both outdoors and on the treadmill.
I walked the farthest on October 28 (5.8 miles), when I walked to a nearby park and back with my Mom while Connor had some Quiet Time at home with Dad.
I also spent a few months lifting weights and tracking my progress.
Weight
I almost didn't include this year's weight graph, being that it looks an awful lot like last year's: stagnant. I mainly hovered within a five-pound range, and did not end the year on a happy weight note.
Connor
Like I said last year, I prefer to document all of Connor's milestones in his own blog category — but, as with last year, there are a couple of milestones that deserve mention overall.
When he turned five in September, we removed the gate from the top of the stairs. That means that the only gate remaining is the one that marks off the "grown-up" area of the house — Aaron's game room, our home office, and the bathroom with the litter box in it. Connor could totally either climb it or Kool-Aid Man through it, but he doesn't, because he knows that part of the house isn't for him.
Sometime in November, I think, Connor took a poll of his classmates in Pre-K to see who still wore diapers or pull-ups to bed. His best frenemy — we'll call him X — told Connor that he wears underwear to bed. And thus began the trend of Connor doing the same. No more pull-ups or night-time underwear… although that means that days or weeks of dry mornings are interspersed with days or weeks of pee-filled morning laundry.
Garage Sales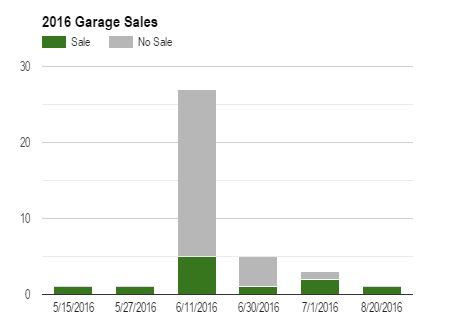 We opted not to hit up the Old West End Festival this year. The weather, according to Accuweather's history, was just a little drizzly. I suspect Connor was in no shape to attempt an afternoon with no Quiet Time, and we called it on account of rain/Connor.
June 11th was the Waterville Community Garage Sale, which Aaron and I enjoyed on a date afternoon. We actually had more garage sale successes after we left Waterville proper.
June 30th was a Thursday in the middle of my staycation. While I don't have any record of this in my blog, I recall that Aaron and I attempted some garage saling that afternoon, with little success.
July 1st was the Friday of my staycation, and I hit up some garage sales on my own (me, going solo? unprecedented!) on my way back from a chiropractor appointment.
Photography
I covered about seven miles of downtown Toledo over fifteen photo walks from April through November. Some of those stretches I saw twice, due to camera equipment failure — most notably my TIME Magazine "trashcam," which I didn't realize had a broken shutter; and my Lomo LC-A, which I did a poor job of resealing and thus suffered terrible light leaks.
Test Rolls:
| | | |
| --- | --- | --- |
| Sept 2015 | Lubitel 2 | Not bad, but not my favorite. |
| Early April | Boy Scout 3-Way Camera | Something is way wrong with this camera. |
| Late April | TIME Magazine trashcam | This will be my first real camera repair. |
| Mid May | Brownie Fiesta | Good outdoor snapshot camera. |
| Late June | Voigtlander Brillant | Loved it! |
| Early August | Brownie Hawkeye | This will be my first disassembly/cleaning. |
| Late September | Cosina CX-2 | Great camera! Test roll to be posted. |
| Early October | Kodak S100 EF | Surprisingly awesome. Write-up soon. |
| Late November | Sears 35 RF | Not bad. Test roll to be posted. |
Apart from test rolls, I haven't posted as many photos as I usually do. Well, I should rephrase that: I post plenty of iPhone snapshots, but not as many deliberate photographs. I photograph my flowers once a month for Garden Bloggers' Bloom Day, and I do post slideshows of special events and other edited photos on occasion, but I didn't make it a priority last year to do the follow-up and actually process and post photos regularly.
Work
I covered this for the first time in my 2012 Year in Review, and I've continued to track it, although I don't report on it every year.
I'm chronically tardy in the mornings.
I actually was going to make this the final year for recording my arrival time, because I expected that Connor would start school in August and I'd see a noticeable change in my tardiness and then I could quit the habit of logging my arrival time. Alas, as Connor wasn't admitted into kindergarten early this year, I'm going to continue logging through 2017, just because I want to see how the major change in routine affects my arrival time at work.
As I said back in 2012, I know my lateness isn't necessarily something to publicize, because the Internet is forever, but it's a metric that interests me — and one that I'd like to improve. What gets measured gets done, as someone once said.
Of course, I did other things at work this year apart from just showing up late, but even if I did aggregate them, they wouldn't be of interest to anyone but me.
Blogging
In June, I had a realization that social media was becoming an unhealthy habit. I swore off Twitter (with rare exceptions) and connected my Instagram account to my WordPress via an email plugin (instead of routing it through Twitter).
My most-read blog posts of 2016:
According to Google Analytics, most visitors who read the above posts came from Facebook (where I crosspost links to my blog posts).
The most popular post overall this year was my post from six years ago about getting my wisdom teeth removed — about 4,900 visitors found it via Google, and 400 more got there from some other vector (mostly search engines). I've been contemplating turning off search engine spidering again, just because my blog is more personal and less relevant to people who don't know me… but that means lots of people who are looking for accounts of wisdom teeth removal wouldn't find mine. I'm sure there are plenty of other stories out there, though. They'll be fine.
Everything Else
In March, we got Connor screened for possible early kindergarten admission. He wasn't accepted to kindergarten early, but maybe that was for the best.
I turned 40 in April. We celebrated at Kengo Sushi & Yakitori downtown.
We held the annual spring shindig at the end of May. Even with lower attendance than usual, it was still a great party, and I enjoyed getting to visit with people — especially Donna.
In June, Connor and Grammy and I all took a road trip to Dayton to visit my grandparents. It was an historic trip of firsts for Connor, including his first overnight away from home. We also got to meet Amy for dinner!
Connor took swimming lessons in the summer, even though the only real pool time he had outside of that was the aforementioned hotel stay in Dayton, just before he started said lessons.
We took Connor to his first county fair in August. He had a great time, but we learned that Connor can't yet function properly without some afternoon downtime.
I dyed my hair red in August. I really like it that way.
Connor turned five on September 3rd, and we had a Mario Party.
In September, I got into some poison ivy in the front garden. I had no idea it was growing there until well after the rash had spread; I blamed it on some trumpet creeper at first.
Aaron's cousin Megan got married in October.
Aaron turned 42 in November. We celebrated at Kengo Sushi & Yakitori downtown — this time, with the fancy omakase treatment.
This year seemed to be a bit of a trough between exciting/hectic peak years. Nothing crazy with the house (outside of a roof leak and a broken water meter) or our health (outside of me getting my braces off). Some fun things happened, not too many shitty things happened, and 2016 was a pretty chill year.
I'll take it.